theartsdesk in Verbier: Flowers, Cows and Musical Stars |

reviews, news & interviews
theartsdesk in Verbier: Flowers, Cows and Musical Stars
theartsdesk in Verbier: Flowers, Cows and Musical Stars
Antipathetic to the Olympics? In the Alps right now is where great music can be found
The air is full of music: Verbier nestles in the valley below the paragliders
Can this really be only an afternoon's travelling away from traffic-choked London? I'm waist-deep in wild blue lupins on a verdant Swiss mountain looking for a concert hall.
A cow's bell nearby is slightly frustrating - beyond the lupins, I guess, is another steep field with the track I need; a paraglider high above me is out of earshot, though they'd be able to see the hall better than I can. I'm trying to get to a masterclass by that captivating operatic soprano of the past, Ileana Cotrubas, who is here as one of the Verbier Festival's habitual stars-of-stars helping out rising talents.
Eventually I get there, half an hour late, covered in wild flowers and grasses, but it doesn't matter - so many of the Verbier Festival's enticing events are free and easy about latecomers and early departures. Cotrubas is attempting, with all her renowned vivacity and heartstopping expressiveness, to convey her qualities to two young women with nice voices but little intuition about what makes the Countess and Susanna tick in The Marriage of Figaro. Possibly with time they'll get it, but the masterclass serves to underline how some people need telling, while others just know.
The audience who fly into this Alpine musical Eden know that whoever performs here is world-renowned
The combining of outstanding world artists and rising young talent is one of the salient motors of Verbier, though it's the tip-top star line-up that mostly draws spectators to this little Alpine resort each summer. This year, in just the first four days this week, I've heard (in alphabetical order), Renaud Capuçon, Stéphane Degout, Charles Dutoit, Quatuor Ebène, Martin Fröst, Magdalena Kozená, Elisabeth Leonskaja, Misha Maisky, Denis Matsuev, Lawrence Power, Dmitri Sitkovetsky, José Van Dam and Willard White. Had I stayed on till next week, I could have added Martha Argerich, Leonidas Kavakos, Alexander Melnikov, Alexandre Tharaud, Daniil Trifonov, Maxim Vengerov, Rolando Villazón...
At Verbier it's redundant to qualify these names with pianist, violinist, singer, clarinettist, etc, because the audience who fly in for their average five days in this Alpine musical Eden know one dependable fact, which is that whoever performs here is world-renowned and they will hear the world-renowned in a uniquely informal get-together, to which they have pretty well uniquely informal access anywhere in the world.
Above: clarinettist Martin Fröst, violinist Maxim Vengerov last night, singer Magdalena Kozená in Pelléas (© Nicolas Brodard)

There is also an underpinning of a mission to help choice young musicians up the ladder, which means that some of the achievements can be spectacular. Monday night offered Debussy's unorthodox opera Pelléas et Mélisande, performed by the Verbier Festival Orchestra of young, annually recruited musicians, under a dream team of interpreters. Charles Dutoit, the Swiss conductor who is a Verbier core driver, had shaped these disparate student and graduate players, selected this summer from the US, Russia, Korea, Norway, Spain and almost everywhere except Britain, into a team fit to underpin with swirling, haunting textures a cast to die for in this bewitching, intense opera.
Difficult to better such a list as Magdalena Kozená as a gloriously ambiguous Mélisande, Stéphane Degout as Pelléas, and the astonishing septuagenarian José Van Dam as Mélisande's husband Golaud, with Willard White as the brothers' father. What vibrant artists, knit closely together in the drama, even in an unstaged concert performance (see video excerpt next page). This was a world-class cast assembled by the canny, discreet and omnipotent Verbier genius, Martin Engstroem (interview below), but the whole phenomenally pulled together with the young orchestra in transient festival conditions by Dutoit, a great Debussyan and ensemble director.
Edinburgh Festival veterans, even Glastonbury familiars, know the scene at the best festivals - you pack in three or five things a day from a huge multiple choice. Verbier offers 15 hours of music daily, events free or paying, from 9.30 in the morning till after midnight. Being Switzerland it's not cheap to stay, but this is epicurean music-making. At least you get to Geneva cheaply by Easyjet, before taking the long lakeside train ride into the foothills of romantically sliced Alps, where majestic nature meets magical art.
Botanists, hikers and mountain bikers have just as much fun. Ascend in the cable car for 10 minutes (some of the ski facilities continue in the summer), and you're in sumptuous Alpine uplands, with cows and edelweiss and bubbling streams that make you hum Schubert.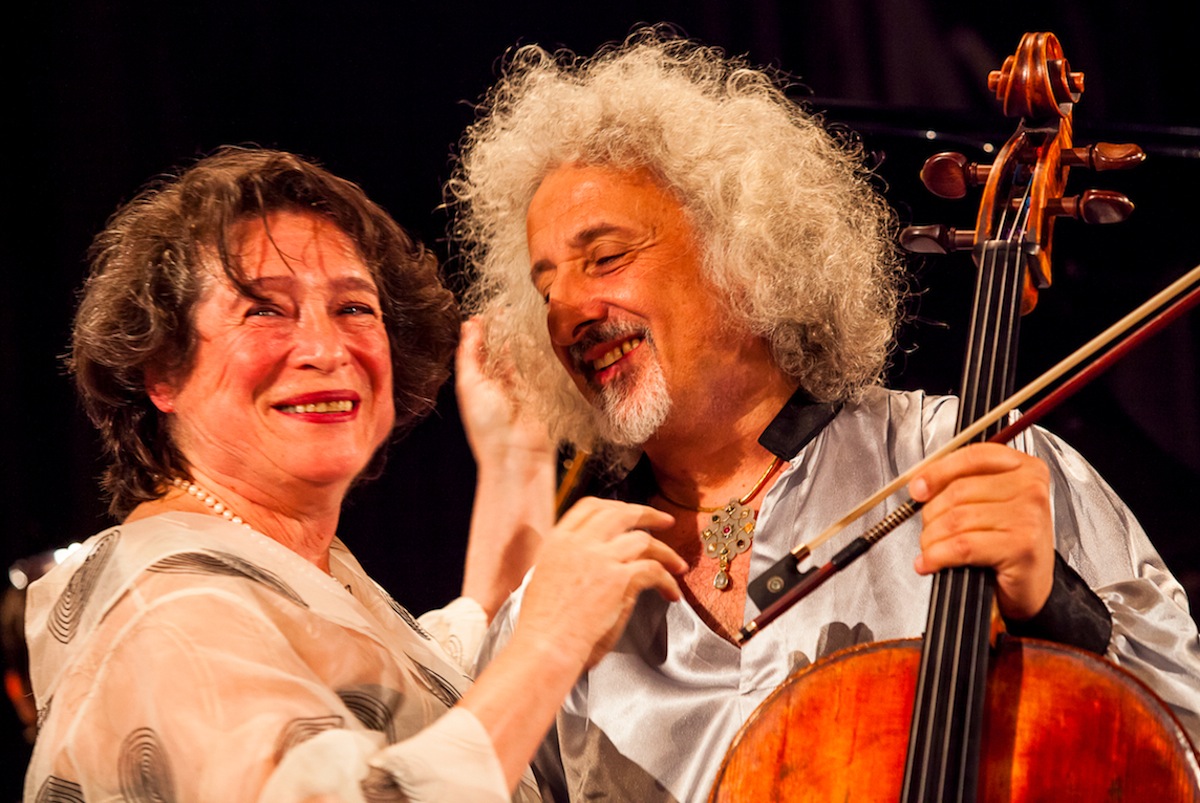 I lose count of the wild flowers, I disbelieve how lush green fields suddenly become snow-streaked glacier beds of harsh rock, with tiny stonecrops hidden in their grey crevices. I succumb to the sky, and the views of the far distant church below, where on Sunday Elisabeth Leonskaja was performing exquisite Mozart (see video at end), and a scratch group headed by Leonskaja, Dmitri Sitkovetsky and Misha Maisky did an electrifying Shostakovich piano quintet (pictured, Leonskaja and Maisky at the end, © Nicolas Brodard).
The spontaneous jam-session bent of music festivals is sometimes held against them (and I've heard the sight-reading bosh shots that can result - eg, Angelika Kirchschlager last year here in Dido and Aeneas). Is it more of a self-congratulating party than a genuine musical encounter? Last year the longtime Verbier regular, violinist Gidon Kremer, sensationally bowed out, saying it had become too much of a vanity do for his comfort. True - the Rolex and Julius Bär sponsorships mark Verbier as a gold-plated brand, but what anyone notices far more is the casualness, the lack of side and the absence of barriers between artists, supporters and public, as they meet backstage, or in bars, or up the mountain. And at its considerable best, what you can expect is zingingly good and fresh performances from top musicians put on their mettle.
After four days in Verbier, my memory is swarming with that magnificent Pelléas, Leonskaja's crystal Mozart, the silky Quatuor Ebène's Schubert "Rosamunde" quartet, Lawrence Power's ardent viola tone, Cotrubas's infectious insights, the otherwise uninteresting Denis Matsuev's dazzling "Marriage of Figaro" encore, the meeting of azure sky and white peaks, the clovers and gentians, the texture of mountain snow in July, an eagle circling in the clear sky, mewing. For musician and music-lover alike, for a painter or a paraglider, It's a fruitful and revivifying way to take a break from routine (or Olympics-mania).
The engine room of this luxury treat is the village school, where in a classroom is berthed its visionary begetter. He is Martin T:son Engstroem, a tall, fit-looking Swede in a white suit, on whose exceptional insider contacts and trustworthiness the whole shebang depends. Almost 20 years ago he turned his old job as a top European music agent and his love of skiing to innovative profit when he added this festival to Switzerland's already numerous supply. But he did not intend it to be like the others, as he told me.
Next page: Q&A with Martin Engstroem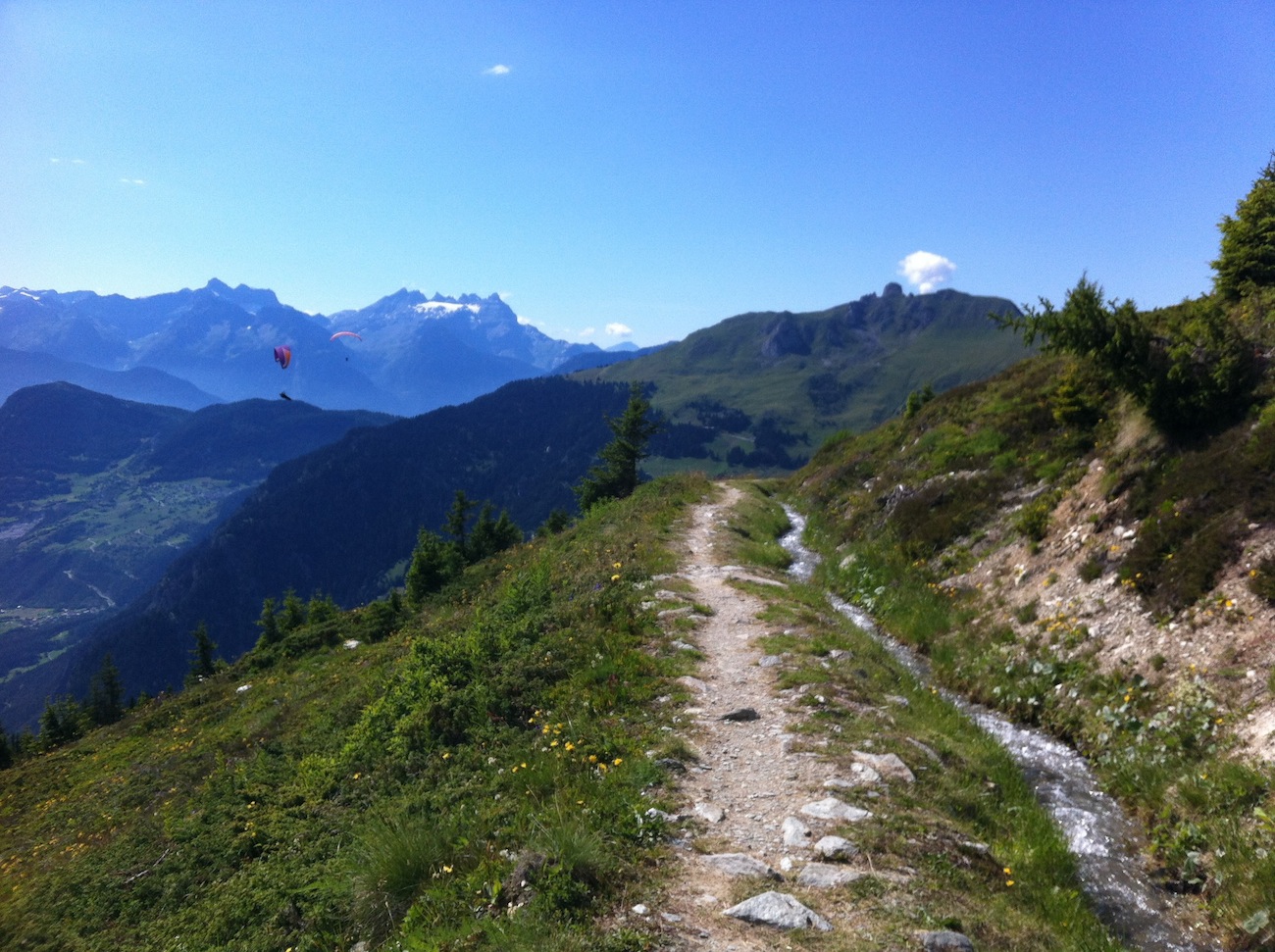 Brook and mountaintop: the natural beauty of the Chamois goat track above Verbier

MARTIN T:SON ENGSTROEM: I think we have a unique concept. My background was 12 years in Paris building up an agency called Opéra et Concerts, which became one of the biggest in Europe, if not the biggest, for singers and conductors. But as an agent you're always in the middle, you never have the last word. So when you have lots of ideas, like me, it can be very frustrating to see that some beautiful idea doesn't happen because of money or this and that. That's why I wanted to do something up here for myself with my ideas (Engstroem pictured below).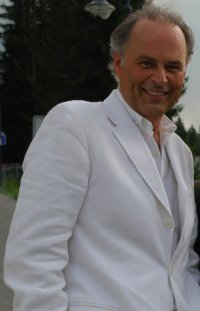 Most European music festivals are in cities, while this one is very much shaped after an American festival - most of those are outside cities. The public don't just come here for a concert, and I never wanted the festival built up around one artist, so that if they cancelled it was a flop. That's why there are so many famous names here, and I think this reassures the artists too - they feel that they're not on the spot, they're in a community, but they also have to take this extra step of creating repertoire - such as last night's Theresienstadt concert [organised by Daniel Hope with a host of star players]. To put together a concert like that you needed to be able to trust each other to do it.
I wondered if you had any particular themes in your programming - there are are several Russian pianists here this year, Elisabeth Leonskaja, Denis Matsuev, Alexandre Melnikov, Nikolai Lugansky, Daniil Trifonov...
I'm anti-theme. Themes close you in, they limit possibility more than opening up. The way I do the programming is much more artist-focused than programme-focused. I try to invite those artists I personally feel have something to give, and I try to build around their talents. I think whether that artist would develop well by working with another colleague. My motto is that in chamber music at Verbier you either perform a work for the first time, or you work with colleagues you never worked with before - this goes for Kissin or Argerich or Joshua Bell or whoever. I like that sort of risk-taking in chamber music.
Nobody comes through Verbier to go somewhere else. They come to be here
Why did you select Verbier as your location?
Two things, the natural beauty, and the fact that it's a dead end. Nobody comes through Verbier to go somewhere else. They come to be here. That was an important factor for me, though it made it difficult to start, because it was hard to sell tickets at first. We didn't have the internet. It was about calling your friends, and saying please call anybody who'd like to hear, and mailings, and posters, and media.
How did you know the place?
I'd come to Montreux one year, and we wanted to ski so we came up here - there were lots of Swedes here. Then in 1981 my wife at the time, Barbara Hendricks, was singing somewhere and I didn't want to travel around in the summer so I stayed here with the kids, and discovered this incredible place, with lots of hotels and restaurants, was empty because it was only a ski resort. It was more or less closed between Easter and Christmas. I love the mountains in the summer - I prefer it, there's so much more you can do here, and it's an ideal place to come on vacation with the family. I'm not a beach person, I like to be active, to walk, and I don't particularly like strong heat.
Do you know your Alpine wild flowers?
I know enough to know which ones I can step on and which ones I can't!
Do you paraglide here? I saw loads of them in the mountain above.
I have done - you have to try everything once. This is a European centre for paragliding, actually.
It's another of those serendipitous extras. The shape of the festival when you started seems pretty holistic and fully formed.
Yes, the youth orchestra, and the Academy in parallel with the artists - I think the outline pillars are very much as we began. We're adding a summer camp next year for 15- to 17-year-olds, another orchestra of 60 kids - Daniel Harding will be the music director on that project. And in 2015 we're planning to add another camp for 13- to 15-year-olds. So our future will be even more developed towards education and learning opportunities.
The artists who do the masterclasses for the Academy students, are they always experienced at coaching? Or do they also do this for the first time?
What Christian Thompson [director of the Verbier Festival Academy] is striving for is to have personalities here that you can't get elsewhere. Not piano and violin teachers, but real interesting personalities and artists. I think we've created our faculty of artists now who come back every year.
I heard Ileana Cotrubas yesterday doing a Marriage of Figaro opera masterclass (pictured left, © I Brown); last year I heard Stephen Kovacevich with the piano students. Just amazing stuff from two shining artists.
And for each instrument in the Academy [piano, violin, viola, cello and voice] we have several hundred applicants, and we only pick eight of each. They are the crème de la crème themselves.
Do you indulge any particular personal taste in how you shape the festival?
No, I'm always very sensitive to public taste, to what they want and what they should have, this balance between the evident and the new. I always have in mind that the public is here for five days average, so I'm trying to give them perhaps a chamber orchestra concert, a symphony orchestra concert, a recital, some chamber music, so there's a varied programme available if you come for five days.
Which US model did you draw on?
The Aspen Festival was my model - in the 1970s and '80s it was a must for an American-trained musician. You had to go there in the summer, it was where you networked, showed your talent, perhaps met a new teacher, it was the sort of hub you had to pass through if you wanted to make your classical career in America. From Yo-Yo Ma, James Levine, Itzhak Perlman, they were all starting there and would go every summer. That's what I'm trying to create here for musicians, this incredible richness of contact.
So it's a specific attraction to them, not just to the public.
Yes, it's very much parallel to the festival, this intensive learning contact for the artists with all these young people. And we try to really give them the most exclusive, the most interesting experiences they can have

Above: this year's performers included jazz singer Youn Sun Nah (© Aline Paley) and Quatuor Ebène

As an agent did you observe certain things about a musician's life that needed this kind of oasis?
First of all, a musician's life is very solitary. He is basically on tour from September to May. In summer many artists leave a slot for music festivals, and open up. Certain festivals can fulfil a function, and I feel a festival like this fulfils the function of stimulating a career, for the artists as well as the younger players. I'm thinking for instance of Martha Argerich - our friendship goes back more than 40 years, and there's a confidence in our relationship, so she trusted me when I proposed to her lots of work she'd never done before to perform at Verbier, and she got into new artistic relationships with other artists she hadn't met, James Levine, Nigel Kennedy, Gil Shaham, Vadim Repin, lots of people… And even works like the Mendelssohn trio, a Haydn trio, Brahms piano quartet - works she'd never performed but which I got her to learn for here, and then some of it was recorded at Deutsche Grammophon, where I was artistic director between 1999 and 2005.
The festival ends on 5 August, and on 6 August I have to start looking for another 8 million francs for the following year
This kind of informal, one-off, first-encounters atmosphere creates accidents - happy ones, you hope.
This festival was always from the start very much tuned into the personalities of the artists. I know each of them, I think I know what they're best in and what I can get out of them, and where the limits are. I try to inspire, I try to challenge. The frustrating thing is that there's too much of everything. I would love to come as a tourist one day. There are so many friends of mine here, and so many fantastic artists, and interesting people - not only in music, but in politics and literature, and I hardly ever have any time to see them. I spend as much time inviting artists as I do in inviting others in music management or recording executives or opera directors, to come and see what we have in the Academy. Because I feel that when a young musician comes to Verbier this is a stomping ground for them too. To be invited into the Academy or the orchestra is almost like winning a prize. And this is where you as a young player can get to the next step.
Why does Switzerland have so many music festivals? Is it just that there's a lot of money here?
Some of them were founded just before the second war, because when Germany imploded artists, and particularly Jewish artists, had to go somewhere. A big number came to Lucerne, a big number to this region, Montreux, and started performing together. Then you had Yehudi Menuhin in Gstaad.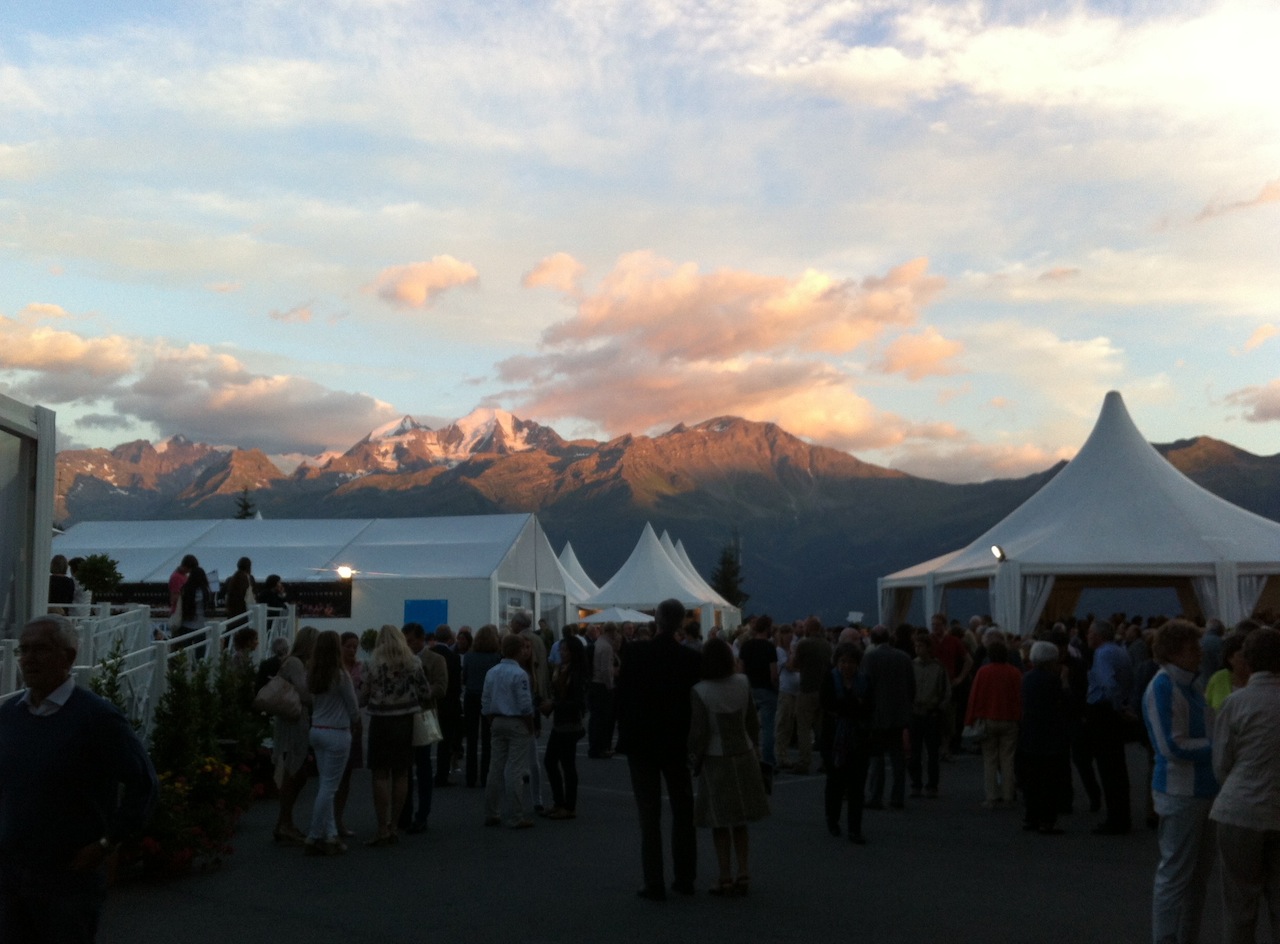 A lot of Soviet artists came here too, as if Switzerland was a second home.
Well, look around - it's so beautiful (pictured above, an interval break at the Salle des Combins) Switzerland has always been a haven for people, for many reasons, and here you had living Dostoevsky and Rainer Maria Rilke. Switzerland is safe, neutral, it's boring, it's secure, people are polite.
If you want someone to come here rather than one of the other festivals, do you mind if they go to another rival festival, Lucerne or Gstaad?
No, I never demand any exclusivity. I think we have such a particular concept here. If you want to go to Lucerne, you have to dress up, put on a dark suit, it's more formal. Here I've told the sponsors from the start, please tell your guests not to put on a tie. It's misplaced up here in Verbier.
Have you been affected by euro problems?
Oh, sure. People have been talking about it for a while but it's really hit this year. Fewer people coming, and they go to two concerts instead of four. Or instead of staying a week they stay three days.
Yet you have so many free things going on.
Yes, we have about 25 events a day, with probably three of them paying. So there are about 10,000 people who come up during the festival and don't buy tickets, they just go into all the Academy events, rehearsals, masterclasses, academy concerts, jazz in the street, the late-night free orchestral concerts.
I was interviewing Jonathan Moulds [European President of Merrill Lynch and Arts & Business sponsorship chief] a couple of months back about the increasing emphasis in Britain of trying to get business backers for arts. He said the real problem was that business sponsors were not sufficiently culturally aware to do more than the obvious. Do you have problems attracting sponsors?
Of course, of course. Looking for money is something you do every day in culture or in arts. The festival ends on 5 August and on 6 August I have to start looking for another 8 million francs for the following year. It's so much about individuals. There's no culture minister in Switzerland. Everything is in the cantons, nothing comes from Berne, so you have to convince the cantons that you have a unique project. It's about the economy.
For the curious and the interested, I would say this is the best place to be
What do they get out of it?
We did a McKinsey study seven years ago that proved that the festival makes 2 million francs in cash coming in and 12 million in indirect contributions to the Caisse [treasury]. When McKinsey put that in black and white and presented this report to people here, they woke up. They said, ah, it's not about Beethoven and Mozart, it's about developing the summer economy, the restaurants, hotels etc. Because a resort needs a year-long economy to live, and till then it had only been the winter, and thanks to the global warming the winter was shrinking. So they needed to enlarge the summer activities, and the festival was their one tool.
I noticed a lot of building development here, chalets, residences. In my hotel there is a photo of Verbier in 1948 and there are hardly any chalets at all. It's changed a great deal.

Well, the festival has brought in a lot of new people. When I started 19 years ago, people would have said Verbier is skiing; now they say Verbier is skiing and culture. Here it really is all about the music. When you come here you don't just listen to the concert, you can listen to talks or conferences, you can talk to the artists, you can see young players rising, you can have a voyage of discovery. All the doors are open, so anybody can go backstage, anybody can go to a rehearsal. Therefore for the curious and the interested, I would say this is the best place to be.
Watch an excerpt from the medici.tv film of the Pelléas et Mélisande performance on Monday night with Degout and Kozená under Dutoit
Watch an extract from the medici.tv film of Leonskaja playing Mozart's sonata K332 last Sunday
I've told the sponsors from the start, please tell your guests not to put on a tie. It's misplaced up here in Verbier
Share this article