theartsdesk in The Faroe Islands: G! Festival |

reviews, news & interviews
theartsdesk in The Faroe Islands: G! Festival
theartsdesk in The Faroe Islands: G! Festival
An embattled John Grant, a weather overdose and oceanside music at the land of maybe's annual festival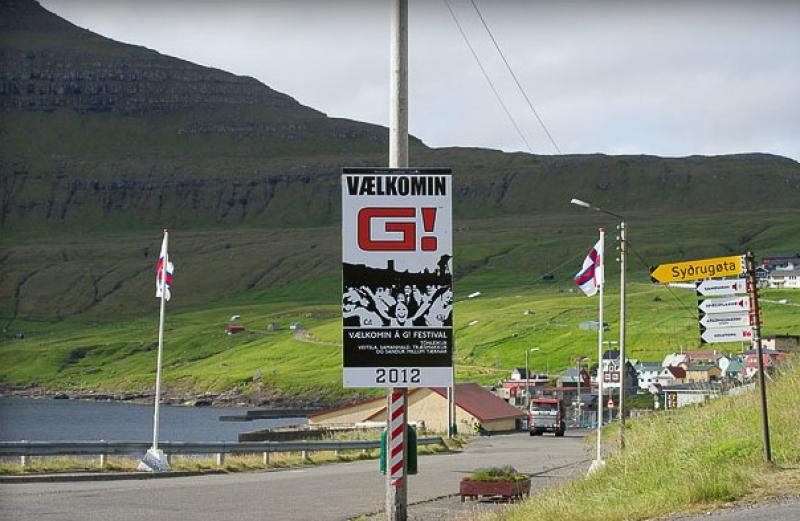 G! welcomes the world. This way to Syðrugøta
Iceland's kings of heavy metal Momentum are launching into an assault called "The Creator of Malignign Metaphors". It's broad daylight and they're playing about 10 meters from the kitchen window of a suburban-looking house. The stage is sited on an AstroTurf football pitch, with one of the goals pushed to the side of it. On the opposite side, kids are shimmying down a blow-up slide. Very little about G! conforms with the standard festival experience.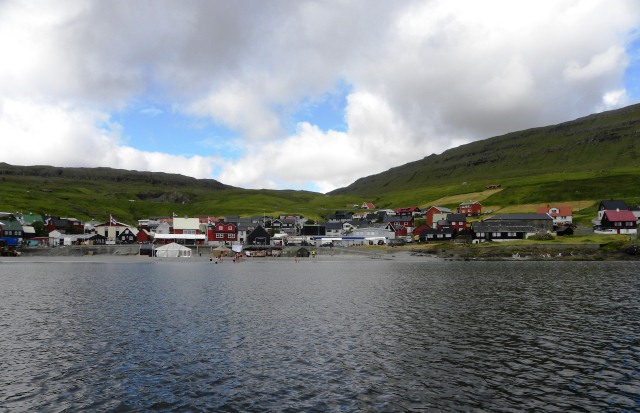 G! is the Faroe Islands' – The Føroyar - annual celebration of its own music. The chocolate-box coastal village of Syðrugøta is the host (pictured right). On the island of Esturoy, it has a population of 500. It's 70km north of the capital, Tórshavn. G! is in its 11th year and also attracts international acts like (last year) The Blind Boys of Alabama and Travis. This year, John Grant is booked. But here in the North Atlantic, at the mid-point between Norway and Iceland, north of The Shetlands, no festival could be as others.
One thing instantly springs to mind when thoughts turn to the Faroes: their permanence as a fixture in the shipping forecast. It's soon obvious there's a lot of weather here. If you like football as well as weather, their enviable international record will crop up. They're just as keen on music. Outlanders are billed at G!, but the Faroes are teeming with music, despite the 18 islands having a population of just 48,000. There are more than enough local acts to fill the bill. Oh, this will only be mentioned once: Sarah Lund's sweater in The Killing was made in the Faroes (the Faroes are a self-governing, autonomous region of Denmark). And yes, similar garments are worn by natives (the evidence is at the end of this article).
Little is simple here, and coming to the festival requires tenacity. Access is difficult. The airport - built by British forces in 1942 - is west of Tórshavn on the island of Vágar. Roads twist, climb, descend, twist some more and then do the reverse. The environment means the Faroese have a particularly elastic relationship with time. They might be Nordic, but their outlook can seem Mediterranean. More than once, locals call their home "the land of maybe". Any rendezvous slips so far from the appointed hour that you wonder if anything will actually happen. Knuckling down to schedule bands for G! must require something akin to reprogramming.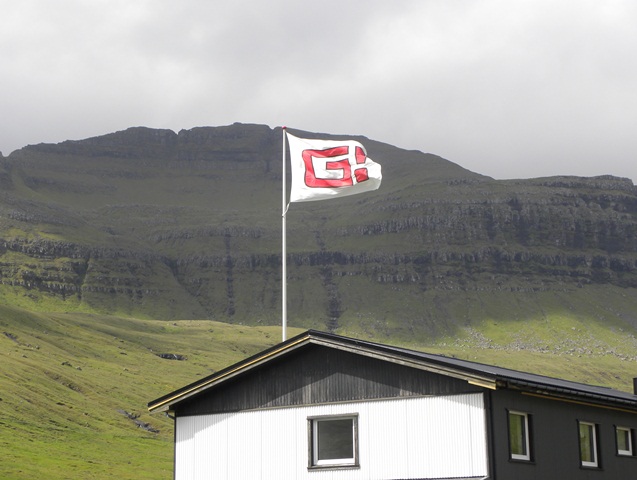 Planning – especially during the six-month winter period when virtually nothing can be done – is probably best avoided. I was told a story about someone dying. The church was in a neighbouring village 10 minutes walk away. Yet it was winter and nobody could go outside, so the body was stored for months. Apocryphal maybe, but the fact the story exists says enough.
The gales can be so fierce they've snapped the shaft of a wind turbine. Thankfully, during G! the weather had its glorious, balmy moments with clear skies and a luminosity that dapples the landscape with shadows cast by the looming mountains (flying the flag for G! in the shadow of the mountains, pictured above left). But it switches instantly: fog, rain and wind all come and go in an hour. The fog would become a recurring theme.
In July though, Syðrugøta and the Faroes are enchanting. Despite the breathtakingly beautiful, potentially overwhelming setting, G! was packed with grand surprises.
The Faroes aren't off the musical map. Their most famous son is Teitur. The atmospheric ORKA – who play homemade instruments – and arty solo singer Budam have passed across Anglophone stages too. Eivør – brought up in Syðrugøta – is well known in Denmark and Iceland. But they're the tip of a proverbial and clichéd iceberg. Local label TUTL has a crammed roster sporting Viking metal, glitch-folk, funk-jazz-punk, a harpist, blues, Balkan pop and all points between.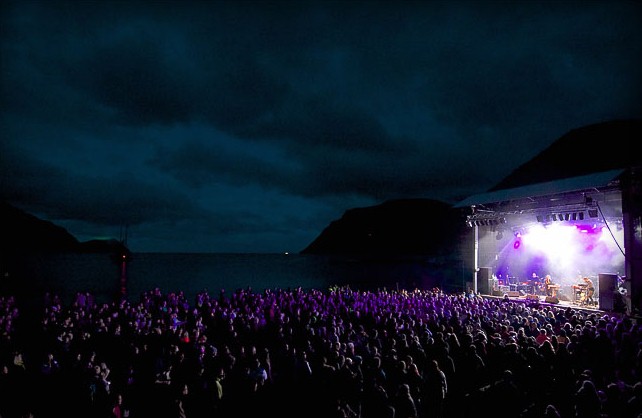 Eivør (pronounced I-for) is massive here (pictured above, photo by Kristfríð Tyril). Seeing her on G!'s beach stage on Friday was amazing. She had been meant to play the football pitch stage, but Swedish popster Veronica Maggio didn't make it as fog prevented her landing at Vágar. The larger stage was no problem for Eivør. She exudes a regal star-quality. Warmth and approachability too. Her songs are dramatic, yet are understated and draw from folk. Playing beside an ocean that was growing rapidly choppy made sense, as her songs ebbed and flowed in sympathy. Half-way through her set, I turned around to be staggered by the amount of people watching her – around 4,000, close to a 10th of the population (pictured right, photo by Kristfríð Tyril). Anyone fancying a break from Florence should look to Eivør immediately. The absence of poor Veronica Maggio wasn't an issue.
That fog, which put the airport out of action for close to three days, meant John Grant didn't play. He'd intended to arrive on the Friday, the day before his show, from his current home in Iceland. On the Friday, he'd reached The Shetlands. On the Saturday, he'd touched down in Bergen. Phoning in to say he was still determined to get to G!, a Sunday evening show was arranged for him in a local church. On Sunday, he was stuck in Copenhagen. He would never make it. Waiting for Godot hadn't quite become Waiting for Grant as there were distractions.
There was no doubt that locals were waiting for Frændur!!!, a band whose longevity dwarves anything else from the Faroes. They first hit big in the mid-Eighties. Their ocean-side show was an eye-opener. A cross-generational appeal meant everyone, including people just off boats still wearing all-weather gear, sang along with everything. Their anthemic Americana-ish songs aren't far removed from Oasis, or even Status Quo. Despite singing in Faroese, one was this close to Smokie's "Lying in the Arms of Mary". A tentative hum-along was possible. But you'd have to have grown up with them to be fully on board. Not that that mattered for the thousands bouncing up and down on the grey sand.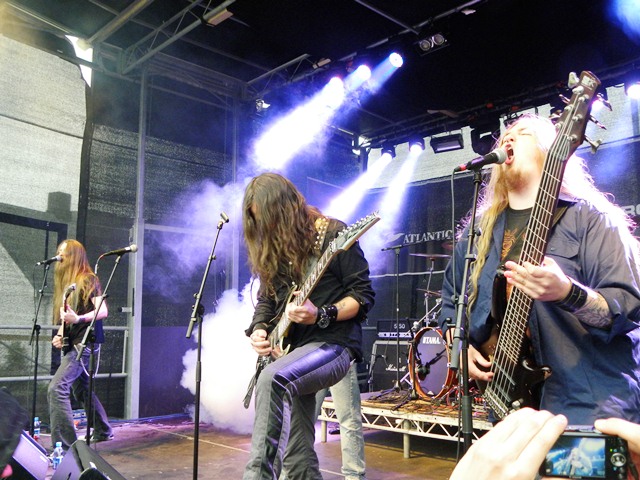 Less venerable bands had as much impact. Amongst the many striking things about G! was that, whatever the genre or style chosen, every Faroese outfit was terrific at what they did. Personal taste was swept aside when confronted with a succession of shows this good. Synarchy are metallers with a fearsome proficiency and a charming way with swinging their hair in unison (pictured left). G-r-a-a-a-w they went.
Benjamin is a dark-edged singer-songwriter with a Gothic, rocky side that imbues all his songs with instant melody. Dánjal are a massive band who draw from Brecht & Weill and klezmer. Theatre could easily be their place. Frostfelt, a solo project bolstered for the stage, draws from the linear end of Radiohead at their most techno but, again, fills your head with nagging melodies. Best of all are electro-poppers Sakaris, a sort of sprightly cross between a-ha, Jesus Jones and MGMT. A great band.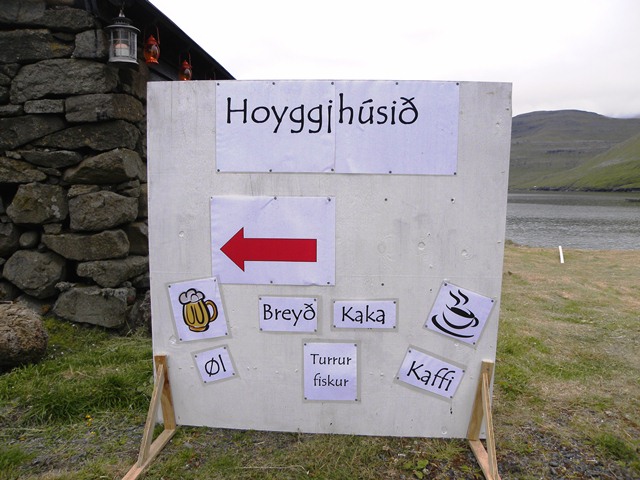 G! also accommodates the lower key, especially at the hoyggihúsið. This small wooden building was the singing hut, three walls inside lined with benches and the other furnished with a bar serving beer, coffee, cake and dried fish (pictured above). Park yourself, someone hands over a song sheet (mostly) in Faroese and Hans Hjalti Skaale starts playing his guitar. Everyone joins in with a succession of folk and popular songs. Luckily, "The Irish Rover" was on the menu, and in English too.
Up against all this, the visitors – the ones that made it – couldn't rest easy. Playing away didn't mean anyone could turn in a low-key show. Denmark's Hymns From Nineveh were affecting as ever (pictured rght). The Netherlands' Amsterdam Klezmer Band were huge fun. Should Aki Kaurismäki be looking for a band for his next film, they won't need auditioning. But Iceland's Retro Stefson made the biggest impact. It wasn't with their bright, Wham!-goes-Afro pop, which is engaging enough already, but their singer's colossal cheek. After inviting the audience at the beach stage to take their clothes off – "there's a reason, you'll see" (few went for it) – he stripped down to his boxers, leapt from the stage, had a run along the beach and splashed out into the North Atlantic. Six, maybe 10, of the audience followed him.
That was at 11.15 in the evening. It was still light. The festival continued. No one seemed inclined to stop. Leaving one night around two in the morning, I battled against a tide of arrivals from the camp site in neighbouring Norðragøta. The summer months have to be taken advantage of.
It'd be possible to kid yourself into thinking G! was taking place somewhere like, say, Croatia, Ibiza or the Caribbean – a place where festivals are at home by the sea or on an island (picture below by Kristfríð Tyril). But the temperate is temporary here. There's something clandestine, insular and otherworldly about G! Like the Faroes themselves. Long may it stay that way. Bring on the fog.
Sarah Lund's sweater in 'The Killing' was made in The Faroes. And, yes, similar garments are worn by natives
Share this article