theartsdesk in Reykjavík: Iceland Airwaves 2011 |

reviews, news & interviews
theartsdesk in Reykjavík: Iceland Airwaves 2011
theartsdesk in Reykjavík: Iceland Airwaves 2011
Ravens that reply, arms-in-the-air emo-rock, Icelandic Brit-psych and Yoko Ono at the festival where the Earth's plates meet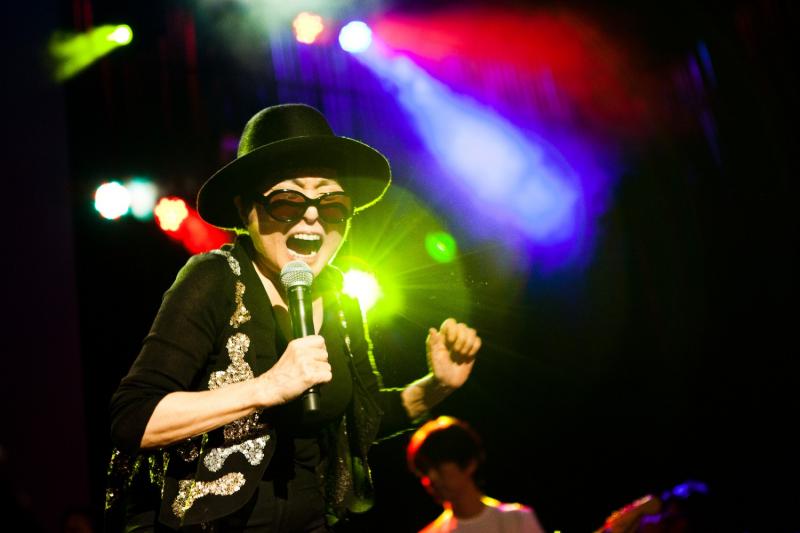 Yoko Ono at Reykjavík's Harpa: wailing, trilling and throwing bolero shapes
Iceland is remote. Strategic too. Vikings stopped off there on the way to North America. It hosted the Reagan-Gorbachev summit 25 years ago. On the anniversary, visitors from America, Canada and across continental Europe are in Reykjavík for the 13th annual Iceland Airwaves. Over its five days the festival brings an extraordinary range of music to Iceland's capital. Three years on from the country's financial meltdown, Iceland remains strategic. Culturally strategic.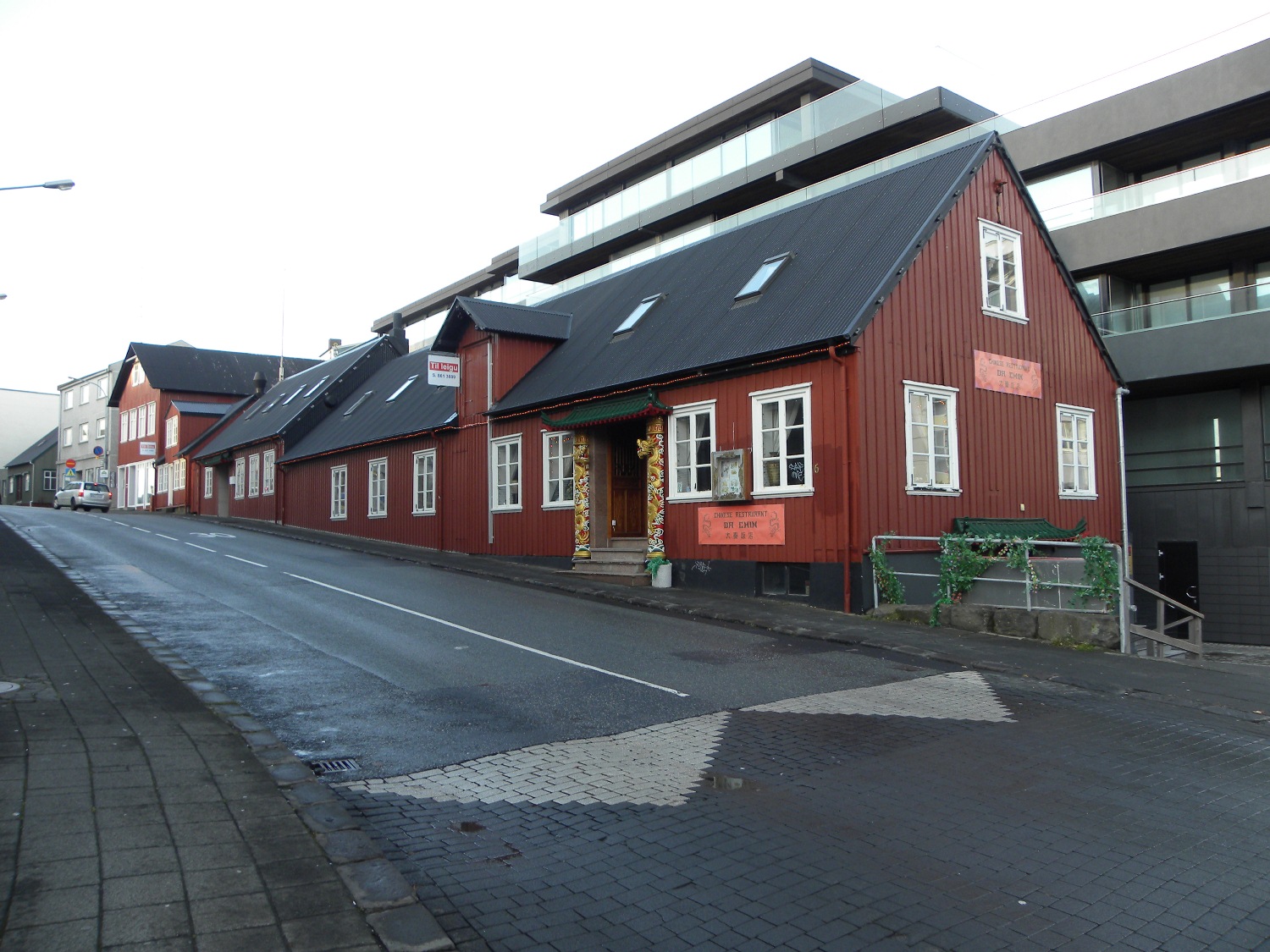 Reykjavík, though, is small. Walking from the dockside to the fringes of the built-up area takes 20 minutes. The city's streets are narrow. Ten cars cause a traffic jam. Among those will be four or five four-by-fours, a legacy of pre-crash Iceland. Along the dockside things open out, allowing less cramped development. A large hole beside the new Harpa arts complex will presumably become the site of something else world-class.
The disconnect between the festival's scale (any given moment sees 13 shows) and where it's held is echoed by Reykjavík's townscape. Low-rise buildings clad in the dusty colours of a natural environment huddle side by side with blocky edifices that feel as though they belong in Stevenage or some other post-Le Corbusier conurbation. There's little middle ground between them. The smaller buildings could fit in anywhere with an economy reliant on fishing or the sea, maybe Westcliff-on-Sea or Bergen.
That's not all that knocks you off balance. A nine-hour coach trip nibbling into the interior of the island brings geysers, basalt cliffs, extinct volcanoes, ravens that spookily reply when called to and the gash in the surface of the Earth where the North American and Eurasian tectonic plates meet (pictured below). At the spectacular Gullfoss waterfall, visitors seek sanctuary in the mist which surrounds it. Of course, Icelanders are used to their natural and built environments, but the extreme contrast between the two requires more than a double take.
Sudden five-minute hailstorms don't help. Nor does a knock-you-horizontal wind that appears from nowhere. A blue sky dumps torrential rain. Icelanders have no use for umbrellas and power down Reykjavík's main street Laugavegur without head cover. While queuing to get into shows, you wish you shared Icelanders' phlegm.
The festival has a reputation for repeatedly breaking acts – Florence + the Machine played their first international audience here. It's where Sigur Rós seduced the outside world. The audience is helped on board by founding sponsor Icelandair, which offers all-in packages including flights, hotel and entry to shows. Iceland Airwaves is centred on 10 main venues including cinema Tjarnarbíó, church Fríkirkjan, the clubby NASA, small bars like Amsterdam, a large hall inside Reykjavík Art Museum and Harpa. Demand outstrips supply. This year's opening show by Björk was sold out months in advance. The lines at NASA for Sweden's Nicky and the Dove and the US's tUnE-yArDs were static. Change of plan then.
It's impossible to stick to a schedule. Luckily, there's masses of other stuff, not only in the official festival but at off-festival venues like the waterfront restaurant/bar Kex, Eydmunsson's bookshop and the lobby of The Reykjavík Downtown Hostel.
Yoko Ono is fronting an outfit driven by son Sean. He whispers mum-wards, 'Tell them this is the title track from my new album'Curiously, Yoko Ono at Harpa isn't a massive draw. Although it's the fifth anniversary of the inauguration of the John Lennon-inspired Imagine Peace Tower on Viðey Island in the bay just off Reykjavík, the hall is half full. Billed as The Yoko Ono Plastic Ono Band, she's fronting an outfit driven by top-hatted son Sean. At one point, he whispers mum-wards, "Tell them this is the title track from my new album."
Her arrival on stage was preceded by an endless-feeling 20-minute film covering her life, art and John Lennon. Its deflating effect said that you have to know her past to appreciate the now, that she can't exist without this past. She looks frail, but the moment the fractured, guitar-driven music kicks in, she's off, wailing, trilling and throwing bolero shapes. It's initially compelling, but one piece bleeds into the next, dissipating the effect.
Elsewhere, John Grant shone, Björk perplexed (see my review), Zun Zun Egui created a buzz and Beach House fought the Art Museum's perilous acoustics. Seen in the lobby of The Reykjavík Downtown Hostel rather than NASA, America's Young Magic were compelling, melding shoegazing to techno. Even though playing in daylight, they still created an atmosphere.
Dutch outfit de Staat seemed to be actual techno types that had picked up guitars and decided to play rock. Evenings themed to a particular label such as Fat Cat (with Dustin O'Halloran, Hauschka and Jóhann Jóhannsson) or Bella Union (Treefight for Sunlight, John Grant) are great, but with so much going on elsewhere you're shy of investing the time.
Key to the distractions are 165 local acts. The confounding volume of music created on this island is core to Iceland Airwaves
Heads are inevitably turned by the Nordic world. Sweden's Dungen performed a beautiful, restrained lunchtime acoustic set at Kex demonstrating that, for them, the songs are the point. Denmark's Treefight for Sunlight radiated joy, Finland's Zebra and Snake romped through a samey anthemic electropop that was more about choruses than the pop. Their country-folk K-X-P and Murmansk were intense, deeply enthralling. Denmark's Iceage had all elements of the audience on board. Someone was overheard saying they were replacing their Radiohead tattoo with an Iceage one. Norway's Honningbarna made such an impression that it was impossible to avoid their Norman Wisdom frontman doing TV interviews on the city's pavements.
But the key distractions must be the 165 local acts. The country has a population of 318,000 – about 100,000 more than that of the London borough of Islington, or just under half that of urban Copenhagen. Whatever the draws from elsewhere, the confounding volume of music created on this island is core to Iceland Airwaves.
Hjaltalín played a half-hour set, opening with three new songs that bolted even stronger melodies than usual onto their showtune soul (pictured left by Alexander Matukhno). But, like everyone playing the Art Museum, they struggled with the sound. Everything except the bass vanished into the barrel-vaulted ceiling. Útidúr were wonderful at the Downtown Hostel, along the lines of Múm but jazzier with a swing feel. Normally a nine-piece, they played with 11 members. One of their violin players was contributing to 19 separate shows at Iceland Airwaves.
Caterpillarman are the acme of what Icelandic music could or might be: different to anything you've heard, non-linear songs, time signatures from hell. Imagine a Seventies Canterbury scene band attacked by the William Burroughs cut-up technique and put back together with pieces missing. Samaris were quieter types with a laptop, clarinet and a glitcheyness that seduced. Seen at Glaumbar, Valdimar were a revelation. Another band with more members than should be feasible, they deal in a sort of Americana. But their songs ebb and flow unlike anything rooted in country or any singer-songwriter tradition. A Spiritualised version of The Band.
Iceland's musical narrative – which we're part of, whether subconsciously or not - is dominated by the typically untypical. LIke those in the previous two paragraphs. We all know the adjectives.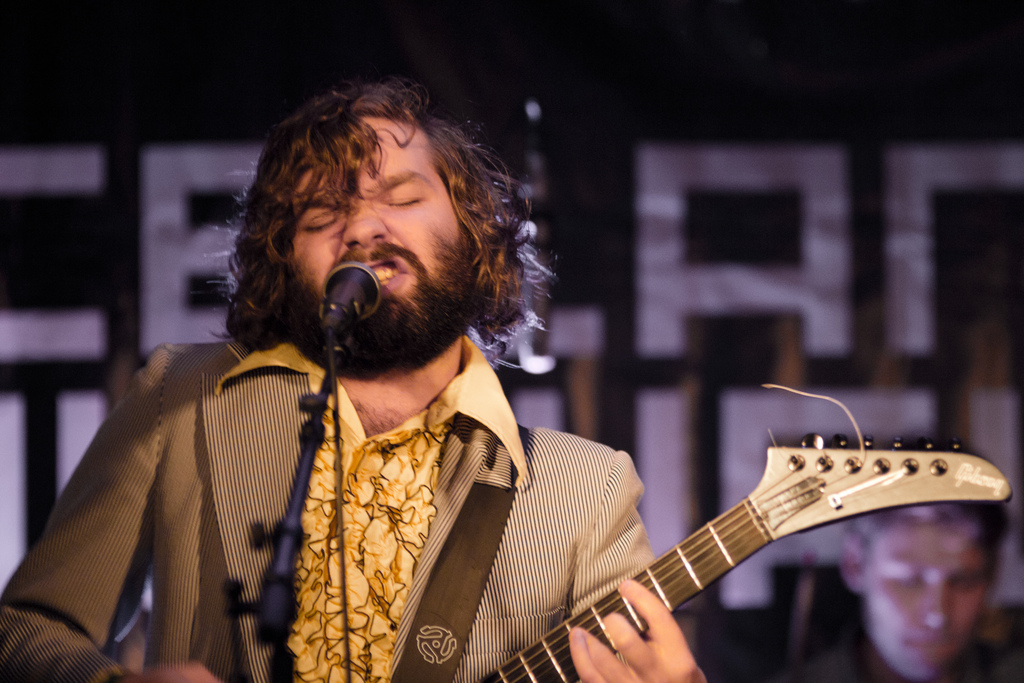 But like any other country, Iceland has more going on than the outside world has become aware of - the typically untypical overshadows it. Iceland Airwaves brought home that the margins of the narrative can reward as much as the main feature. Sindri Eldon is Björk's son. Bearded and in a ruffled shirt, he looks a little like Jack Black (pictured right by Havlreki). His three-piece band's power-pop punk nudges towards American bands like Weezer. He looked pretty chipper even though he sang of being "sick of everything, sick of myself". Lay Low's happy, bluegrass-infused country rock drew a bigger crowd than some of their compatriot brow-furrowers. Amongst the biggest draws were Agent Fresco, arms-in-the-air emo-rockers who killed a capacity crowd at the Art Museum. For a Minor Reflection were artier – born from a fascination with post-rock Texan instro combo Explosions in the Sky. They enfolded.
But the band who rammed home that Iceland isn't all about the unusual were The Dandelion Seeds. Taking their name from a song by British Sixties psych band July, they're an ill-matched lot, with no revivalist clothes. Super at what they do, they merge first-album Primal Scream with The Rain Parade while tossing off Byrds' guitar solos and singing, "Look to the sun, look to the moon". As it happened, it'd been possible to do just that on the nine-hour coach tour. At 10am, opposite each other, the sun and the moon occupied the same level on the horizon. Each was the same size. An extraordinary, moving vision.
The Dandelion Seeds didn't mean to capture Iceland in song, but the fact that they had inadvertently triggered thoughts of my experience pays tribute to the resonance of this place. Iceland Airwaves is about the music, but it can't help being about more than that. Funny effect, this Iceland.
Florence + the Machine played their first international audience here. This is where Sigur Rós seduced the outside world
Share this article