Love Tomorrow, Raindance Film Festival |

reviews, news & interviews
Love Tomorrow, Raindance Film Festival
Love Tomorrow, Raindance Film Festival
A delicate, unobvious film about two dancers scoops Raindance's UK Feature award
Will they, won't they: Arionel Vargas and Cindy Jourdain as two in search of tomorrow
For Darcey Bussell it's Baryshnikov in The Turning Point; for Carlos Acosta it's The Red Shoes. No one at last week's starry premiere of Love Tomorrow at the Raindance Film Festival, when I asked them for their favourite dance film, mentioned Black Swan.
Films about the ballet life are rareties - are the memorable ones those that are realistic about their strenuous world or are they the expressionistic shockers that let rip with the curtains and OTT fantasies?
Indeed, it's unusual to see a dance film being made at all, let alone picked for a celebrated indie film festival like Raindance this year - and still less being named yesterday the best UK Feature of the 2012 festival. But Love Tomorrow, which is now seeking a distributor for general release, has a genuine delicacy and elusiveness that makes it a naturalistic riposte to the merchants of OTT grand Guignol.
The risk looks considerable in casting two ballet dancers in the leading roles, rather than actors who dance
Where Black Swan purported lasciviously to be about the jungle life inside a great world ballet company, this is a story about two people who happen to be dancers, neither of them employed at the moment. One has had her hopes broken by injury, the other by the natural transience of existence for the itinerant young dancer for hire. Oriel, a mercurial Cuban lothario, has a great brush-off line: "My visa expires in two weeks, so I probably won't see you again." Delivered with a rueful twinkle, it captures the allure of a life where people are constantly in transit, in their imaginations and in reality, forming professional intimacies unique to dancing, but on which not too many personal stakes should be placed.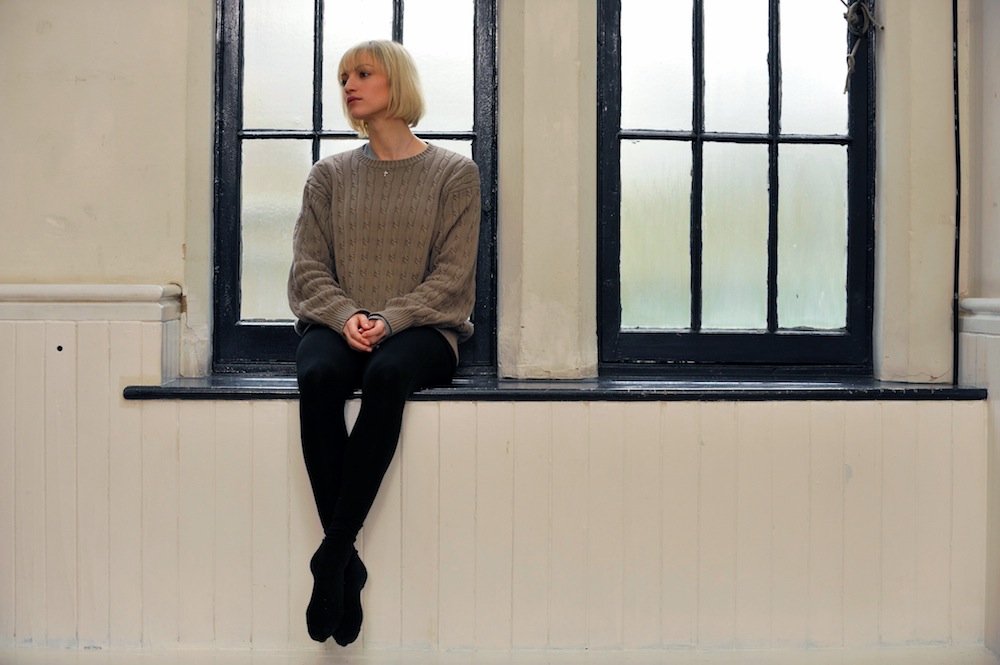 The risk looks considerable in casting two ballet dancers in the leading roles, rather than actors who dance: for this is not an orthodox love story but one where both Oriel and Eva have arresting secrets to keep. They meet in passing on the tube escalator, he swarthy and twinklingly on the make, she ash-blonde, with a shuttered face. The story blooms into what appears to be a predictable romance, sun melting ice, but then takes a sudden and thought-provoking turn, which makes a large new set of demands of the leading performers where their skills at evocative body language leap to the fore.
Cindy Jourdain (pictured above right) danced until 2010 with the Royal Ballet and English National Ballet. She was a notably impressive actress among dancers (dance-goers might recall her heartbreaking Empress Elizabeth in Mayerling), and here her face, pale as snow, seems loaded with bones and shadows, huge eyes dark with perpetual sorrow as the camera almost intrusively closes in, seeking to find in her reticent expressions what that chilling grief is.
More surprising to me was how excellent Arionel Vargas is as Oriel (pictured below). A fairly impassive performer on stage at English National Ballet, in this film he's transformed himself into an extremely attractive male, sunny, flighty and non-stick, but probably a good 'un deep down. (The character's name echoes Ariel, a spirit messenger in a sense.) His thick Cuban accent comes across as part of the attraction, neatly mixed into scenes of London's populous Hispanic ballet community, and believable plot subtexts enrich his character - the visa issue is real, he keeps photos of children, wives, liaisons and responsibilities left incomplete but still lingering on his conscience, and he's 30, a worrying age for a dancer.
That they are dancers is important: the dance world is a secret one full of mysteries for the outsider, about the inside career ladder, psychology and ghosts. Oriel is, surprisingly, a follower of Cuban Yoruba religion, who beats off the bad spirits from a failed audition by swiftly stacking up a little shrine in the street outside. Vargas' truthfulness as an actor and director Christopher Payne's inventiveness come together to bring this unorthodox little incident off as part of the whole picture.
But there's quite a bit of bravery lurking in this picture, not least the twist. Suffice to say that Eva has a very handsome fiancé, who plays a pivotal role backstage. The dialogue, kept minimal to spare the dancers' skills, is taken at rather too careful a pace but the compensation is the vivid way movement is woven into expressing their personalities. Oriel breaks heedlessly into a ballet solo in an underpass; Eva, immobile, watches him with an inscrutably sad face. The two of them watch yearningly from the Sadler's Wells wings at a ballet performance, ecstatically and briefly filmed by the Ballet Boyz, who were also responsible for the lovely meeting in the park, where the two improvise a ballet pas de deux like children playing dares among the autumn leaves. These three sequences have a shimmering otherworldliness, a powerful whiff of the lure of dance to liberate the soul and the difficulties encountered to achieve that illusion.
Shot fast and economically, the director's eye focuses on the day-to-day London of a dancer's life: inside, the famous Sadler's Wells stage bathed in celestial lights, outside, a bus stop in the rain; outside, the impassive green glass of the fabulous Laban Centre, inside, the plainness of a studio where a bitchy choreographer plays favourites. That's one role that needs a proper actor: the brilliant Samuel Barnett, Twenty Twelve's insinuating PA among other fine things on his CV. The end of the film has a poignant rasp, as Eva longs for Oriel to kiss her, amid the ripples of their now discovered circumstances. You very much want to know what happened afterwards, the mark of a good character film, truly delivered.
Watch the film's trailer