Hatfields & McCoys, Channel 5 |

reviews, news & interviews
Hatfields & McCoys, Channel 5
Hatfields & McCoys, Channel 5
Chronicle of feudin' hillbillies is building towards an apocalyptic conclusion
Thursday, 01 November 2012
Kevin Costner as 'Devil' Anse Hatfield, ready to defend the homestead
This factually-based saga of two feuding families in the woods and mountains of Kentucky and West Virginia might not look too prepossessing on paper, but two episodes in, Hatfields & McCoys is starting to grip like a knotted rope. The combination of powerful acting from all levels of the copious cast and the authentic-feeling depiction of primitive backwoods life in the bleak aftermath of the American Civil War isn't pretty, but it's morbidly compelling.
If you're in a sceptical frame of mind, it is possible to categorise the series, as one American critic has, as "a bunch of bibulous knuckleheads who shoot at each other year after year", and certainly we're not dealing with the nuclear scientists of Los Alamos or the Bloomsbury Group here. The extended Hatfield and McCoy families are evenly matched in their mixture of sullen stubbornness, perpetual simmering aggression, and a willingness to kill or be killed at even less than the drop of a hat. And you remember that old adage about the definition of insanity being to keep doing the same thing over and over again and expecting a different result? On that basis, everybody you see on screen should be incarcerated in a secure facility.
Yet, amid the mud, the blood, the quasi-Stone Age conditions and the bad-to-the-bone orneriness of much of the behaviour, there's a bunch of terrific acting going on. Kevin Costner, as Hatfield patriarch "Devil" Anse Hatfield (where did they get names like these?), is just the latest Tinseltown refugee to find that these days TV is far from being the silver screen's poor relation. Costner's performance is a judicious mix of authority, menace, dignity and bloody-mindedness, balanced carefully enough to allow us to sense that behind his cold-eyed facade, there could be a man capable of greatness, under different circumstances.
His opposite number, Randall McCoy, is played by Bill Paxton (pictured above), who I would never have accused of being over-burdened with raw acting ability. But, now older and grizzlier, he's more than plausible as a man clinging desperately to what he regards as his rightful share of land and position, but unable to see any alternative to dogged confrontation. It's as if the two protagonists and their straggling tribes are labouring under some Old Testament curse which, judging by the way it's going, will not permit anyone to get out alive (the McCoy clan gathers, pictured below).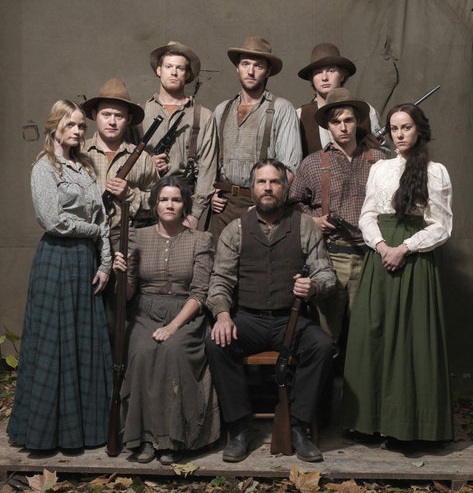 Even if there's an occasional glimmer of light in the gloom, it's certain to go bad. It seemed for a few moments that the improbable love affair between Johnse Hatfield (played by Matt Barr, looking unsettlingly surfer-dude-ish) and Roseanna McCoy (Lindsay Pulsipher) might offer some hope of dynastic union in place of genocidal slaughter, but that's all gone to hell in a welter of fear and loathing. Indeed, the way the affair has merely driven an even blacker, uglier wedge between the feudin' hillbillies is making Romeo and Juliet look like The Waltons.
This second instalment started with the sadistic, gratuitous murder of the comparatively civilised Ellison Hatfield, and climaxed in Costner's chilling execution of the McCoy boys responsible for the deed, leaving their bloodied corpses grotesquely roped to trees. Now the McCoys have put a price on all the Hatfield heads, and all kinds of bounty-hunting low-life is headed their way. Plenty more eviltude to come, folks.