Bobby Womack: It's All Over Now |

reviews, news & interviews
Bobby Womack: It's All Over Now
Bobby Womack: It's All Over Now
Here's what happened the last time the midnight mover played live in the UK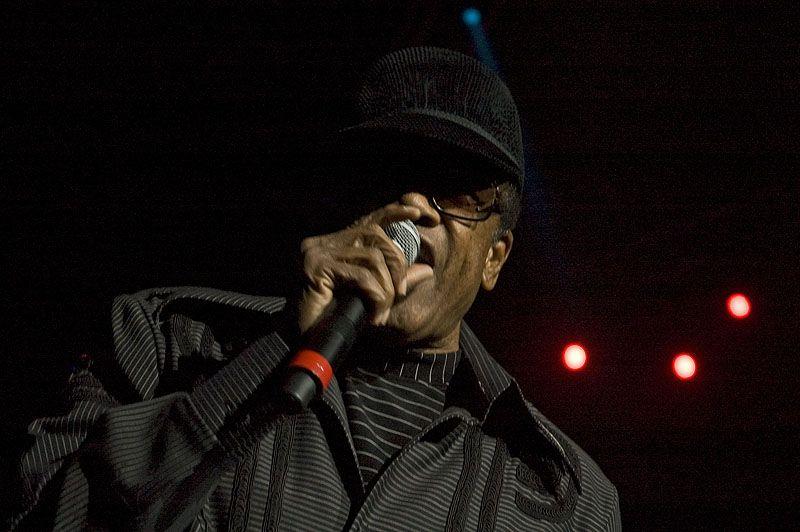 Bobby Womack: if at 68 the flesh is frail, the mind is still restless and searching
It's presumably just a freak of scheduling that on the night the Rolling Stones threw up the bunting across town, an artist to whom they owe a whole heap of thanks was hosting a party of his own. Bobby Womack was the songsmith who co-supplied the scruffy young covers band with their first number one. "It's All Over Now" was released by the Stones in July 1964 only a month after The Valentinos' original version.
Not that the song made it onto Womack's setlist for the first two nights at the Forum. Instead a Sunday congregation was treated to an evening of two contrasting halves, and a pair of splendid leather suits.
It's a wonder Womack is still performing at all. Earlier this year he was treated for pneumonia and a colonic tumour, and enduring frailty was suggested by the bar stool he perched on for much of the night, and the need to be ushered on and off the stage. But if at 68 the flesh is frail, the mind is still restless and searching, as evidenced by Womack's latest resurrection, which has come about courtesy of Damon Albarn and Richard Russell. The co-producers of this year's The Bravest Man in the Universe were onstage to accompany Womack through seven songs from the album.
The evening made the journey from sober to vibrant as Womack spirited his audience back to the blaxploitation era
But he opened alone with "Deep River", featuring a bluesy cameo for Womack's picky left-handed acoustic guitar. In three minutes it neatly summoned the ghosts of a century of black American music. That immense legacy was somewhat counterweighted by the noodly introspection which characterises this new collaboration. Albarn on piano and Russell's percussive nudges and computerised winks were supported by a discreet, practically shy rhythm section, all tasked with worshipfully ceding the floor to the voice. It's a relief to report that, while most singers nudging 70 have succumbed to vocal enfeeblement, Womack's rasping instrument retains all its trademark stylings – falsetto howls and avian squawks, underpinned as ever by that lazy come-hither drawl. As for the new songs themselves, the contemplative "Whatever Happened to the Times" and "Please Forgive My Heart" seemed better suited to the sparse instrumental cladding, while "Dayglo Reflection" and "Jubilee" felt slightly top-heavy as they ramped up the energy levels.
None of the new songs could compete with the razzmadazzle of Womack's red leather two-piece, topped by a matching cap, which he exchanged in an interval for more demure black leather. Atmospherically, the evening's entertainment made the opposite journey from sober to vibrant as Womack spirited his audience back to the blaxploitation era with "Across 110th Street". The last of the great soulmen rooted contently around his back catalogue for the next hour or so, now accompanied by seven instrumental musicians, who constructed a solid, spacious edifice in which Womack's vocals could roam. Out sauntered the likes of funk-flavoured "Nobody Wants You When You're Down and Out", the slinky "I Wish He Didn't Trust Me So Much" and the sultry "If You Want My Love, Put Something Down on It" (Womack always favoured a rambling song title).
He was supported by three female vocalists with blow-the-bloody-doors-off larynxes, each of whom was welcomed out front to duet in a set which felt a little like a lecture on the history of soul music. Womack nodded respectfully to Marvin Gaye with a melodic quote from "What's Going On" and, in "A Change Is Gonna Come", he nodded captivatingly to his mentor Sam Cooke, whose widow Barbara he infamously wed within three months of Cooke's murder. "That's The Way I Feel About Cha" and "Harry Hippie" dropped by to say hello and be sung along to. Occasionally the tempo ambled up into third gear, but Womack has always been a specialist in the slower school of seduction. This was never more audible than in an epic account of "If You Think You're Lonely Now", which seemed to be moving in for the winter, let alone the night. Womack did eventually make a chugging farewell with "I Can Understand It" and a quick blast of old-time gospel. An audience high on love juice whooped for more, but it really was all over now.
While most singers nudging 70 have succumbed to vocal enfeeblement, Womack's rasping instrument retains all its trademark stylings
rating
Explore topics
Share this article