Quartermaine's Terms, Wyndham's Theatre |

reviews, news & interviews
Quartermaine's Terms, Wyndham's Theatre
Quartermaine's Terms, Wyndham's Theatre
Simon Gray's tragi-comedy about loneliness doesn't tug at the heartstrings
Wednesday, 30 January 2013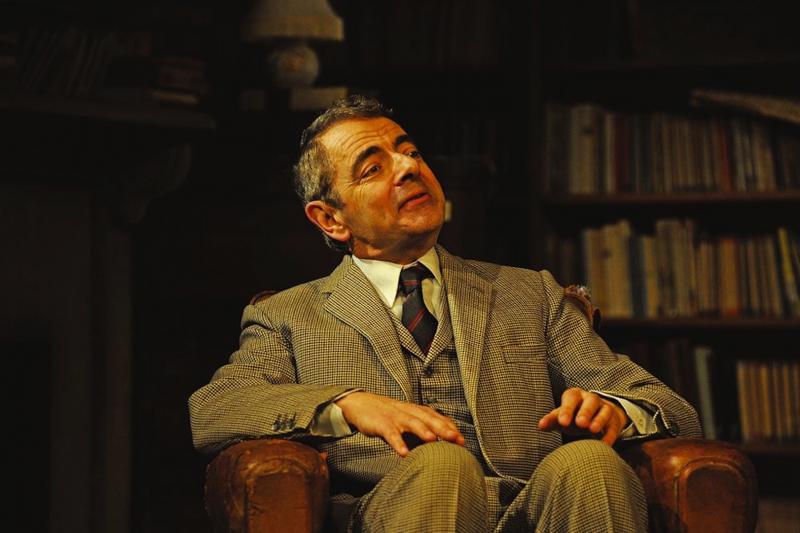 Rowan Atkinson as St John Quartermaine, a decent man but a poor teacher
A wise man once said of Simon Gray's plays - and he wrote a lot of them - that they often have a lot of talk and very little action. And so it is with his 1981 tragi-comedy, set in the staff room of a language school for foreign students in Cambridge.
Tim Hatley's evocative set – all drab colours, winded sofas and scuffed furniture – neatly reminds us that the drama, which spans several academic terms in the early 1960s, takes place before the Swinging Sixties came along to liven up dull British lives.
The school is run by Eddie (Malcolm Sinclair, who brings out every bit of comedy in his character - "Gather ye round! Gather ye round!") and Thomas, his business partner and partner in life, who is much mentioned but never seen. The senior tutor is the bumptious Henry (Conleth Hill in a nicely nuanced performance, pictured below with Felicity Montagu as Melanie); Melanie, who looks after her ailing mother; would-be novelist Mark (Matthew Cottle), and Anita, a bubbly young woman hiding her domestic pain. Joining them is the ambitious but accident-prone new teacher Derek (Will Keen, underplaying the physical comedy).
At the heart of it is St John Quartermaine (Rowan Atkinson), whose life is lived within the confines of the school and, increasingly, within the four walls of the staff room, which he is loth to leave to get on with any actual teaching. But that's a blessing, as he is a terrible teacher, forgetful of both students' names and his subject, and wont to doze off at a moment's notice. His life is empty and his need to fill it with suggested (but rarely taken up) trips to the theatre or pub with his colleagues is painful to watch. And while they may all feel sorry for him, the other teachers are happy to abuse Quartermaine's good nature, whether to use him as a sounding board for their self-obsessed drones or to do some unpaid babysitting.
Over the course of the evening we see the teachers' stories played out. Henry's self-regarding bluster is no protection against the loss of a daughter, Anita learns to live with her husband's infidelities, Mark finally finishes a first draft, Derek finds a girlfriend and Melanie finds a new lease of life when her mother dies. They all move on, then, except Quartermaine, who seems almost umbilically attached to his battered leather armchair as the seasons and terms – and unremembered students – pass by without impinging upon him at all.
It's a study of a life unlived, and Gray piercingly captures the essence of loneliness and how isolation can exist even in the to and fro of a busy staffroom; the characters may refer to being "family" - they constantly ask after each other's dear ones - but there is a notable lack of concern for the fading Quartermaine.
Atkinson, playing his first dramatic stage role for 25 years, and his first in the West End since Fagin three years ago, gives a businesslike reading of Quartermaine but too often Mr Bean – his character given such a welcome runout during the Olympics Opening Ceremony last summer - threatens to make an appearance, particularly in the final scenes. But Louise Ford plays Anita with a pleasing mixture of vulnerability and bright-eyed intensity, while Felicity Montagu does a great turn as Melanie, a middle-aged woman on the verge.
The first half of the evening is slow, but thankfully both the tempo and the comedy quotient are upped after the interval. This is a respectful and affectionate revival by Richard Eyre, but not one to tug at the heartstrings.
Atkinson gives a businesslike reading of Quartermaine but too often Mr Bean threatens to make an appearance
rating
Share this article