Berlinale 2013: Side Effects, Night Train to Lisbon, Reaching for the Moon |

reviews, news & interviews
Berlinale 2013: Side Effects, Night Train to Lisbon, Reaching for the Moon
Berlinale 2013: Side Effects, Night Train to Lisbon, Reaching for the Moon
Soderbergh 'retires', Jeremy Irons as a life-saver, and the biopic of a poet
Steven Soderbergh tackles big pharma: Rooney Mara and Channing Tatum in 'Side Effects':
Big hitters have graced Berlin, with the festival now reaching its close - Damon, Huppert and Binoche have been and gone, Deneuve is yet to come - but one of the more anticipated visits this week was Steven Soderbergh's. He has said that Side Effects will be his last feature as he "retires" at 50.
If he's really putting himself out to grass, this slick thriller is an impressive last testament. Jude Law plays psychiatrist Jonathan Banks, who's drawn into murky money and labyrinthine deception as he tries to deal with a patient, Emily Taylor (Rooney Mara), who seems to "forget" carrying out a crime against her husband, newly released from jail after insider dealing.
Soderbergh keeps the twists and turns spiralling through a drama that isn't frightened of critiquing the industry, and business, of pharmacology: the context being Taylor's chronic depression even after hubby's out, and the pills Banks prescribes to help her. Law is his usual papery Brit self but Mara is mesmerising, haunting and haunted, as the lead female, with Catherine Zeta-Jones putting in a cracking performance as the hard-nosed doctor who's previously treated Taylor.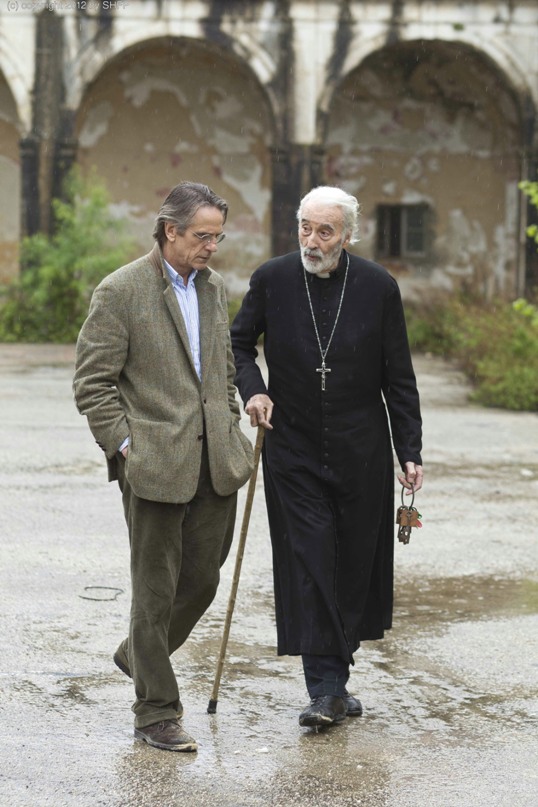 Other Berlinale 2013 bright lights include Bille August and Jeremy Irons, respectively director of and lead role in Night Train to Lisbon. Redolent of Umberto Eco and WG Sebald, Pascal Mercier's novel was a German-language bestseller in 2004. August somewhat softens this intriguing tale of middle-aged spontaneous adventure, undertaken by Swiss classics teacher Raimund Gregorius (Irons, pictured right with Christopher Lee) after he's saved a girl from suicide on a Bern bridge, and discovers she's been reading a book of home-made philosophy by one Amadeu do Prado.
On the mystery girl's train ticket, Gregorius travels to Lisbon and there encounters an intense story of love and courage during Portugal's Salazar dictatorship - unpicking the past with help from Amadeu's suspicious sister (Charlotte Rampling) and now ancient friend João (Tom Courtenay). Jack Huston plays do Prado in the 1970s; and with Christopher Lee, Mélanie Laurent, Bruno Ganz, Martina Gedeck and August Diehl also putting in very nice turns, it's a stellar Euro-cast indeed, though the result is oddly lukewarm: silky-smooth and chocolate-boxy.
Still in the Portuguese-speaking world a curiosity from the Panorama section, Reaching for the Moon by Bruno Baretto, sees Australian Miranda Otto playing the great and still relatively unsung American poet Elizabeth Bishop, and Brazilian soap star Glória Pires her aristocrat lover Lota. I suspect it's a completely unknown story, and is such a surprising one for a feature movie, which, weirdly, works. In it Pires is a plausible monster, while Otto is stunning: I can't have been the only one at the screening touched enough to want to find out stacks more about the brilliant woman she so radiantly impersonates.