Crysis 3 |

reviews, news & interviews
Crysis 3
Crysis 3
A feast for the eyes but thin gruel for the mind
'Crysis 3' - jaw-dropping visuals for this stealth-action first-person shooter
Crysis 3 arrives as the current generation of console hardware is being shuffled over to make way for the next – normally a very fertile time for games. Usually, the best games come out late in a home console's lifespan – when developers have learnt how to make the most of the hardware and tools they have, when creators can concentrate on just making good games and good art.
Apparently not this time. This year will see the launch of the next wave of home consoles, but the current PS3 and Xbox 360 generation seem content to go out with a whimper rather than a bang. Independently-developed titles on phones and tablets (like the recently-out Year Walk, based on Swedish folklore) are where innovative gameplay and interactive storytelling are to be found in 2013. While home console games makers seem more interested in selling solely to "hardcore" gamers who want blood, speed and grunting, incomprehensible bromances over anything resembling a new thrill. Crysis 3, needless to say, delivers on the blood, speed and grunting.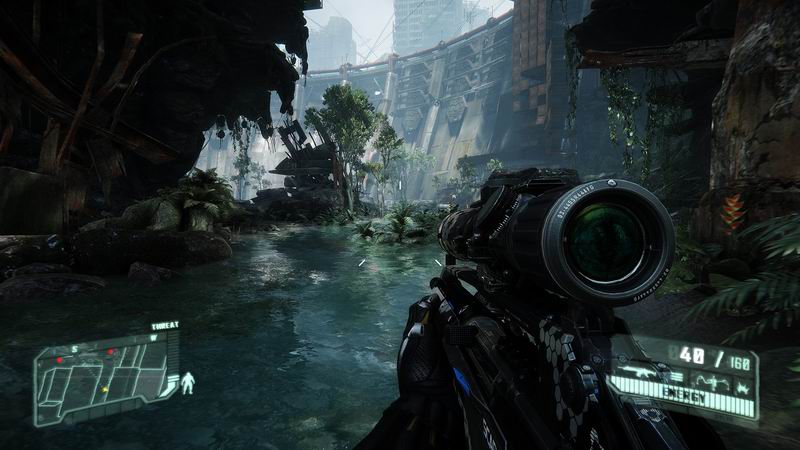 That's not to say it's bad, mind you. This first-person shooter is an absolute feast for the eyes. In terms of sheer pretty visuals, it's going to take some beating – with complex lighting, rain and water effects and a massively detailed, visually stunning backdrop of a ruined New York to play in.
It's also frequently great fun to play. Crysis 3 concludes the obligatory trilogy with a massive scrap between evil human corporate goons, returning metallic alien invaders and your half-human, half-alien supersoldier stuck in the middle. The series' key feature of balancing your energy levels while switching from super-armoured berserker to camouflage-cloaked stealth ninja returns, and an addictively evil bow you can use while cloaked is thrown in too. The result is a never-less-than-pleasing mix of stalking enemies interspersed with moshpits of quickfire run-and-gun action.
The problem is that mix looks increasingly dumbed-down, particularly in comparison to previous games in the series. Crysis was made by the folks who made the original Far Cry – a huge, free-roaming, island-hopping game where you were free to sneak, shoot or admire the scenery however you liked.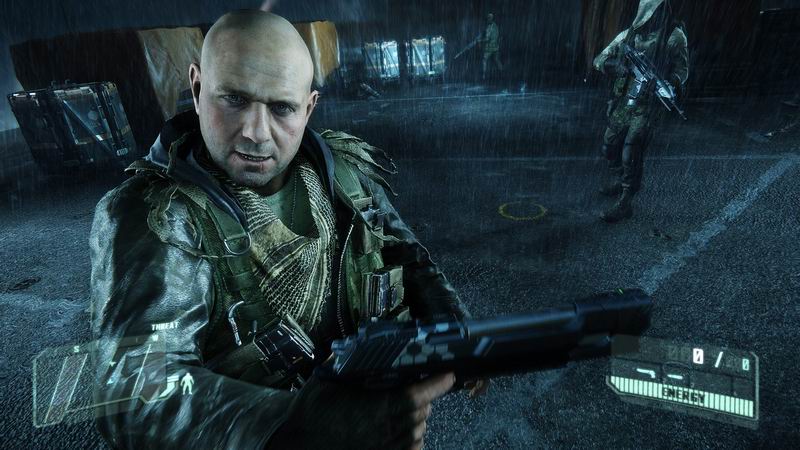 Between then and now, the open world has been replaced by wide corridors, and the play-as-you-like ethos has been diluted in favour of heavy hints on when to fight and when to sneak, with a rash of idiotic plot points pondering on the nature of humanity lobbed in too (games makers, here's a hint: if your main character is a nearly emotionless cyborg and your second character is an angry bald army guy, don't try to make them discuss the nature of humanity).
Pretty visuals, pleasingly meaty single-player and some genuinely frenetic and fun multi-player modes – there's a lot that's good about Crysis 3. But it's too often dull, impenetrable and lacking in ideas. If this is state-of-the-art console gaming, hand me a smartphone.
Crysis 3 is out now. Developed by Crytek and published by Electronic Arts. Platform: PC, PS3, Xbox 360