Nabucco, Royal Opera |

reviews, news & interviews
Nabucco, Royal Opera
Nabucco, Royal Opera
Domingo now graces the cast as the Assyrian king brought low, but the production still palls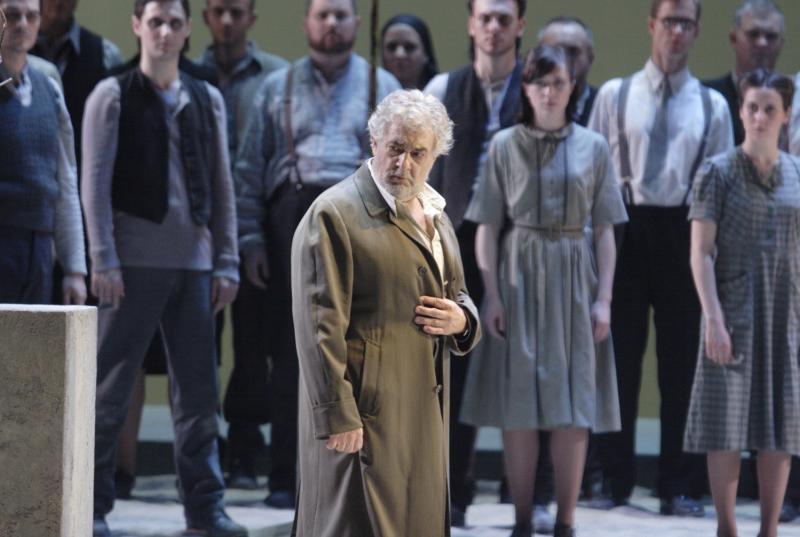 Domingo, stepping into the Royal Opera production to make his role debut as Verdi's Nabucco
"Oh, wretched old man! You are but the shadow of the king", sings Plácido Domingo's Nebuchadnezzar about himself in Lear-like abjection before his Goneril-Reganish daughter (the flame-throwing Liudmyla Monastyrska). It's only true of this brief phase in the protagonist's sketchy operatic trajectory from hubris brought low to piety raised on high.
And it's certainly not applicable to the one-time top tenor's latest assumption of a Verdi baritone role, one which may lack the finer nuances of Rigoletto or Simon Boccanegra but which has its moments, all of which Domingo takes with aplomb.
The obstacles mostly surmounted include a passing roughness around the edges of the voice, the still-applicable truth that the sound remains very much that of Domingo the tenor without the top notes rather than your genuine Verdi-baritone article – he remembers to darken it only on occasions, though of course the sound is still phenomenal - and the presence of a very loud prompt. For all that, he makes an easy and assured entry into the cast of a production which tries in vain to inject a wider contemporary significance into a melodrama not without its soulful moments. Perhaps it's because his charismatic manner still fits well enough with an ensemble that's mostly, if unevenly, about big voices and big gestures.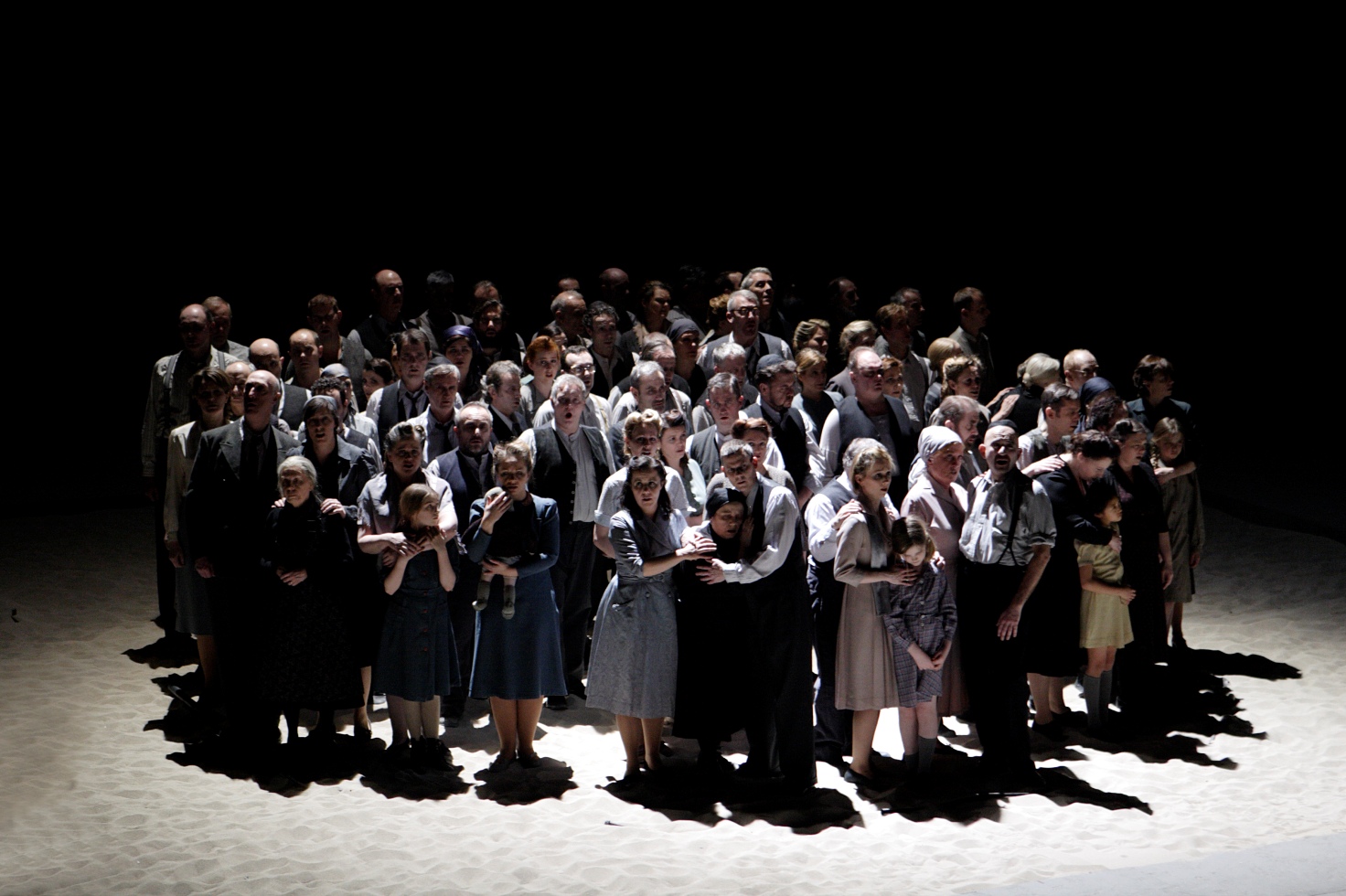 Verdi's first great hit with its crude vitality is, unluckily for director Daniele Abbado, much more about the usual love and hate, filial or amorous, between operatic sacred monsters than it is about the pain of exile or the suffering of a community. Having seen a very traditional production in Palermo a couple of weeks ago, and imagined that this could only be an improvement, I have to say that the well-lit and competently blocked Teatro Massimo pageant, despite its Biblical funny hats and wigs, was more honest and true to early-Verdi posturing than Abbado's vision. In essence, his is just as static, with the illusion of action in one of those all too obviously separate movement groups and now-cliched video designs by Luca Scarzella.
Otherwise the chorus – excellent in the celebrated "Va, pensiero" chorus (pictured above by Catherine Ashmore), if not quite as pianissimo as their Palermitan counterparts at its start and finish, less firm of pitch at some other points – groups effectively enough. The real problem is that since designer Alison Chitty has dressed them all in mostly greys and blacks throughout, and they stand on or around a noisy sandpit, you simply can't distinguish between Israelites and Assyrians, Jerusalem and Babylon.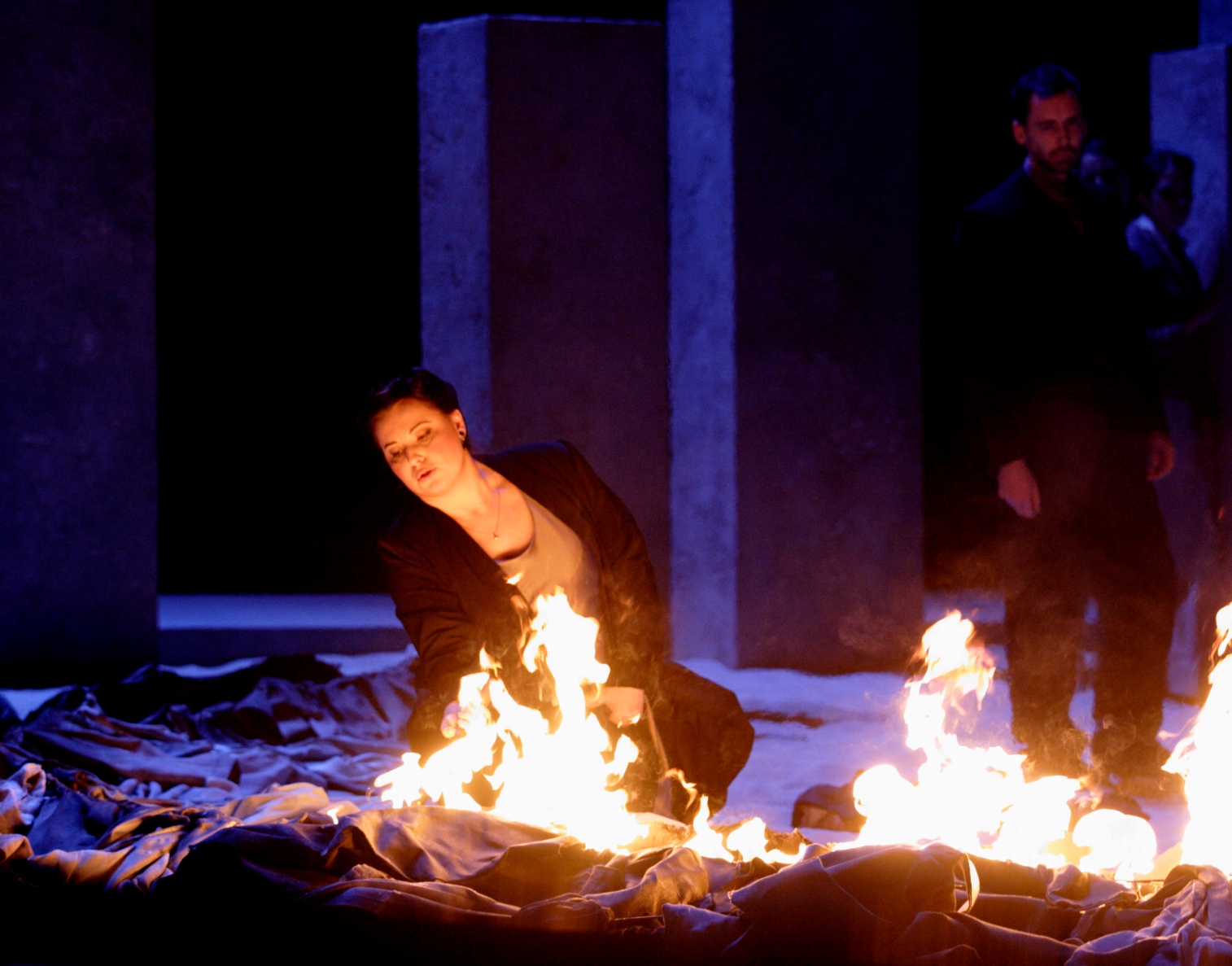 As successful as Domingo in delineating her black-and-white character, Liudmila Monastyrska (pictured left) is predictably electrifying in the near-impossible role of Abigaille. The father-daughter duet, with Domingo especially impressive in broken pleading, is - again predictably - the other highlight of the evening alongside the great chorus. Those who've not heard Monastyrska before will wonder at the steel in the voice, the incandescent top notes, the ability to sing softly. But two years is a long time in the life of a lyric-dramatic soprano, and since her stunning Lady Macbeth at Covent Garden, the ability to incorporate well-defined coloratura runs and trills is in danger of imploding. Singing sharp, too, is much more exciting than singing flat, but it's not quite healthy. Let's hope she can stay on course.
Otherwise, there's an ungraceful bass, Vitalij Kowaljov (as the Royal Opera transcribes his name in German style) as Hebrew high priest Zaccaria, who shouldn't have to dig for the low notes and who turns up the lights too much on the one truly introspective solo in the piece, beautifully scored with cello ensemble. There's a promising, if loud, tenor, Andrea Carè, who deals as well as he can with a role that's displaced in importance by the chorus, and the stylish Marianna Pizzolato as his love (and Abigaille's sister) Fenena briefly shines on her road to a forestalled sacrifice.
Conductor Nicola Luisotti has the ideal blend of fire and focus, even bringing out some interesting details in the by no means entirely rum-ti-tum orchestral accompaniments to arias and cabalettas. But the unabashed theatrics are watered down by the production's oblique earnestness, and even the midway injection of Domingo does little to change that.
Domingo's charismatic manner still fits well enough with an ensemble that's mostly about big voices and big gestures
rating
Share this article