A Child's Christmasses in Wales, BBC Four |

reviews, news & interviews
A Child's Christmasses in Wales, BBC Four
A Child's Christmasses in Wales, BBC Four
Dylan Thomas's updated Christmas story stays up way too late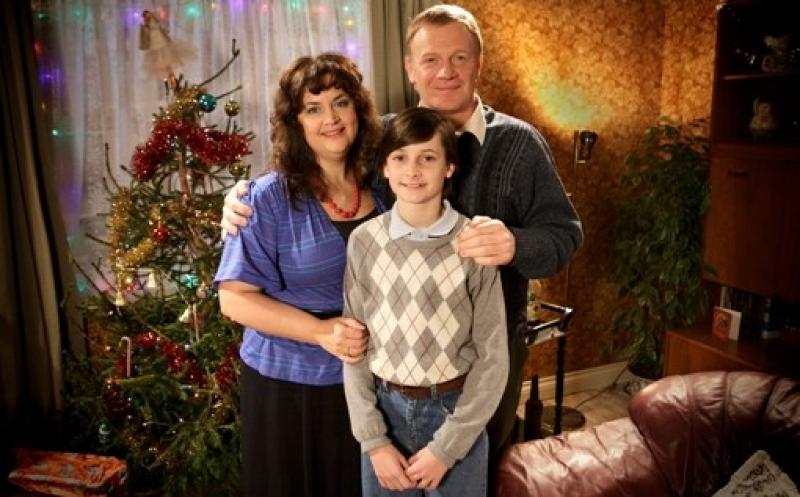 Oliver Bunyan (centre) plays the 1980s incarnation of the youthful Dylan Thomas
"One Christmas was so much like another, in those years around the sea-town corner now and out of all sound except the distant speaking of the voices I sometimes hear a moment before sleep, that I can never remember whether it snowed for six days and six nights when I was 12 or whether it snowed for 12 days and 12 nights when I was six." Dylan Thomas's A Child's Christmas in Wales, broadcast on the radio in 1955, offered young listeners a flavour of his aromatic observations of small
-town Welsh life better known to adults in
Under Milk Wood
.
The old roué might very well have wondered how a faithfully inoffensive dramatisation of his gently mocking tale ended up being broadcast an hour after the watershed. It surely ought to have been on at tea time. The BBC's decision to pop in on Thomas's little visited world is of course welcome. The author would have been delighted to note that little has changed in Welsh family life in the comedian Mark Watson's updated version. But then in Wales, according to Thomas's fable, nothing much changes anyway, not from Christmas to Christmas nor from decade to decade.
Geraint goes out on strike to support the miners, but as he's a traffic warden no one much minds
The Rhys family – the obsessively tidy Brenda and her sofa-bound husband and son Geraint and Owen – receive the regular visitors every year: a male voice choir which inflicts its unWalian music-making on them each Christmas Eve ("We'll be back Christmas Eve next year," says their choir master, "around about quarter past three"), succeeded by two uncles: Huw, an archetypally puffed-up self-made man, and Gorwel, a classically drunken dreamer who squats in an aquarium (perhaps a nod to Thomas's fishing-village roots). The same Max Boyce songs are sung, the same drinks downed and the same perfectly pleasant tensions simmer with amusing predictability.
Aside from the plural title, there are two principal differences. Watson has moved the action from somewhere very like Thomas's Llareggub, the home town in which he based Under Milk Wood, to a landlocked corner of the valleys. Also, the 1980s have come a-knocking – the story is set in 1983, 1986 and 1989 - and even in this traditional left-wing stronghold the spirit of Thatcherism has taken root. The choir are now taking cheques, and charging for each carol. Huw, flush from selling carpets to the likes of Tom Jones, is buying the latest useless mod cons. Geraint goes out on strike to support the miners, but as he's a traffic warden no one much minds.
Thomas's story was a reminiscence of the 1920s. With the best will in the world, the idea of a Welshman in 1983 who would rather walk two miles to the public call box than let a phone into the house stretches credibility. As Brenda, Ruth Jones in mother-hen mode is a far cry from her incarnation in Gavin and Stacey. Paul Kaye does a lovely turn as the pie-eyed wastrel Gorwel.
The one thing that's missing from Watson's enchanting narrative, pleasantly voiced by Michael Sheen as the adult Rhys, is Thomas's intoxicating prose, and the whimsical sense of his proximity to the great Welsh outdoors. There are gentle laughs aplenty here, but no poetry. "I said some words to the close and holy darkness," Thomas's story lyrically concludes, "and then I slept."