Shameless, Channel 4 |

reviews, news & interviews
Shameless, Channel 4
Shameless, Channel 4
Familiar faces return for the final episode of Paul Abbott's long-running family drama
Goodbye to the Gallaghers: Frank (David Threlfall) and his dysfunctional brood bow out
They say that the most important part of any drama is the journey that it takes its leading characters on. Whatever events have taken place - and after 139 episodes and nearly a decade, this show has had a lot of them - you can expect them to have shaped the characters, who will likely have learned valuable life lessons and evolved.
Despite this, it is no great surprise to see
Shameless
patriarch Frank Gallagher (David Threlfall) begin the show's final episode from jail - where he has spent three months for benefit fraud.
Shameless has experienced diminishing critical returns as the years have progressed and actors (among them Maxine Peake of The Village, and James McAvoy of just about everywhere) have moved on. With this concluding series it has rediscovered its roots, and included cameos from various long-gone cast members. So it's only right that its final episode returns to the dysfunctional Gallagher family that started it all.
The final episode feels as much of a reunion as an ending
We see Frank leave prison and fall into the arms of ex-wife Monica (Annabelle Apsion), who returned at the end of the previous episode and is pregnant with a tenth member of the Gallagher brood. In typical Shameless fashion, her waters break (in Frank's local/second home The Jockey) before the news does. It's a big surprise for Frank, who was convinced that his lady had had an abortion - and almost as much of a surprise for me, who still remembers a Monica who left her family for a trucker named Norma. It turns out that the abortion was "only 50 percent successful" - and if this is offensive, you're watching the wrong show - and the resulting guilt sends Monica to her bed for a fortnight, weeping over the life her twins ("Bill and Ben!") never had together.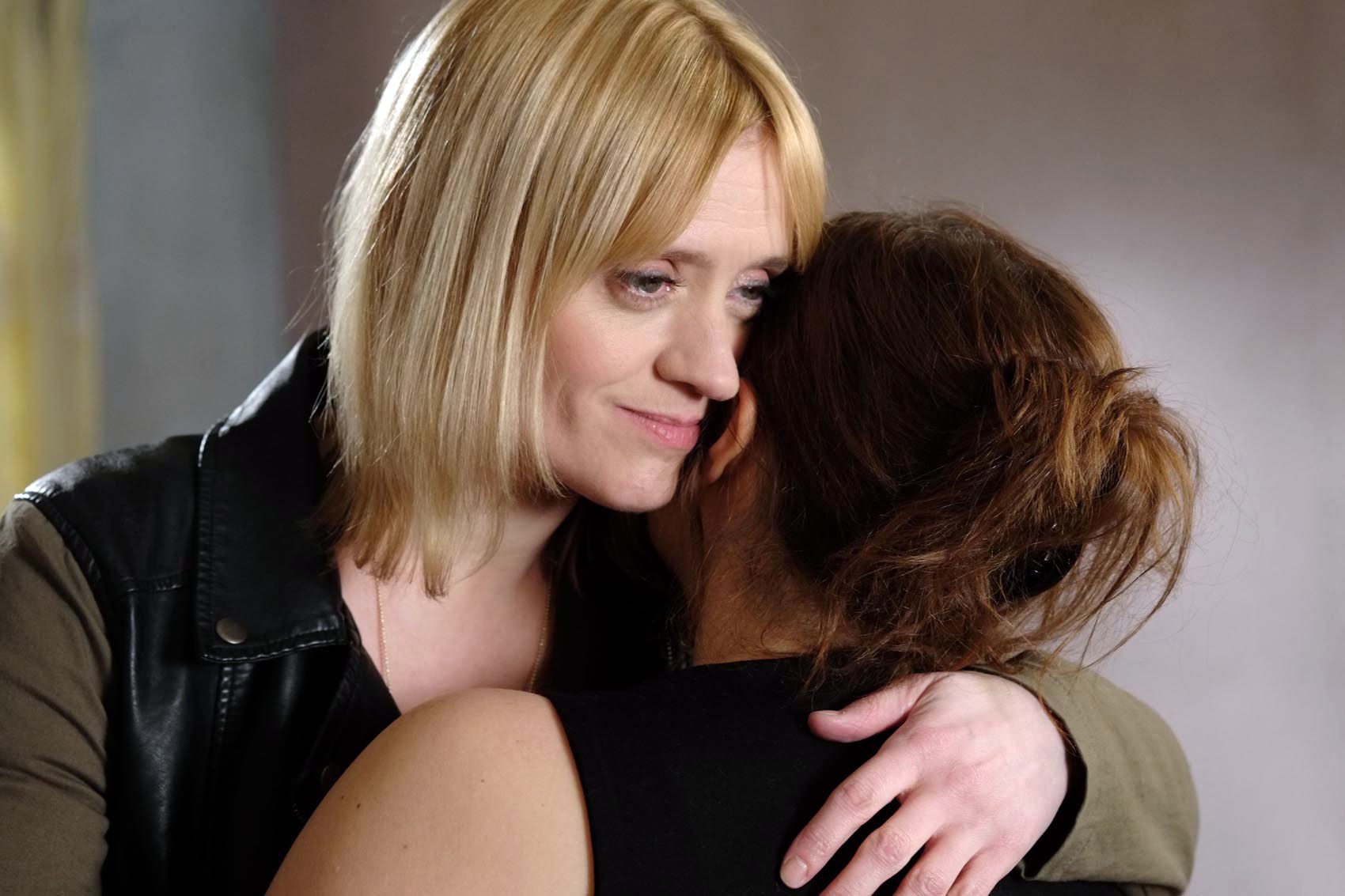 Meanwhile, history seems to be repeating as young Stella (Nikita Brownlee) - a hybrid of the sensible Debbie, who disappointingly does not make a return for the finale, and pragmatic oldest sister Fiona - is the only member of the family paying attention to the baby left alive, until Fiona herself (Anne-Marie Duff, pictured right, with Apsion) returns to the bosom of her family for the first time since disappearing into the sunset with real-life husband McAvoy's Steve McBride back in 2005. Fiona and brothers Lip (Jody Latham) and Carl (Elliott Tittensor - now a police officer, to the entire family's horror) have been summoned for the funeral of their aborted brother, and Fiona sees her chance to rescue her two youngest siblings from the life she managed to escape.
With Dean Lennox Kelly also returning as neighbour Kev, the final episode feels as much of a reunion as an ending. Threlfall, that rare cast member who stayed with Shameless until the death, gives one of his finest performances in an episode he also directed - including one of the hilarious monologues that were always the best thing about the show. Brownlee's performances, once you manage to ignore the fact that the baby she is lugging around for much of the episode is clearly made of plastic, carry on the tradition of a show that - for all the headlines - was always full of heart, and about family first. Well, almost. I'd be surprised if anybody who was ever a fan didn't get a little emotional at the end.
It is no great surprise to see Frank Gallagher begin the show's final episode from jail
rating
Explore topics
Share this article