No Offence, Channel 4 |

reviews, news & interviews
No Offence, Channel 4
No Offence, Channel 4
Paul Abbott's much-anticipated return hit our screens and landed some good punches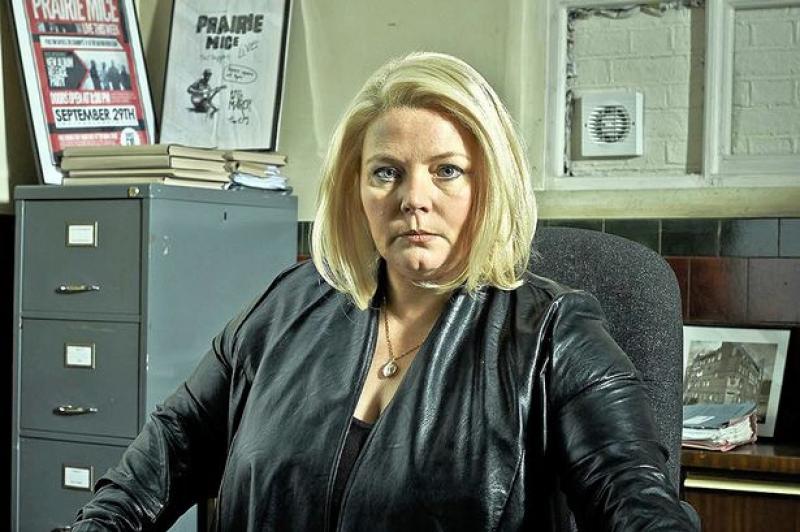 Spray it with flowers: one-woman wrecking ball DI Vivienne Deering
There's been much hullabaloo surrounding the new series from Paul Abbott – and with good reason. It's a decade since we've seen any TV from the creator of State of Play and Clocking Off and, given the impact and lasting legacy of Shameless, anticipation has been as high as Frank Gallagher at the business end of a three-day bender.
It seemed, on the surface at least, to be a more straightforward police drama than one might have expected, particularly given the attention that has been heaped upon the comedy expected of this comedy drama. In truth, it was never likely to be primarily gag-driven – Abbott is a far better writer than that and knows humour works best when it comes from a situation rather than demands one. So, while we were treated to a succession of quickfire zingers and well-weighted words throughout, they added depth and complexity by revealing much about the characters while also being very funny. This economy was crucial to establishing roles early on and vital when it came to penetrating the iron-clad armour of one-woman wrecking ball DI Vivienne Deering (played, against type, by Joanna Scanlon, main picture). Without it, the character's headstrong, no-nonsense schtick could have become painfully one-note and been in danger of eclipsing her team.
Speaking of the team, it is notable for being led by women. Following in Deering's considerable wake are DC Dinah Kowalska (Elaine Cassidy), a capable copper with a disregard for the rules, who is very much the heart of the first episode; plus there's Joy Freers (Utopia's Alexandra Roach), a hyperventilating detective sergeant, recently promoted out of the blue and her comfort zone. For these intelligent, able police officers their gender was central to their characters, but incidental to their job, and this gave the show an appealing freshness – as did Deering's liberal use of vaginal deodorant within the first ten minutes. Other decent turns included the criminally underrated Will Mellor as DC Spike Tanner, of whom I hope we'll see more as the series progresses, and Paul Ritter who, as forensics expert Miller, was given some of the best lines the show had to offer and delivered them with precision and finesse.
Underneath the gallows humour and well-drawn characters was a decent story too. An investigation into a killer of women with Down's Syndrome needed careful handling and that's exactly what it got. Even when it became apparent the killer had mistakenly abducted a girl with facial injuries, thinking her to be Down's, the confusion was used not to poke fun, but to cleverly drive character, leading to conflict, rank-pulling and a metaphorical pissing contest between Deering and her superior in an actual men's toilet.
Events are shifted slightly to heighten drama and accentuate character, but remain anchored in familiar ground
While on the other side of the thin blue line to the Chatsworth Estate, No Offence was still very much in the same universe. Indeed the scene where Deering and Kowalska visited a house in search of the missing girl felt like they were strolling into Shameless, as the DI booted the door open to reveal absentee parents and drug-taking teens. As well as fleeting visual laughs (including a teenage girl drinking a can of lager while in a cot) there were some lovely, near-throwaway lines. A girl's reference to her parents' preference for Easyjet over Ryanair, "Me dad's phobic about trumpets since Afghanistan", was an underplayed gem, simply left as an Easter egg for anyone who has had to endure the landing fanfare that signals you've made it to your destination alive.
The casual delivery and common, conversational rhythms that marked this episode, have characterised much of Abbott's work. The words have heft and balance, they feel real even though we're acutely aware that what we're watching isn't. This allows for a kind of heightened, super-focused naturalism where, although events are shifted slightly to heighten drama and accentuate character, they remain anchored in familiar ground. This shift, this displacement, provides the space for the story to breathe, the cast to have some fun with it, and the series to develop its personality. There's certainly no shortage of that and, on the basis of this episode, there should be plenty more to come.