Les Pêcheurs de Perles, Opera Holland Park |

reviews, news & interviews
Les Pêcheurs de Perles, Opera Holland Park
Les Pêcheurs de Perles, Opera Holland Park
A troubled production of Bizet's embattled opera
Oui, c'est elle! C'est la déesse: Soula Parassidis (Leila) brings beguiling charm to Bizet's two-dimensional heroine
Bizet's Les pêcheurs de perles is an unfashionably generous indulgence of a score tethered to an unfashionable and unredeemable plot. There's not a contemporary director alive who can make the wretched thing work, so perhaps it would be better if we all just accepted this and closed our eyes through a Covent Garden revival from the 1980s with some of the finest voices in the business.
It certainly gives everything to singers and orchestra that it so cruelly takes away from any director, but sadly the opera's own faults do tend to end up at the door of those who attempt it anyway.
Opera Holland Park's Oliver Platt may not be altogether to blame for the dramatic woes of London's latest production, but he's not altogether innocent either. For a start he has a rather naïve faith in the dramatic power of inanimate objects. So laboriously raised and lowered, angled and stretched, is the giant orange tarpaulin that forms the better part of the opera's set, that it deserves a place on the cast list. At any moment of tension or emotion, where focus might natural fall to the principals, you reliably find your attention drawn to the chorus, fiddling and fussing over some prop or other. If you're so embarrassed by the Orientalist action of the show then choose not to direct it, don't attempt an elaborate and extended game of theatrical misdirection.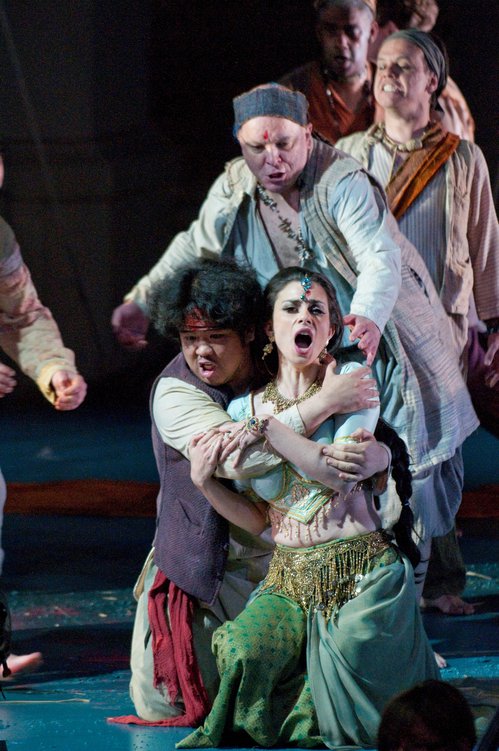 Misdirection is certainly something the chorus are suffering from, hamming things up unforgivably (though it doesn't help that designer Colin Richmond seems to place most of the women in one of the more bohemian chapters of the WI, in a symphony of pond-coloured jumpers and skirts) and finding only an echo of the usual vocal strength of this young group. It's a shame because Bizet's ensemble-writing really is the best bit, and the excellent playing of the musicians of the City of London Symphonia deserves better.
Conductor Matthew Waldren directs an efficient reading, getting lovely clarity from the strings and some beautifully blended work from the horns, and musically this is an enjoyable evening. After a rather tight start soprano Soula Parassidis (Leila, pictured above with Jung Soo Yun's Nadir) released a pleasingly lyrical and rounded tone in her middle register. She found extra force and richness at the top too as the night progressed, outdoing both her suitors. Given how light it is, though, it's not the most agile of voices, and I'd be interested to hear her negotiate something a little swifter and more detailed.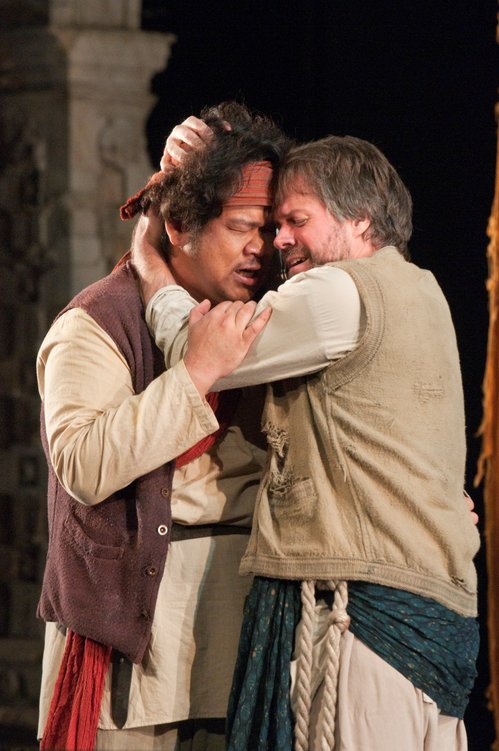 Despite a spectacular crack early on, Grant Doyle's Zurga (pictured left, to the right) was solid and carefully inflected, bringing an older, softer colour to this rivalry than we sometimes see. His "L'orage est calmé" was nicely underplayed, bringing the evening as close to truthful emotion as it managed, and he acquitted himself honourably in "Au fond du temple saint". I suspect Jung Soo Yun's Nadir will divide audiences rather more. His is a pleasant, open voice, and if a little soft-grained at times against Bizet's heavy-hitting orchestral forces is certainly never pinched. He gives a very likeable, if not entirely developed, performance, and climactic moments do reveal that he does have the vocal weight when working at full capacity. He coped well with the falsetto passages, even in the tricky acoustic of the OHP tent which offers very little cover.
There were just too many lazy slips, too little love put into this new production to get really excited about it. Directors working at Opera Holland Park are faced with a choice: either chafe dramatically against the façade of Holland House that forms the stage's backdrop, work with it, or remove it from the equation. You can't just ignore it, because when a chorus of Sri Lankan fishermen enter through an ornate 17th-century portico naturalism, however non-specific, does rather go out of the window.
It's a shame, because this is just the kind of opera that should work so well in this most relaxed of England's summer opera experiences. Perhaps things will evolve as the run progresses, perhaps details will be fixed. Meantime it's a show worth hearing, but if you happen to leave your glasses at home it wouldn't be too much of a tragedy.
There were just too many lazy slips, too little love put into this new production to get really excited about it
rating
Explore topics
Share this article