Double French: the 35th Buxton Festival |

reviews, news & interviews
Double French: the 35th Buxton Festival
Double French: the 35th Buxton Festival
Paired rarities from Saint-Saëns and Gounod resurface in Derbyshire with an early Mozart
Turning Japanese: Anne-Sophie Duprels with Ryan MacPherson in Saint-Saëns' 'La princesse jaune'
Retrieving buried rarities, many even by famous composers, is the cornerstone of the Buxton Festival, now in its 35th year. This time around, artistic director Stephen Barlow has plucked out a pair of 19th-century French comic operas by Saint-Saëns and Gounod, coupling them in a double bill to kick-start the Festival.
Under Francis Matthews's direction, aided by Lez Brotherston's inspired design (brilliantly lit as usual by John Bishop), the two are cleverly yoked together on stage by placing them in adjacent apartments, one beneath the other, in 1890s Paris. And the stories do both concern frustrated love affairs which end happily.
Here we are in the familiar world of opera buffa confusion
Saint-Saëns' La princesse jaune, first performed in 1872, is not so much a comedy as a satire on the penchant at the time for all things Japanese, pre-dating The Mikado by 13 years. Here we have artist Kornélis in his attic atelier, besotted by a life-size portrait of the kimono-draped princess he calls Ming. His cousin Léna battles for his love against his obsession and drug-fuelled hallucinations, during which he sees her briefly transformed into the princess. I would like to have seen much more made of the hallucinatory Japanese images and of the Léna/Princesse transformation (main image).
The production gains much from being spoken and sung in French, using the original Louis Gallet libretto, especially since Anne-Sophie Duprels as Léna is so alluring and sings so beautifully. Ryan MacPherson, a fine tenor, is suitably distracted as Kornélis. Barlow conducted the Northern Chamber Orchestra briskly and with a real feel for Saint-Saëns' delightful score, amusingly punctuated by faux Japanese-style passages.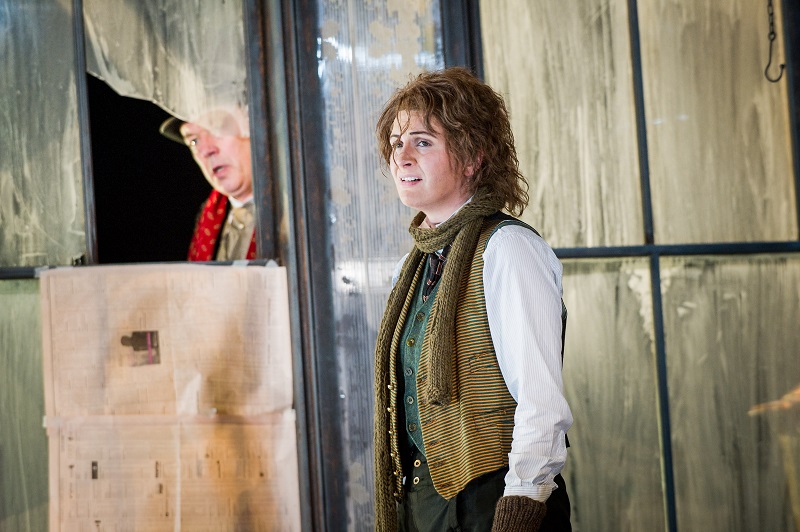 By some miracle of staging, during the interval the attic studio is elevated to a higher level to accommodate a large apartment with floor-to-ceiling windows, dazzlingly back-lit, for Gounod's La Colombe (1866). Some of us are old enough to recall that this opera was staged here 30 years ago.
It's a silly story, which focuses on Horace (the versatile Ryan MacPherson again, ideally suited to this role), who is in love with Countess Sylvia. He even names his pet caged dove after her. The Countess wants the dove to be a match for a parrot owned by her own society rival. She visits Horace, falls for him and stays for dinner. Being hard up, Horace decides with his servant to roast the dove for the main course. What Horace doesn't know until after dinner is that his servant and the Countess's butler have saved the dove and what they've eaten for dinner is the famous parrot. Some joke, eh? And it does take rather too long to play out.
The whole production is splendidly played. Gillian Keith makes an affecting Countess and her coloratura singing is outstanding, Jonathan Best makes for a humorous butler, but Emma Carrington steals the show with her comedic gifts as Mazet, Horace's boisterous godson-servant (pictured above right). And the ensemble singing is a joy.
Barlow has reinstated the Poulenc recitatives, commissioned by Diaghilev to replace the spoken dialogue of the original. He also has a new - and witty - English translation by Hugh Macdonald, which adds to the fun. And the sheer tunefulness of Gounod's score is a delight.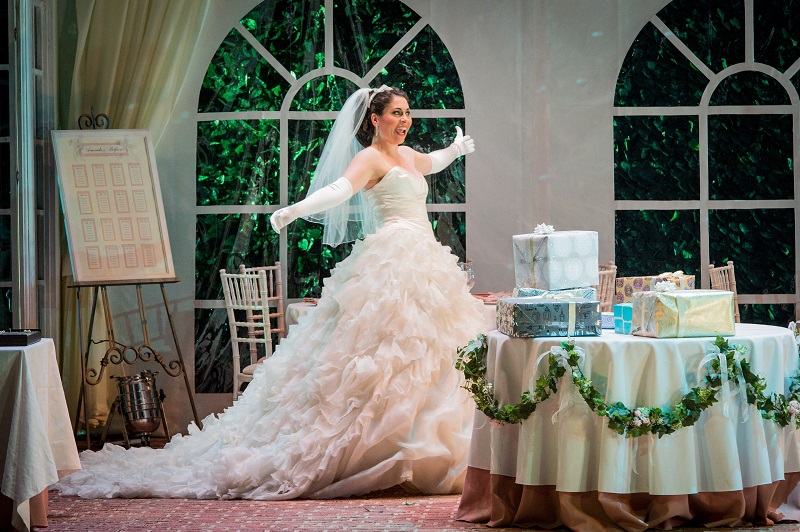 The other Buxton Festival production is Mozart's La finta giardiniera, written when he was eighteen. Here we are in the familiar world of opera buffa confusion, the comedic world of intrigue, deception, disguise - and madness. But in this dazzling, bold and inventive production we have a novel modern setting under Harry Fehr's direction. And it is stylishly staged for the most part in an upmarket marquee, with draped and chandeliers, being set up for a wedding reception. Yannis Thoravis's design, with John Bishop's lighting, is bright, colourful and classy.
For a production full of ideas and fun, Fehr has an exceptional seven-strong cast, who give a first-rate ensemble performance. The story starts and ends with the Marchesa Violante being left for dead by her jealous lover Belfiore. She survives and the deception begins as she assumes another name (Sandrina) and servant status, going to work for the mayor as a florist, giving rise to many complications. But it all ends well with love and marriage.
In the title role, Ellie Laugharne (pictured above left) makes an attractive Violante, strongly matched by Andrew Kennedy's Belfiore. And there's a show-stopping, action-packed tirade by Stephanie Corley as the feisty Arminda, Violante's bridal rival for Belfiore. Nicholas Kraemer's conducting of the Northern Chamber Orchestra was wonderfully alert, bringing out the joyful nuances of Mozart's youthful score, looking ahead to Così and Figaro.