Classical CDs Weekly: Feldman, French Piano Concertos, Andreas Ottensamer |

reviews, news & interviews
Classical CDs Weekly: Feldman, French Piano Concertos, Andreas Ottensamer
Classical CDs Weekly: Feldman, French Piano Concertos, Andreas Ottensamer
Modernism from New York's quietest genius, sparkling piano concertos and a solo clarinet recital
Carolin Widmann plays Morton Feldman
Debussy, Poulenc, Ravel, Françaix: Piano Concertos Florian Uhlig (piano), Deutsche Radio Philharmonie Saarbrücken Kaiserslautern/Pablo González (Hänssler Classic)
Debussy, Poulenc, Ravel, Françaix: Piano Concertos Florian Uhlig (piano), Deutsche Radio Philharmonie Saarbrücken Kaiserslautern/Pablo González (Hänssler Classic)
I salivated when I read the tracklisting on this immaculately produced disc. I wasn't disappointed; you'd need a heart of ice to resist Florian Uhlig's playing. Debussy's three-movement Fantaisie pour piano et orchestre, completed in 1890, is a concerto in all but name. The first performance was heavily cut; Debussy withdrew the piece in a huff and it was only heard in full after his death. This is delectable music, firmly rooted in the late 19th century but the melodic contours hint at Debussy's mature style. The unbuttoned bravura and joie de vivre do surprise. The first movement's hazy sunrise rapidly dissolves, and the work's closing minutes are dazzlingly extrovert. Glorious. As is Jean Françaix's tiny Concertino, so insubstantial that you're worried you might accidentally tread on it. Four delectable movements pass in little more than eight minutes. Swoon over the slow movement's muted string chords and the loopy finale, which closes proceedings in a puff of smoke.
Poulenc's Piano Concerto is another life-enhancing treat, lurking in the shadow of its better-known sibling for two players. The Stravinskian brass chords are nicely projected by Pablo González's orchestra, and he and Uhlig whip up a storm in the Andante con moto's central section. Poulenc's jolly finale references Swanee River and abruptly disappears with a wink and a shrug. You either fall for this music or you don't; I've long suspected that people who don't like Poulenc don't make good company. Which leaves Ravel's Concerto in G, where Uhlig is up against stiffer modern competition. His reading is as stylish as any modern version, with a particularly seductive Adagio Assai – listen to his closing trill. Nippy orchestral playing and warm sound add to the fun.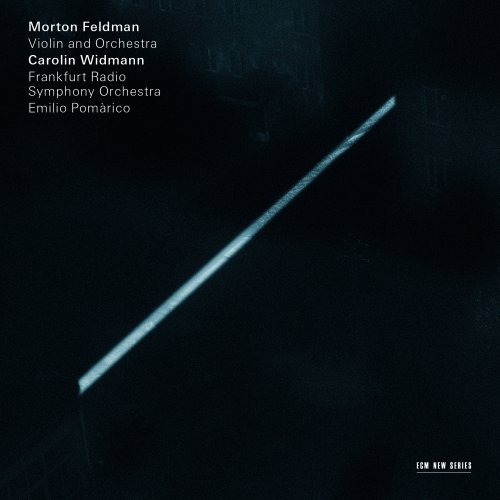 Morton Feldman: Violin and Orchestra Carolin Widmann (violin), Frankfurt Radio Symphony Orchestra/Emilio Pomàrico (ECM)
Blimey. I've listened to this disc four times, and on each occasion I feel I've experienced a different piece. At various times I've been entranced, irritated, mystified and amazed. Morton Feldman's Violin and Orchestra was completed in 1979. This is a late work, the longest and last piece for orchestra he composed – a single span of music lasting 50 minutes. It's about as far from a conventional violin concerto as you can imagine. The soloist is absent for long stretches. The music's pace is slow, and there's a complete absence of showiness in the solo violin part. It's hard to imagine a more sympathetic reading than Carolin Widmann's softly-spoken account. She melts in and out of Feldman's rarefied, lucid orchestral writing, occasionally entering so softly that you don't notice she's there.
The slowness is mesmeric; this work comes from a composer who wrote a string quartet lasting almost six hours. Everything is so fragmented, so glacial, broken down into music's barest elements. You're tempted to describe it as minimalist, but there's rarely any sense of pulse. Feldman's writing is remarkable, and there are points when you're scratching your head while trying to work out how a particular effect has been realised. You begin to sense the organisation underpinning the work. There's a brilliant repeated passage including an oddly-harmonised descending scale and a soft, rich brass chord. At times the work seems to grind to a halt. And it closes, softly, with a gorgeous, swirling passage which sounds as if the music's draining away like water down a plughole. Wondrous.
Portraits – The Clarinet Album Andreas Ottensamer (clarinet), Rotterdam Philharmonic Orchestra/Yannick Nézet-Séguin (DG)
If you're not a violinist, cellist or pianist, your concerto-playing opportunities are somewhat limited. Which explains the hit-and-miss qualities of this solo disc from Andreas Ottensamer, the youthful principal clarinet of the Berlin Philharmonic. There's at least one masterpiece here - Copland's Clarinet Concerto, first performed by Benny Goodman in 1950. Its two movements are in bold contrast; a Satie-like slow waltz and a fast, upbeat finale. Ottensamer's liquid slurs and restraint are exquisite in Copland's first movement, and Yannick Nézet-Séguin's string-rich accompaniment blends ecstatic lyricism and potent melancholy. Copland's second movement is a brilliant foil – populist, exciting, but never naff, and it's good to hear the orchestral piano part cutting through so emphatically.
The rest of the disc never quite matches these heights. Louis Spohr's Concerto no 1 has its charms, but is curiously unmemorable, and a concerto by Cimarosa, freely arranged from solo keyboard music, is pleasing classical fluff but little more. Ottensamer's wide-bore Viennese clarinet sounds gorgeous, and it's his playing which holds the attention more than the music. So it's good to report that the lollipops on this disc are great fun, all arranged by by Ottensamer's cellist colleague Stephan Koncz. Piano preludes by Gershwin and Debussy delight, and a rarely-heard Berceuse by Amy Beach entrances.
Jean Françaix's tiny 'Concertino' is so insubstantial that you're worried you might accidentally tread on it
Explore topics
Share this article