Top Boy, Series 2, Channel 4 |

reviews, news & interviews
Top Boy, Series 2, Channel 4
Top Boy, Series 2, Channel 4
The pressure blows from the start in return to the mean streets of Summerhouse
Wednesday, 21 August 2013
The head that wears the crown? Sully (Kane Robinson, left) is now in competition with former best friend Dushane (Ashley Walters)
After the almost complete absence of the police from the first series of Top Boy, the sirens are blazing as the follow-on to Ronan Bennett's tough drug-dealing drama kicks in. Specifically, they're exhuming the corpse of Kamale, who fell victim to Dushane's ascendance to the position of Top Boy in the East London estate of Summerhouse. What's left of Kamale a year on is no pretty sight, even though the scene's got some spectacular background illumination from the O2 stadium.
The main change in the 'hood is that Dushane (Ashley Walters) has parted company with his former best mate Sully (Kane Robinson), who's set up in competition together with the borderline psychotic Mike (Paul Anderson). Dushane is now working with the older Irishman Joe (David Hayman), and they're getting on fine: Joe may warn Dushane that he should never trust anybody, but that seems to be how he prefers to conduct his professional life if given the chance. There's humour in their relationship, as when the two of them go off to collect a major consignment of "food" (drugs) that's worth a million quid ("paper") from an incoming yacht. "It's illegal for a black man to be within five miles of a marina," Joe quips. By the end of the episode he won't be quipping about anything.
Dushane's new sidekick is Dris (Shone Romulus), a 21-year-old who shows the softer side of his nature when he's looking after his young daughter. He's just dropped her off at nursery when he's busted by the police, and taken into the station. Dushane's the next one in the cells, though he's more impressed by the solicitor sent to represent him, Rihanna (Lorraine Burroughs), who knows how to be curt with the cops. There are attractions of different kinds brewing between these two, and we feel that Rihanna is used to getting more than she gives.
From the next generation down, best buddies Ra'Nell (Malcolm Kamulete) and Gem (Giacomo Mancini) are about to have their relationship tested. Gem is, in his own words, "fucked up bad", after the cannabis plants he's been force-growing indoors don't deliver, and in hock to Vincent, the local Vietnamese shop-owner who set him up in the venture (pictured above right: Mancini, left, and Kamulete and the dead plants. Photos Nick Wall). Ra'Nell is pursuing his chances for selection for the junior football squad, and doesn't need any more trouble. His mum, Lisa (Sharon Duncan Brewster), is over her breakdown, working with a friend in the neighbourhood hairdresser's. That's a calmer environment, with a slice-of-life rather than slice-up-your-opponent interest, but it too is under threat - the street's up for redevelopment, as Hackney moves upmarket.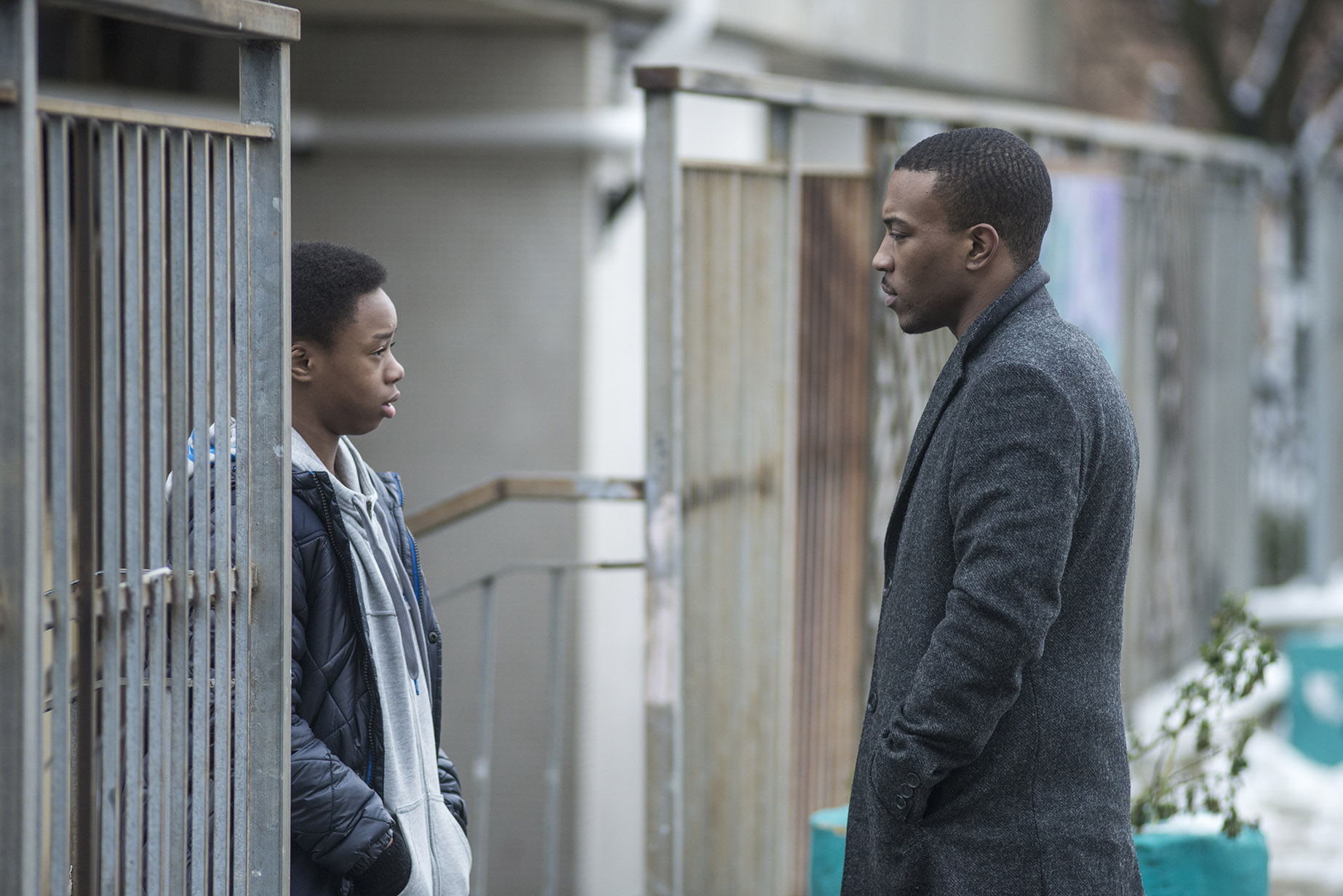 Rounding off the cast are the footsoldiers without whom Dushane's dealing empire wouldn't work, the young kids – the "tinies" in Bennett's words – who deliver the drugs to customers. Michael (Xavien Russell) is the one to watch, a 12-year-old who's almost painfully eager to please Dushane (Russell and Walters, above left): his first assignment takes him to a middle-class (white) household, new ground for Top Boy. Michael is stunned by the walls of books he finds there, letting slip that history is his favourite subject. He must be one of the few kids who still thinks about school, and he's got some really tough times coming up. There's almost certainly nothing good out there either for Jason, a lost-looking almost feral boy whom no-one really knows – he's certainly acquired his street-smartness out of necessity rather than choice.
If that cast roll-call seems a long one, it can only help viewers, especially first-time ones, into Top Boy's world. Playing from the cast, many of whom came into series one as non-professionals, is more than assured. Jonathan van Tulleken (Misfits) comes on board as director, and has taken over the visual style seamlessly, bringing out patches of occasional saturated colour against a beautiful but bleak urban background. There's something very nicely "angled" about Brian Eno's score, sometimes uneasily ambient, sometimes atonal, a style that's mirrored in the cinematography. Top Boy's first episode has set up plenty of plot strands to be seen through in the next three – and most of them promise trouble. It's not always easy viewing, but looks to be addictive drama.