Peter Grimes, LPO, Jurowski, Royal Festival Hall |

reviews, news & interviews
Peter Grimes, LPO, Jurowski, Royal Festival Hall
Peter Grimes, LPO, Jurowski, Royal Festival Hall
Tenor, conductor and orchestra sear in Britten's seminal masterpiece
Sunday, 29 September 2013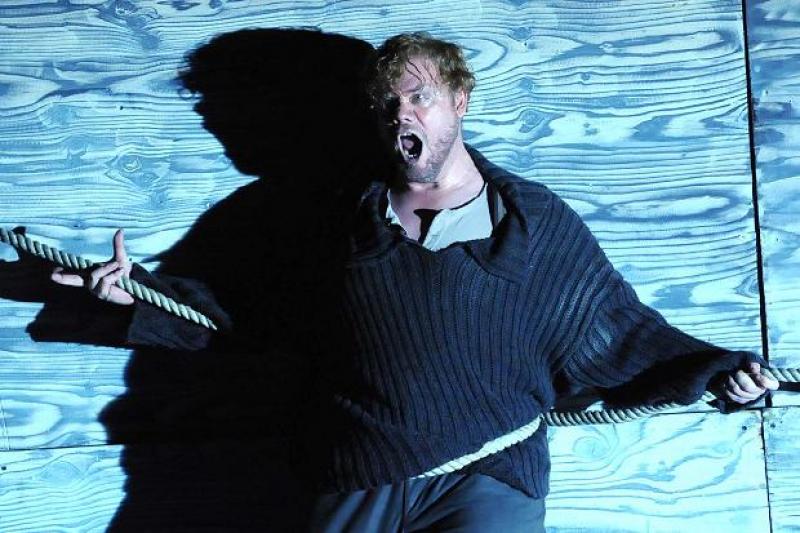 Stuart Skelton as Peter Grimes in the 2009 ENO production
For Londoners unable to travel up to Aldeburgh – or, now, to Leeds for the revival of Phyllida Lloyd's Opera North production – this was the only chance in Britten centenary year to be blitzed by his seminal masterpiece.
After the phenomenal success of the Proms' Wagner semi-stagings, even the craft and sure-footedness of Daniel Slater's direction here was never going to be a substitute for
Grimes
in the opera house (or on the beach), serving only to show that this is a supreme music drama least happily separated from the theatre.
Yet there were other virtues; given today's most accomplished interpreter of the violent-visionary fisherman, Stuart Skelton, and a conductor in Vladimir Jurowski always poised hawk-like to claw revelatory new detail from the score, the musical performance was still as unforgettable as they come.
Skelton gives an heroic-tenor Grimes, currently alternating in equal heroism or foolhardiness with his Florestan at English National Opera. That means gains in the elemental force and a few losses in subtler tone colours – though he has refined his musical reading enormously since the 2009 ENO performances. You might have been inclined to weep – I was – at his very first not-all-there echoes of the coroner's oath-reading in the inquest for the suspicious death of his young apprentice. I was also moved to tears, in the pub on the night of the storm, less at the rapt solo of "Now the great bear", where others have lit up more hauntingly the sustained high E which was creator Peter Pears' money note, than at Grimes going mad with the edgy release of the manic round "Old Joe has gone fishing" (magnificently dispatched by the ensemble here).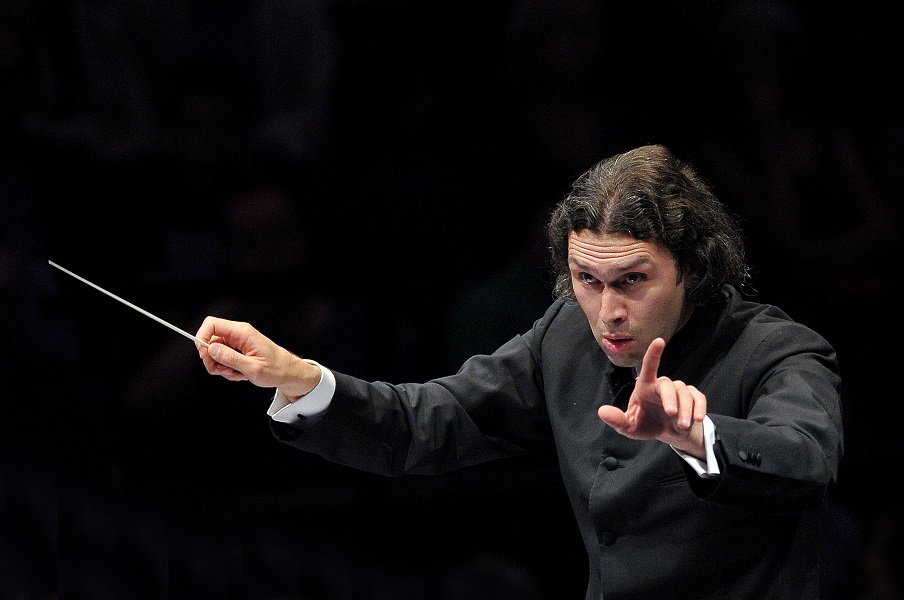 The monologue in Grimes' hut, constructed in Alex Doidge-Green's designs evocatively but a touch distantly on the left of the platform above the orchestra, suggested less of the schizoid than the late and peerless Philip Langridge's manner, and despite the ludicrously overdone programme biography's insistence on Skelton's "beautiful voice" – agents' blurbs need serious editing – there's less tonal caressing than we once got, earlier in his career, from fellow heldentenor Ben Heppner. But there's no-one around now to give a more vivid account of this difficult and harrowing role.
Jurowski (pictured above by Chris Christodoulou) applied to the music's twists and turns a neat but lethal surgical knife rather than Kafka's famous image of great art's ice-axe through the frozen sea. His approach went for whiplash intensity, avoiding the deep waters previously charted by Mark Wigglesworth at Glyndebourne – a reading which time has vindicated on a CD archive release – or Haitink at the Royal Opera, at least until we reached a crucial Passacaglia variation at the heart of the opera. This and the other interlude not included in the concert-hall group of four, pre-empting Grimes's mad scene in the fog, blinded us with magnesium-flare projections of Britten's sparest sounds, London Philharmonic strings lean and hungry.
American soprano Pamela Armstrong, a vivacious Rosalinde in Jurowski's Glyndebourne Fledermaus, sobered up as sympathetic widow Ellen Orford and in spite of an occasionally frayed upper register, brought real artistry to the role, rising to the expressive challenges of the great "Embroidery Aria". A year and a half off 70, Alan Opie remains in good voice as the Balstrode of choice, and among a strong mostly-British supporting cast Mark Stone projected every word with meaty baritone sound as jack-the-lad apothecary Ned Keene.
So much of the right atmosphere was there, and never more so than in Tim Mascall's lights on the new Festival Hall organ's glitter-of-waves pipes
From my seat far back, not everything could be heard from veteran Jean Rigby's Mrs Sedley and Pamela Helen Stephen's pub-brothel landlady – strong characterizations both, and while perhaps you really need an old-bag mezzo for the buttoned-up laudanum addict, there's no reason why "Auntie" shouldn't be an attractive woman: the bright tops sported by her and her "nieces" – Malin Christensson and Elizabeth Cragg, excellent in the Straussian quartet - suggested that they alone bring colour to the Borough.
Apart from the highlighted infelicities in Montagu Slater's text - though there are strong lines too, its missed lobs at high-flown poetry were emphasised by having re-appreciated Auden's libretto for Paul Bunyan only a couple of weeks earlier - the only shame was on a professional choir, the London Voices, for uneasily sporting scores, not allowed in the Proms Wagner. 20 more voices would have given us the sea-wall of sound we needed at feral climaxes. Otherwise so much of the right atmosphere was there, and never more so than in Tim Mascall's lights on the new Festival Hall organ's glitter-of-waves pipes. What a handsome performing space this now is, enhanced by Slater D's semi-staging, and I can't wait to hear those pipes in action.
Jurowski blinded us with magnesium-flare projections of Britten's sparest sounds, London Philharmonic strings lean and hungry
rating
Share this article