The Scottsboro Boys, Young Vic |

reviews, news & interviews
The Scottsboro Boys, Young Vic
The Scottsboro Boys, Young Vic
Eagerly awaited UK premiere of Kander and Ebb's edgy musical about injustices in 1930s Alabama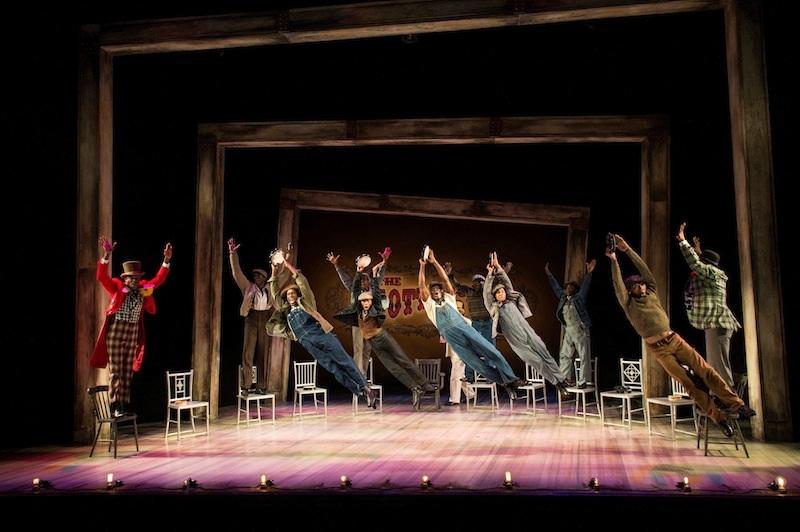 Launching out, the boys don't know what's going to hit them as they board the train from Chattanooga
Forever breaking into song and dance, musicals are fun, fun, fun. They are primarily what folks go to for uplifting entertainment, are they not? Actually, many of the best aren't anything like that simplistic. Opening at the Young Vic last night, The Scottsboro Boys is no mere barrel of vacuous laughs, though it is comical and buoyant along the way.
With its score and lyrics by America's John Kander and Fred Ebb, and its book by David Thompson, this is a barbed biomusical about racism and miscarriages of justice. Set in the Deep South of the 1930s, it plays – sometimes very sharply – with the traditions of minstrel shows. Directed and choreographed by Susan Stroman, this UK premiere is a hot ticket, restaging the 2010 Broadway production that landed twelve Tony Award nominations (with, here, a mix of original cast members and British performers).
The tale it tells is of a notorious legal case that involved nine, black, teenage boys, most of whom were poor and illiterate. One day in 1931, they were all riding a train from Tennessee, only to find themselves suddenly slung into jail in Alabama, accused of raping two white women. One of the women later retracted her statement, saying they had done no such thing – but to little avail. The boys were threatened with a lynching and then death row. Subjected to a string of unsatisfactory trials and appeals which went on for years, they became a cause célèbre, supported by a Jewish attorney from New York and the American Communist Party.
Those real life events are retold with some poetic licence, being presented as if they have been turned into droll material for an old-fashioned minstrel show. Julian Glover plays the MC in a colonial-look linen suit and Uncle Sam-style top hat, acting benign but with flashes of domineering menace. There's a lone black actress (Dawn Hope) also framing the action, hovering on the sidelines like a mother mournfully remembering her imprisoned son. Aptly named, Hope ultimately and transcendently turns into the civil rights activist Rosa Parks.
All the other performers are black guys, playing not only the incarcerated boys but also vaudevillian clowns. Role-swopping, they pointedly caricature the plot's white bigots. They play theuncouth, prejudiced, Alabama sheriff and his sidekick like a couple of splay-legged, swaggering monkeys.
The young ladies who say they've been raped are explicitly played, in drag, as mincing white trash, concocting the charge to avoid being accused of unseemly behaviour themselves.(Pictured right: Colman Domingo and Forrest McClendon standing over Kyle Scatliffe's imprisoned Haywood Patterson)
The creative team have simplified some of the tortuous complexities of the trials and, cannily, included sweetness in the mix. Therefore, this production manages to be amusing and delightful as well as powerfully damning. The set is playfully simple with half a dozen chairs that, are stacked to suggest a train carriage one minute and, the next, a solitary confinement cell. There are a few narratively rushed passages, some longueurs, and Colman Domingo could turn the volume down as the hollering sheriff.
However, Stroman's young corps are multitalented actors, singers and dancers who, whenever the Scottsboro boys leap with optimism, exude joyous exuberance. Performed with brio and fieriness, the songs range through music hall, spirituals and big, brassy jazz numbers. Kyle Scatliffe is outstanding as Haywood Patterson, towering and righteously dignified, refusing to compromise to reduce his sentence.
Maybe tangentially Brecht and Oh, What a Lovely War! have influenced this show's understanding of musical irony. Crucially, the twists put on normally upbeat styles are thrilling and clever. So, the horror of the electric chair turns into a tap dance sequence: a macabre nightmare of jittering bodies under strobe lighting. Also unforgettably, Haywood's solo number "Nothin'" sees him sardonically appearing to buckle under the pressure to plead guilty but, in fact, alternately dancing like a floppy ragdoll and standing tall – as if marching into battle, upholding his innocence to the bitter end.
The Scottsboro Boys at the Young Vic until 21 December
Follow Kate Bassett on Twitter
The boys were threatened with a lynching and then death row.
rating
Share this article