Louise Bourgeois, Scottish National Gallery of Modern Art |

reviews, news & interviews
Louise Bourgeois, Scottish National Gallery of Modern Art
Louise Bourgeois, Scottish National Gallery of Modern Art
A thoughtful survey of the artist's late works which highlight a single-minded drive for precision of expression
Louise Bourgeois, 10 AM Is When You Come To Me, 2006
There's a giant spider in the Scottish National Gallery of Modern Art's new exhibition of Louise Bourgeois. Her trademark spider and the fact that she lived to 98 – working into her final days – are probably two of the best-known things about her.
The story spun by the spider and the other exhibits, in an exhibition entitled
A Woman Without Secrets
, makes a fascinating walk through the final years and lifelong obsessions of the French-born artist who did not come to real prominence until her early 70s in her adopted USA. As the Guerrilla Girls feminist group remarked, with Bourgeois in mind: what can a woman artist look forward to in a man's world?
Knowing your career might pick up over 80.
She seems not only to be looking back on roads taken but still selecting and refining memories
The gallery lends itself to a spare and arresting presentation of objects conceived and created by what one senses must have been an exacting and demanding personality. She seems never to have given up seeking greater and greater understanding, and possibly acceptance, of wounding personal experiences which consumed her all her life.
Do you need to know her biography to understand what her art is about or to appreciate it? No – but it helps. The fact that her parents ran a tapestry repair workshop where Bourgeois herself worked suggests the importance the woven thread and the spider would assume in her later iconography. Her father's betrayal of her mother, and her own worry and uncertainty as to whether she was living up to her role as good wife and mother were central concerns that she tried to come to terms with through years of therapy and in her art.
She has been called the founder of confessional art, and herself admitted:
"My reminiscences help me to live in the present, and

I want them to survive.
I am a prisoner of my emotions
You have to tell your story, and
You have to forget your story" ……….
"my pieces of sculpture
do not represent only studies in form, they
represent emotional states
usually of a painful kind"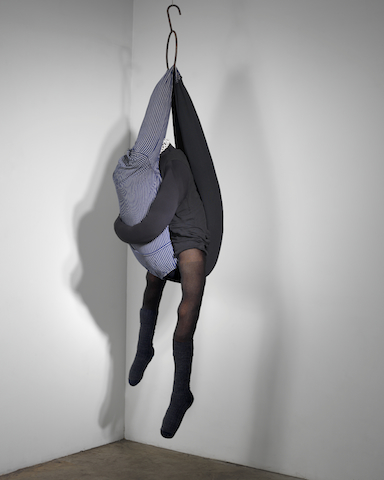 The particular arrangement of the exhibition ensures enough space to see each object clearly and to have time to consider their underlying concepts. Bourgeois often uses either large glass cases or wire cages to enclose her sculpture. Rooms within rooms seem to suggest the mind enclosed within the body and within the world, where things can be framed, sorted and presented as you want them to be: secrets revealed, though obliquely. (Pictured right: Couple I, 1996.)
Looking at her use of textiles, embroidered messages and clothing in works such as Ode a la Bievre, 2007, and the Untitled (I have been to Hell and Back), 1996, you can't help thinking of Tracey Emin with whom Bourgeois collaborated in one of her last works Do not Abandon me and ask who was influencing and encouraging whom? Both are artists exploring aspects of female identity, expressing and exposing intimate thoughts.
On a wall at the very heart of the exhibition hang 16 large sketchy etchings arranged in rows four by four. These make up one of her last major works, A L'Infini, 2008-9. They intrigue like vast Rorschach blots. In the light of the biographical details the exhibition has provided up to that point, the viewer begins to interpret and see things in the images – are they woollen threads and needles being pulled through the template of a tapestry, blood surging through veins or emptying from them, a map of twisting roads, river and streets, random knots, sperm, sections of electric wires, tree branches in the wind? Red is the predominant colour. Whatever they were intended to be, their meanderings carry a charge of energy and vital movement. Did Louise Bourgeois want them like the rest of her art to be a Rorschach test? A way of encouraging self-reflection and starting a conversation about a person's internal world?
Is it old age and sheer persistence which allows her to reach this point where everything is pared down to the essential, to find precise symbols and other highly personalised means of expressing her deepest fears and disappointments? In the film accompanying the exhibition, made just a few years before her death, she says she has only just realised life can be seen as a journey. She seems not only to be looking back on roads taken but still selecting and refining memories, still trying to make sense of the past and its impact.
There is a single-minded drive for precision of expression behind all her work whether in sculpture, drawings, etchings, paintings, embroidery or textiles. There is little warmth but there is an immense energy, an urge towards getting life under some form of control with everything carefully placed and framed and explained. Even the palette of colour used in most of the works is limited like a self-imposed uniform of red, black and white.
I came out of the exhibition feeling I had confronted a fiercely independent intelligence restlessly striving to bring a sense of order to a difficult world. Helped by the immaculately designed installation and the elegance of the beautifully proportioned rooms, such order is at least temporarily achieved.
There is little warmth but there is an immense energy in her work, an urge towards getting life under some form of control
Explore topics
Share this article