Gergiev: a response and an open letter |

reviews, news & interviews
Gergiev: a response and an open letter
Gergiev: a response and an open letter
Valery Gergiev answers criticism, and David Nice of theartsdesk replies
Wednesday, 06 November 2013
Gergiev at the 2012 BBC Proms
Following theartsdesk's Monday opinion piece on reasons for moving towards a boycott on Valery Gergiev's concerts, and in the general climate created by other reports and protests, the conductor has issued the following statement, to which David Nice responds with an open letter.
Valery Gergiev's statement
I am aware of the gay rights protest that took place at the Barbican last week prior to my concert with the LSO. I have said before that I do not discriminate against anyone, gay or otherwise, and never have done, and as head of the Mariinsky Theatre this is our policy. It is wrong to suggest that I have ever supported anti-gay legislation and in all my work I have upheld equal rights for all people. I am an artist and have for over three decades worked with tens of thousands of people in dozens of countries from all walks of life and many of them are indeed my friends. I collaborate with and support all my colleagues in the endeavour for music and art. This is my focus as a conductor, musician, artist and as Artistic and General Director of the Mariinsky Theatre and Principal Conductor of the London Symphony Orchestra.
Valery Gergiev
Read David Nice's article: Why I won't attend Gergiev's concerts
David Nice's open letter
Dear Valery Abisalovich (as I think I may address you, since we have met many times and always enjoyed the friendliest of relations, or so it seemed to me),
I applaud you for making this statement, which will go some way to satisfying the thousands of people who were hoping you would say or write something along just these lines several months back. And it coincides entirely with what I have observed of your behaviour and your inspired creative work within the musical world.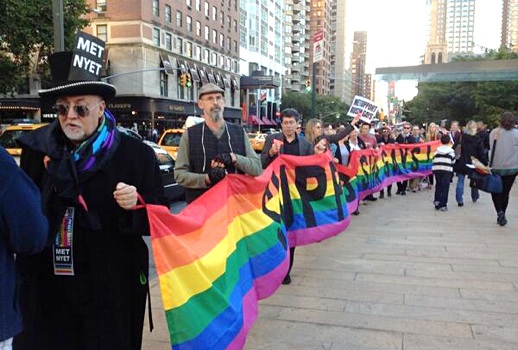 I feel for a certain difficulty in your current status and appreciate that it is as much as we could then have expected from you in what has become a compromised position – and indeed, from Anna Netrebko, who made just such a statement at that time. It was merely your silence which prompted the New York protests (picture courtesy of Queer Nation) at the time of the Metropolitan Opera opening gala of Tchaikovsky's Eugene Onegin, as well as the desire to show solidarity with fellow human beings under threat in another country.
What still troubles me is – if, indeed, the Rotterdam reporter quoted you accurately – whether you believe these oppressive new laws really have anything to do with protecting minors against "paedophilia". Whether you think it amounts to paedophilia to tell young people the truth about Tchaikovsky's personal life, which you must surely believe had some bearing on aspects of his work. Is it paedophilia to educate teenagers in the knowledge that, if they feel isolated, "abnormal" and "worse than dogs", in the words of one Russian politician, there are plenty of examples of great men and women whose sexuality was not a bar to recognition and the highest honours? To try and avert the natural consequences of such isolation and rejection – suicide? For none of these options is now possible under the new laws.
There is, as you well know from your experience of artists in the profession, no threat of corrupting othersA musician is entitled to live for his or her art if there is a detachment from politics - and, indeed, to keep silent, an option Anna Akhmatova noted was available to most creative artists and performers in Soviet times. In my opinion it was a mistake for you to support Vladimir Putin's re-election campaign when there were already so many questions about his leadership, for all the undoubted benefits of a stability of sorts it brought to a troubled country. Your present statement goes a long way to mitigate that mistake (or rather, again, a mistake as I perceive it). But your government has no concrete, common-sense arguments for its present behaviour, which can only lead to Soviet-style repression of free speech and of the right to lead an individual life which means no harm to others – to love, in short. There is, as you well know from your experience of artists in the profession, no threat of corrupting others, of trying to "make people gay"– the only argument your politicians can come up with.
As my colleague Jessica Duchen wrote earlier today: "music and politics: you can't separate them. Unless you're kidding yourself". You have done more than any other conductor in my lifetime for Russian music: I remember the incredible Musorgsky, Prokofiev and Rimsky-Korsakov seasons at the Mariinsky, the ability to fill houses with difficult contemporary or recent Russian repertoire (and even when you didn't, as with the Gubaidulina Passions at the Proms, you did great music an invaluable service). But no composer lived, or lives, in a bubble of music alone, least of all in Russia. Please do whatever is in your power to help the desperate situations of thousands in the country you, and I, love so much. And, if you can't bring yourself to say explicitly "these laws are wrong", retract that untenable equation of homosexuality and paedophilia or at least explain the context.
Thank you.
With the most sincere good wishes for so much that you have achieved musically and continue to achieve,
David Nice
In all my work I have upheld equal rights for all people
Share this article