The Taming of the Shrew, Stuttgart Ballet, Sadler's Wells |

reviews, news & interviews
The Taming of the Shrew, Stuttgart Ballet, Sadler's Wells
The Taming of the Shrew, Stuttgart Ballet, Sadler's Wells
John Cranko's Shakespearean ballet-comedy falls flat these days
David Moore, Elisa Badenes, Roman Novitzky and Özkan Ayik as Bianca and her three suitors
"Comedy in ballet can be notoriously difficult to get right." So warns the programme note for The Taming of the Shrew, choreographer John Cranko's 1969 adaptation of Shakespeare, with which Stuttgart Ballet chose to end their run at Sadler's Wells this week.
The note of caution is well sounded in this context; while it is possible for the ballet to be both funny and affecting, the balance is extremely hard to strike, and yesterday's performance at Sadler's Wells was teetering dangerously on the edge of farce.
Part of the problem lies in the source material: the original play is hardly the most loveable of Shakespeare's comedies, though it has a history of transferring well to other genres (musical theatre as Kiss Me Kate, American high school movie as 10 Things I Hate About You). The translation to a wordless form is tricky because, however good the comic dance-acting, ballet struggles to replicate the simmering fun of puns and wordplay through which the characters' relationship subtly, and slowly, changes. Often in Cranko's choreography, Katharina's verbal venom simply becomes violence, and while all the physical slaps, slips and pratfalls are initially amusing, it takes a very accomplished dance actress (like the legendary Marcia Haydée, the original Katharina) to keep a sympathetic soul visible through all the stamping and shoving Katharina is given to do in her first few scenes.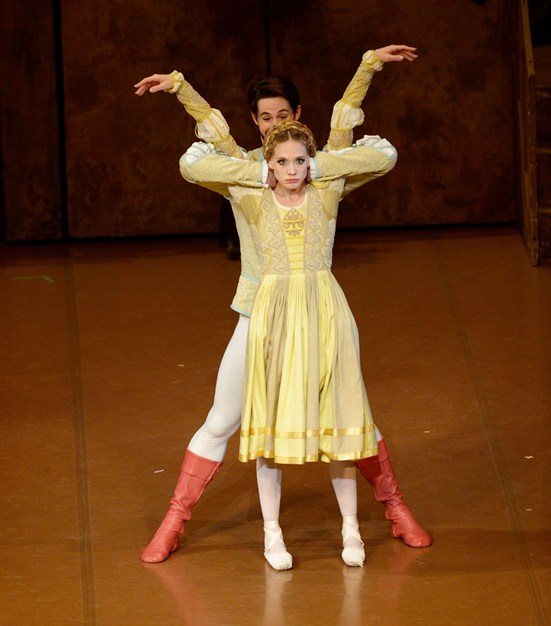 For that reason, casting is everything, and audiences at the German visitors' three performances this weekend will have had very different experiences. Alicia Amatriain and Alexander Jones (pictured left) went very much down the slapstick line, which certainly raised laughs – the leggy Amatriain in particular is, as we saw on Monday, good at physical comedy. But her exaggerated anger had no saving overtone of sarcasm which could then be stripped away by Petrucchio with mixture of teasing and tenderness.
There was no tenderness on offer from Jones's Petruchio anyway, who appeared as a complete buffoon and a rather casually cruel one at that. Jones is a decent dancer, and I'll give him the benefit of the doubt and assume his repeated wobbly landings were done for comic effect, but why these two cartoon characters ended up married at all, let alone happily, I simply could not understand. The ballet ends with a very tricky pas de deux (the more tricky, the more trust is needed or at least implied between the characters), but Jones and Amatriaina couldn't summon up the mood of easy delight needed to make Cranko's rather involved lifts look like effortless love-play.
The rest of the cast arguably had it easier, in that all their characters are one-trick ponies, and can be played for laughs. There was fun in the sly campery of Angelina Zuccarini and Rachele Buriassi as the two ladies of the street tricking Petruchio, and David Moore as Lucentio (pictured, right, with Elisa Badenes), the successful suitor of Katharina's sister Bianca, deserves a mention for his rather touching blend of innocence and ardour. Elisa Badenes as Bianca, tormented by three hapless suitors, brought some charm to the role of the vacuous younger sister.
There was plenty of chuckling in the audience all the way through this light-hearted romp, but those looking for sweetness amidst the slapstick were by and large disappointed. Comedy in ballet is indeed difficult to get right.
Overleaf: watch a clip of Marcia Haydée and Richard Cragun in The Taming of the Shrew
Watch Marcia Haydée and Richard Cragun, the original Katharina and Petruchio, in the scene where they start to come to an understanding
Ballet struggles to replicate the simmering fun of puns and wordplay in comedy
rating
Explore topics
Share this article