Silent Witness, BBC One |

reviews, news & interviews
Silent Witness, BBC One
Silent Witness, BBC One
Venerable forensic drama mixes grim realism with detours into the unbelievable
Saturday, 25 January 2014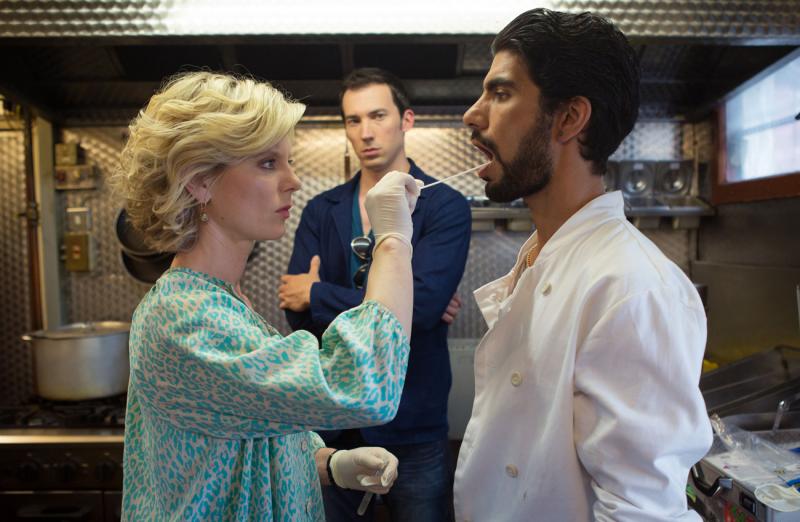 Emilia Fox as Nikki Alexander swabs Bekir Humadi (Akin Gazi) for evidence, watched by Jack Hodgson (David Caves)
Such is the level of confidence that the Silent Witness producers have in their new ensemble that star turn Emilia Fox barely lifted a scalpel in the latest instalment of the BBC's long-running crime series. Either that or she needed a night or two off, and who could blame her?
It's now in its 17
th
series, and Fox has stuck it out for more than half of them. And with four dead bodies to look at this week, it's a high pressure job that you're just bound to take home with you.
So step forward the other lot: new guy Thomas Chamberlain (Richard Lintern), research whiz Clarissa Mullery (Liz Carr doing a grand job) and David Caves as Jack Hodgson who, like Carr, joined the team exactly a year ago. Cakes anyone? Viewers familiar with the Silent Witness way will have enjoyed this one, penned by Ed Whitmore (who guarantees a good episode) and Declan Croghan. Typically dark and with a pleasing twist, this week's offering – "Undertone" – began with the body of a young woman pressed into a suitcase which had been dumped in a lake (pictured below).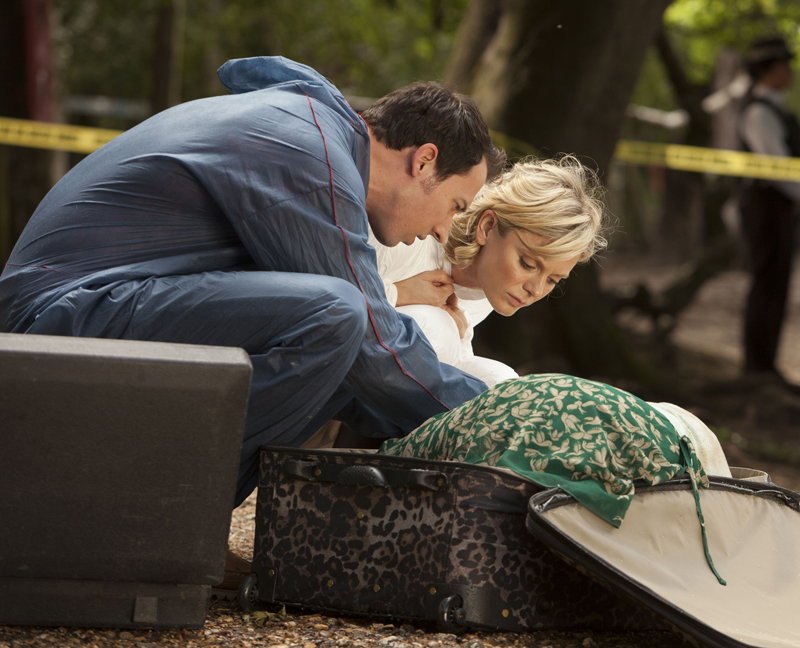 Our forensic pathologists discovered that not only had 18-year-old Alice Preston been heavily pregnant, but someone had carried out a crude Caesarean operation on her in the minutes after her death. One dead mum, but the baby had vanished. Alice (Jane McGrath) was carrying something else as well - £50,000 worth of drugs, traces of which were found in her body by The Team, and someone wanted them back. That man is Bekir Humadi (a menacing Akin Gazi), leader of a north London Turkish family whose every move is being watched by detective DI John Brooke.
Sean Gallagher plays Brooke, one of those cops that the telly loves to give us: does all-night stakeouts, eats chips, watches his mate shot dead by one of Bekir's men and has a wife who longs for a baby . . . so you could see where this was headed. It really was Gallagher's show this week, and he was so good we almost forgot about The Team back at base. Only tough-guy Jack is suspicious of Brooke and seems to have the energy to want to nail him (Sean Gallagher pictured far right, below) .
As the pace hotted up, we learned that Brooke and his missus (Ruth Gemmell) had agreed to pay Alice for the baby, but it went horribly wrong when the teenager – feeling their effects – discarded the drugs. She told Mrs Brooke she would now keep the baby, but hit her head and died when Mrs B – an ex-nurse - lashed out, deciding there and then to remove the unborn child. Then Bekir had stolen the baby and would only only give her back if Brooke could find the drugs. Easier said than done...
Silent Witness is a curious mix: intricate plots, brutally realistic cadavers but moments where you have to truly suspend your disbelief. In this world, the pathologist quizzes the bad guy while a grieving parent walks into their work space without even signing in at reception. But the show remains incredibly popular, notching up seven million viewers at a time. As long as you accept its quirks, the stories are good and the new characters look like they belong. Now all we need is Ms Fox back on form.