Beyoncé, O2 Arena |

reviews, news & interviews
Beyoncé, O2 Arena
Beyoncé, O2 Arena
The superstar diva from Houston, Texas, thunders into London in epic style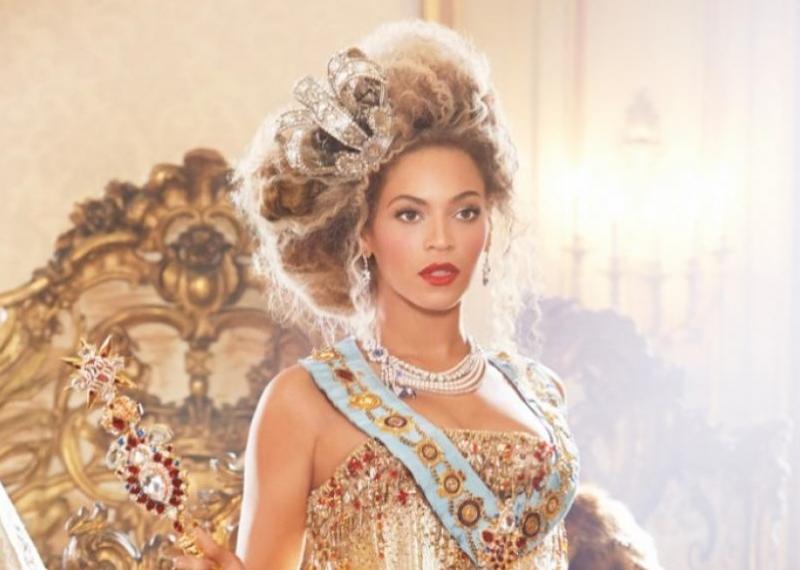 All-conquering Queen B
Beyoncé is a fascinating tangle of mixed messages. She stirs people up and, most especially, she confuses men. On the train back from the first concert of her six-night stand at the O2 a group of blokes who heard we'd been to see her rabidly objected. She was, they said, just "selling her pussy", and selling it cheap. Ire roused, they became very heated.
They were lashing out fiercely, apparently under threat, for Beyoncé's career exists at the populist vanguard of contemporary sexual politics. She gets it wrong some of the time, as in the black'n'white Helmut Newton-esque softcore of her video for "Drunk In Love", but more often she hits the bullseye, as when she opens her O2 show in spectacular style.
In this cavernous airport of a venue, where the specifics of vocals turn to mush, her technicians outdo even the blazing Bladerunner signs all around that bellow, "NISSAN! CREDIT SUISSE! NESTLÉ," and other consumer junk. A floating screen-wall of eye-boggling visuals rises and falls mid-stage throughout the gig. At the start, prior to the curtain falling to reveal her all-girl band on a raised platform, alongside dancers cavorting and pyrotechnics, the screen wall has Beyoncé and troupe living it up, bewigged, larger than life, in the Palace of Versailles. Her entrance, rising from the floor in white thigh-length boots and body, is impeccable, as the tribal thump of "Run the World (Girls)", borrowed wholesale from Major Lazer's "Pon de Floor", rocks the shrieking crowd.
The dancing has an almost militaristic quality, manically driven
As she stomps about, wriggling and thrusting, gorgeous from top to toe, demanding to know, "Who run the world?" – "GIRLS!" – the very essence of her paradoxical appeal is revealed. Yes, she's hyper-sensual but she's also in charge, totally in charge, her womanhood thrown out as a dare, a challenge, unlike the supine, sub-porno chic of Miley Cyrus et al. Beyoncé, bigger in body than the lollipop-head fools of Heat-land, is a proud, upfront presence who does not define herself through the male gaze.
The show is an everything-up-to-and-including-the-kitchen-sink affair, bombarding the audience with explosive visuals and endless costume changes. One moment Beyoncé is in lumberjack shirt skimpies, the next a glittery catsuit (by her favoured Greek designer Vrettos Vrettakos), the next balladeering in a ball gown, and so on, her dancers amping her already extraordinary energy and coordination. The dancing has an almost militaristic quality, manically driven, although there is also playful interplay with afro-headed male duo Les Twins (who are, indeed, twins).
The concert runs the gamut of Beyoncé's solo career, only occasionally left in the shade by amazing LED goings-on, as when the dancers interplay with their own Op Art silhouettes on the screen-wall, as psychedelic a performance as anything the Chemical Brothers – famed for their own mind-frying visual excesses - could muster. Highlights are many: the pouting, wounded schoolgirl schtick Beyoncé lays on thick for "Why Don't You Love Me?", treating the audience like a boyfriend to be toyed with; the smooth, funky deep house groove of "Blow"; the borrowing of Donna Summer's "Love to Love You Baby" for "Naughty Girl"; the touching, cute guest appearance on the mic from hubby Jay-Z during "Drunk in Love" ("Ladies and gentlemen, give it up for my man"); the teasingly brief sketch versions of "Single Ladies (Put a Ring on It)" and "Crazy in Love", showcasing an artist so confident she can sideline her own greatest hits and get away with it; the jazzy vocal showboating as she duets with her saxophonist during "1 + 1"; the acoustically strummed audience-singalong during "Irreplacable". ("To the left, to the left"). In fact, there truly is never a dull moment, from start to finish.
Beyoncé's Mrs Carter show is an amazing experience and the woman at its core gives out human warmth, animal energy, outright sexiness and pure showbiz pizzazz. Catch her while she's on this roll.
Overleaf: Watch Beyoncé (and Jay-Z) perform "Drunk in Love" at the Grammys
Yes, she's hyper-sensual but she's also in charge, totally in charge
rating
Share this article