theartsdesk in Calais: Monument, Musée des Beaux-Arts |

reviews, news & interviews
theartsdesk in Calais: Monument, Musée des Beaux-Arts
theartsdesk in Calais: Monument, Musée des Beaux-Arts
Contemporary artists respond to the idea of the monument in remembrance of two world wars
Léa Le Bricomte, Dripping Medals
Were it not for the bombs which rained down on Calais, its current Musée des Beaux-Arts would not exist. The 1966 building was part of a civic reconstruction programme, so it too is a war memorial of sorts. And it's now playing host to an exhibition dedicated to the idea of the monument which looks to commemorate the two world wars.
Not only is it 100 years since the outbreak of World War One, but it's 70 since the D-Day landings on the beaches of Normandy. Seeming not to be content with present-day conflicts, like Syria, and potential conflicts, like the Ukraine, the media and to some degree the arts have been busy reactivating the "war to end all wars", along with its atrocity-filled sequel.
France itself was a battlefield. The combatants who fell on her soil number millions and the number of war memorials across the land stretches to 30,000. With this in mind it is a curious fact that the 32 artists, predominantly French, approach both wars from an oblique angle and in some cases don't mention it at all. Basil Fawlty would approve.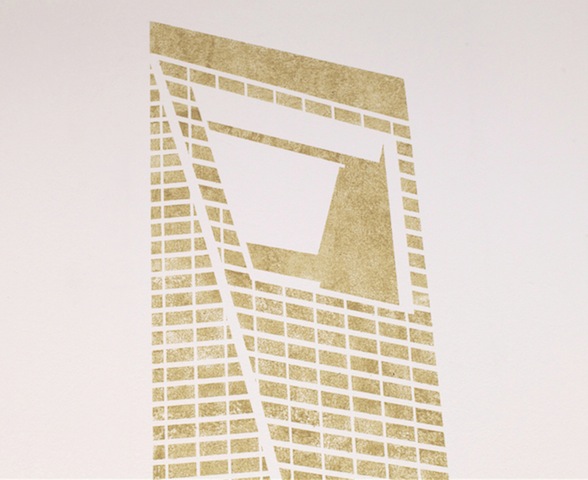 Benoît Billotte has created monuments to architectural rather than military ambition. For an artist born in 1983, this may offer little surprise, making you wonder if remembrance is simply an elderly pursuit. Yet if capitalist politics are the continuation of war by other means, his Châteaux de Sable do well to puncture the egos and the wallets of its prime movers. Using glue and sand and the museum wall, Billotte has rendered four super towers to a height of three and a half metres (pictured left: Sand Castle; detail). Sand collects at the foot of each of these structures as evidence that all things pass.
This is wry stuff considering the magnitude of the occasions marked by Monument. And things get equally comic in a nearby wall-filling photo by Carole Fékété. The Algerian artist has wrangled with considerable museum red tape to assemble a small army from full body suits of armour. They gaze back at the viewer, ridiculous in their many sizes, dimensions and embellishments. One even has a sculpted moustache. It wouldn't be much help in a missile strike.
Low plinths in an adjacent space house a selection of butcher's blocks by John Cornu. The polished black surfaces undulate and bear witness to a lifetime of meat preparation. As a result, they have a dark presence and the French title La mort dans L'âme (Death in the soul) hardly appears to be an exaggeration. Their point of reference is, however, open ended. The current show frames them as comments about the First or Second World Wars, but they seem instead more generally nihilistic.
Yet if Monument has broad beginnings, it does soon begin to focus. Sculptor Laurent Sfar has sunk model suburban houses into a network of trenches, such as many that have riddled Northern France in the past century. But rather than the muddy Somme, Sfar's landscape is the colour of a suburban lawn. So the piece appears to say less about trench warfare and more about the mentality of those of us in the West who are lucky enough to live free from conflict. What with the diversions of mass culture and the bias of our mainstream media, we all have our bunkers for safety.
Bunkers proliferate in this show, just as they do around the neighbouring coastal areas. But for one artist the fortifications resemble controversial women's wear; and for another, they have been adapted to peacetime usage. Sylvia Ungauer has made 10 pieces of felt headgear inspired by real bunkers, using embrasures as burqa eyeslits. While Virginie Maillard Photoshops neon signage ('GIRLS', 'Marriage Center', 'Stock Market') onto the concrete ruins. Both works address peacetime and politics rather than the horrors of mass slaughter.
At least one work here does bring home the everyday chaos of a meeting between two armies. Michel Aubry has created the show's only truly monumental work from cooking utensils, buckets and gas canisters found, in recent times, on battlefields tracked down with a Michelin Guide. As archaeological digs go, this one was a cinch. After a field has soaked up a certain amount of blood, no one knows quite what to do with it. But Aubry festoons his debris with a number of flute-like instruments. One thinks of Thomas Mann and the novelist's warning about the dangers of music.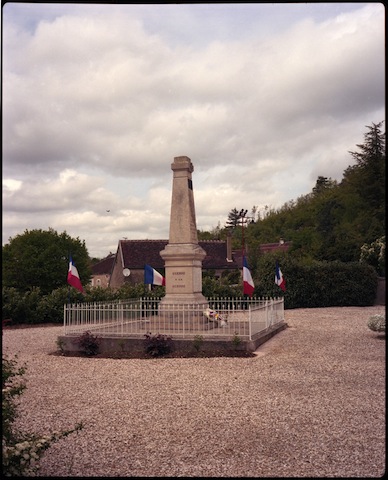 If one artist could be said to tackle monumentality head on, it would be Gilles Saussier. The Parisian artist presents a group of prints inspired by Brancusi's legendary 30m-high sculpture, Endless Column. That work, at Târgu Jiu in the Romanian provinces, is itself a tribute to its homeland's own fallen soldiers in World War Two. One of Saussier's photos is a blown up architectural plan for the sculpture. Confronted by this fascinating document, all thoughts of grief and reverence go out the window.
Monuments can offer pleasure as well as pathos. Léa Le Bricomte, one of the youngest artists in this show has a caustic take on military decorations (see main picture), working with medals and colourful ribbons to create a pair of works which reference the drips, zips and painted flags of Abstract Expressionism. Nearby we find a mandala made from spent bullets from a French gun club. This work speaks, to me at least, of the hypocrisy of remembrance in an age of perpetual violence and war.
But a simple and quiet piece puts the seal on this multifaceted display. Antoine Durand's Pacifist Monuments features six postcards capturing the rare sight of stones and plaques in rural France which celebrate peace rather than its opposite. One reads Guerre à la guerre (War on War; pictured above) and visitors are invited to help themselves to copies. It's not a bad take out from a show which refuses to stand on ceremony and add, even inadvertently, to the glorification of war.
Monument at the Musée des Beaux-Arts until 16 November. The exhibition will refresh its display twice before the end of its run

Monument is an umbrella for three more concurrent shows: at FRAC in Caen, Normandy; Sainsbury Centre, Norwich; and the Undercroft, Norwich
Bunkers proliferate in this show, just as they do around the neighbouring coastal areas
Share this article