The Winter's Tale, Royal Ballet |

reviews, news & interviews
The Winter's Tale, Royal Ballet
The Winter's Tale, Royal Ballet
A brand-new, beautiful Shakespeare ballet to open the spring season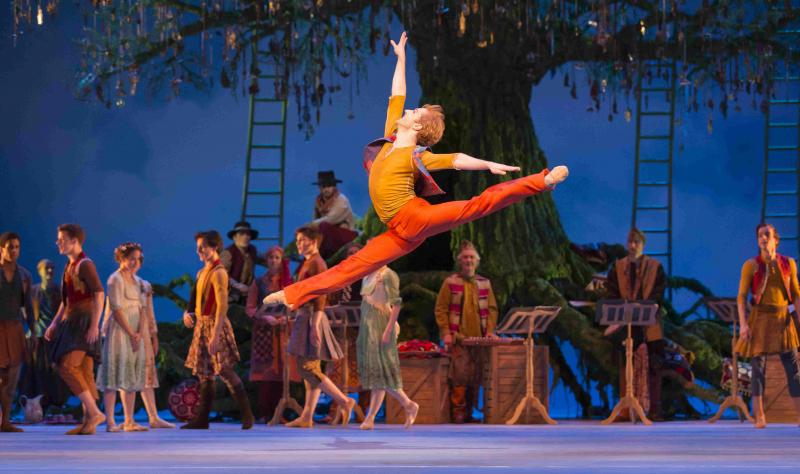 Lordly leaping: Steven McRae is a charming Florizel in the Royal Ballet's new 'Tale'.
Another week, another major British ballet company takes on a key cultural patrimony in a brand-new work. It might seem odd that the Royal Ballet's new Winter's Tale generates more critical reservations than English National Ballet's take on the First World War, though the two evenings succeed and fail in almost equal measure.
But that's what you get for tackling Shakespeare, as well as for being the overdog: in a way, it is testament to the Royal Ballet's tremendous track record with story ballets that we all go into a new one believing (or at least hoping) that we are about to be given a definitive emotional experience.
In the case of The Winter's Tale, such a hope is especially naïve, so oddly does the Tale mix tragedy, comedy, pastoral and romance, and play with time, space and logical possibility in ways that call deliciously on imagination. Of course that trickiness will have made it a theatrical nut all the more tempting for the Christopher Wheeldon team - composer Joby Talbot, designer Bob Crowley and lighting designer Natasha Katz, who all worked with the choreographer on Alice's Adventures in Wonderland for the Royal Ballet in 2011, a production which established their joint flair for the fantastical, theatrical, and profitable.
Like Alice, The Winter's Tale is a triumph of design, abounding in beauty and clever touches: the colouring of the two kings' retinues in contrasting warm and cool shades; the steep stairs down which a crazed Leontes, and then his dying infant son (teddy in hand), stumble; the fabulous, gnarly, green and glass-hung Tree of Life in Bohemia (pictured below left); the colourful Central Asian skirts and patched jerkins of the male peasants, which whirl so pleasingly as they dance.
The very first scene both teases and reassures those fearing that tragedy might be lost under too liberal a repeat dose of Alice's whimsy: as silver paper flutters from the ceiling (a Wheeldon/Crowley/Talbot/Katz trademark), a black background and diagonal white light strongly recall the first, graveside, scene of Kenneth MacMillan's black psychodrama, Mayerling.
Bob Crowley's plain frock coats and a Caspar David Friedrich painting on the wall of Leontes' palace subtly evoke an 1820s Germany of repressive suspicion. Pale, brooding Edward Watson (pictured above right) seems intuitively a good choice for jealous Leontes, but he and Wheeldon channel rather too much of MacMillan's eye-rolling, volatile Crown Prince Rudolf, and Watson over-acts destructive paranoia to the point of bathos (standing on one leg to convey inner turmoil?). The gorgeous dignity of Lauren Cuthbertson as his falsely accused queen, Hermione, is a greater acting triumph.
It's an unalloyed pleasure to see two of the company's best actors in important roles, Bennet Gartside as the honest, harried Antigonus and Zenaida Yanowsky as his furious, morally uncompromising wife, Paulina. Their hurried adieu with the brief kiss of long marriage is heartrending, for Antigonus will shortly fall victim to that infamous bear. This animal, portrayed by a billowing sheet, is far less terrifying than the storm to which Antigonus has just abandoned Hermione's baby, an animatronic prop whose sudden waving of arms is startlingly effective ("Ye gods, that's not a real baby?!" was the audible thought as 100 hands reached for opera glasses).
Narrative slows down in Wheeldon's Act II (Shakespeare's Acts III and IV), as the play's switch to comedy and pastoral allows him to exercise his much greater talent for choreographing the pretty and the joyful (realised in great turns from Valentino Zucchetti and Beatriz Stix-Brunell). Delightful, springy Steven McRae as Florizel does his best to warm up Sarah Lamb's Perdita (pictured left), whose characterisation of the shepherdess-princess is more dignified than passionate (though she dances, as she ought to, "featly").
The surprise let-down in the Bohemian idyll (aside from the excellently angry interruption of Federico Bonelli's disguised Polixenes) is Talbot's music: though sufficiently fantastical, the shimmering soundworld he creates seems too spare for the dancing. I'd have liked to hear more of the sweeping lyricism deployed at Hermione's trial: his more usual painting in sound just won't stick in the brain (one snatch of Massenet recalled by a pas de deux lift from Manon has driven all Talbot's score out of mine).
The mostly deft handling of the plot stumbles at the last hurdle: it's understandable to transfer the play's offstage reunion onto the stage (happy wedding dancing is de rigueur for story ballets, don't you know!), but it robs the statue scene of some of its solemnity. And Wheeldon gives Hermione a pas de deux of (muted) reconciliation with Leontes before she sees their daughter, Perdita. Although there are grounds for it in comments from other characters ("she embraces him" - "she hangs about his neck") and it produces lovely acting from Cuthbertson and Watson, this seems too much – Shakespeare has Hermione speak only to her daughter, vouchsafing no word of forgiveness to her abusive husband. Thank heavens for Yanowsky, whose expressive hands and back in the last tableau, allow us all to share Paulina's grief for the other innocent victims of Leontes' rage.
Generally, Wheeldon and team have delivered a gorgeous staging with many strengths, not least several fine roles. It's harder to predict if this Tale has the intrinsic depth and fascination to keep it in the repertory after the glorious sets have mouldered and everyone has stopped caring about the bear. I'd go back for design and dancing (not least to see the second cast, Marianela Nuñez as Hermione, Laura Morera as Paulina, Stix-Brunell and Vadim Muntagirov as Perdita and Florizel). Choreography and music need a second viewing too, though that is as much reservation as it is praise.
The very first scene both teases and reassures those fearing tragedy might be lost under too liberal a dose of sparkling whimsy
rating
Explore topics
Share this article