10 Questions for Director Dmitry Krymov |

reviews, news & interviews
10 Questions for Director Dmitry Krymov
10 Questions for Director Dmitry Krymov
Moscow's theatrical vanguardist talks Shostakovich, Shakespeare and more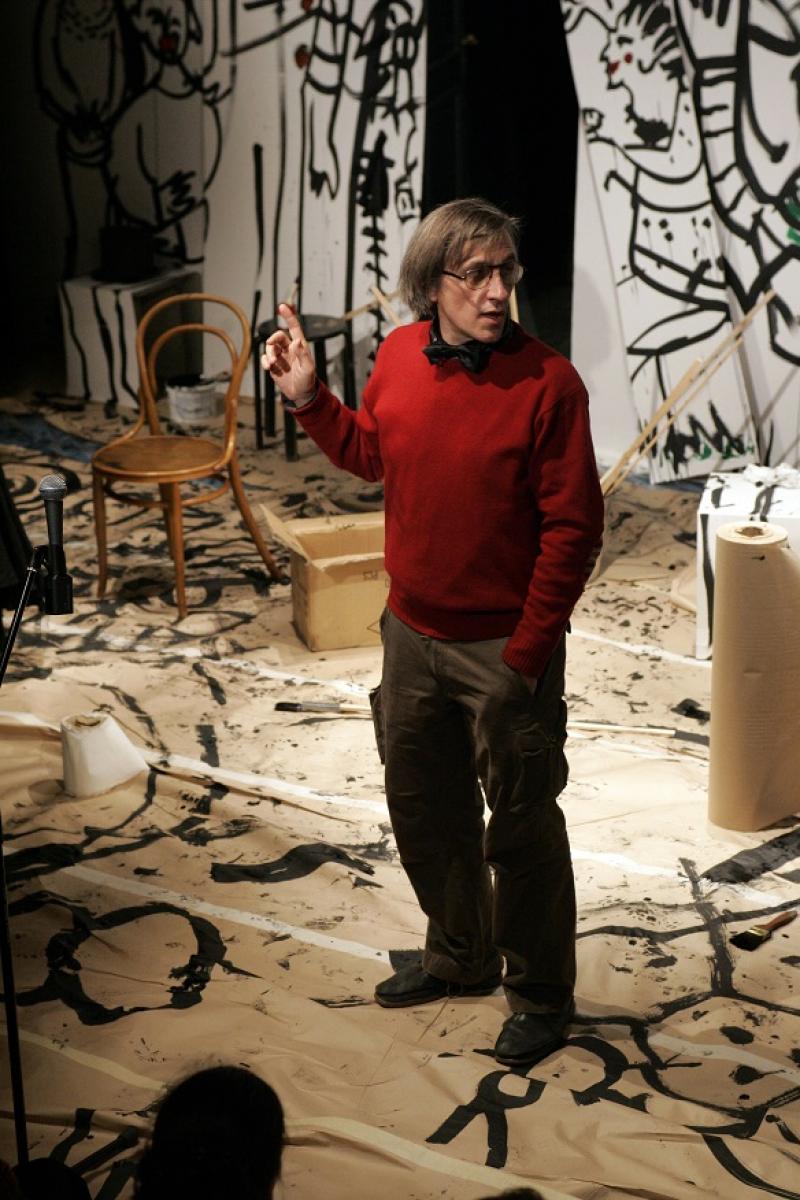 Dmitry Krymov: ' It was a shelter for good artists, the theatre'
Dmitry Krymov (b 1954) is one of Russia's most groundbreaking and celebrated contemporary theatre directors and set designers. Performances by his "Theatre Laboratory" are renowned for combining multimedia with art installation techniques to surprise and thrill audiences across Europe and as far afield as New York.
Dmitry Krymov (b 1954) is one of Russia's most groundbreaking and celebrated contemporary theatre directors and set designers. Performances by his "Theatre Laboratory" are renowned for combining multimedia with art installation techniques to surprise and thrill audiences across Europe and as far afield as New York.
The son of writer Natalia Krymova and theatre director Anatoly Efros, Krymov worked in set design during the Eighties but turned to art the following decade, forging a successful career as a painter and exhibiting all over the world. He returned to theatre in 2002 and two productions he put together – Untold Fairytales and The Golden Key, based on Russian folk tales and Pinocchio, respectively – immediately marked him out as a unique talent. He was, consequently, offered a home by avant-garde director Anatoly Vasiliev's Drama School, where the Theatre Laboratory came into being. "Vasiliev helped a lot and was extremely kind to us," Krymov says now, "so he is actually a godfather to our Lab." Krymov's reputation then grew with award-winning productions Demon: A View From Above and The Cow, works that pushed at the boundaries of the theatre experience.
In 2008 the Russian Academy of Theatre Arts controversially created a new post, making Krymov head of their Experimental Theatre Project, giving his students and the Laboratory a secure base and premises from which to further experiment. The result was three of his most celebrated productions – Opus No.7, inspired by musical and visual motifs from the life and work of Shostakovich; Death of a Giraffe, in which some friends gather to honour the death of their patriarch, who happens to be a giraffe in a circus; and Tararabumbiya, billed as "an unorthodox look at Chekhov's characters".
Although his production of A Midsummer Night's Dream won an award at the Edinburgh Festival in 2012, Krymov is a relatively unknown quantity in the UK. This should change when Opus No.7 has its UK premiere at the Brighton Festival in early May.
THOMAS H GREEN: After a long period as a visual artist, how did your return to theatre in 2002 come about?
DMITRY KRYMOV: It was pure chance. My friend Valery Garkalin, an actor, proposed that I direct a performance where he could have a part, and I treated this proposal with humour. Then we started talking about it so, gradually, it evolved into rehearsals at the Stanislavsky Theatre in Moscow. The resulting piece was Hamlet. I really grew to like this occupation, so I left visual arts and took it up.
Why did you choose Shostakovich as a central motif for Opus No.7?
He is a very interesting figure. Like, you know, a fly can be preserved in amber, or like some other fossil - looking at them you can read their history. Not every fly gets into amber so it's considered to be a unique work of nature. One can understand Shostakovich like that, because he was not shot, was not murdered, did not die as early as many others, and the epoch is reflected very vividly in his life. Roughly speaking, he is a very good specimen to look at. And I also like him as a character. I did not know him personally, but as a character, as a kind of a Charlie Chaplin, a genius Charlie Chaplin that they wanted to murder, but he always survived. And I also like his music very much.
How much does comedy play a role in your thought processes when putting together a theatre production?
I simply don't eat anything without that sauce on it.
What kinds of censorship did you have to put up with when you were a student at the Moscow Art Theatre School in the 1970s?
None, obviously. I was a set designer, not a director, so they did not close my performances. I did the design. Well, of course the commission came to me - as well as to everyone - and sometimes they demanded that I change the set, but it was extremely rare. You see, the set designers were in a kind of a shelter. They were behind the author and the director. It was a shelter for good artists, the theatre, so they were not bothered there. This is probably one of the main reasons why many great artists worked at theatres.
You are keen on mixing theatrical media, bringing ideas from art and installations into your theatre work and vice versa. In what ways are the ideas of Marcel Duchamp and Soviet conceptual artist Ilya Kabakov pertinent to theatre?
Well, Duchamp made a breakthough a while ago, a major one in defining art by his urinal on the wall. I mean, this was both humour and some artistic irreverence at that time, so these are the examples of boldness, of being brave, and of knowing that out of any garbage, any pasture, or whatever one can lay ones hands on, one can make works of art. The same can be said about Kabakov, especially his early period.
Tell us about your experience of the UK, culturally and what you expect from Brighton.
Prior to now I've had a very good experience in the UK. We did a performance ordered by The Royal Shakespeare Company, A Midsummer Night's Dream, which was a huge success. We saw great interest and understanding of our take on Shakespeare. It took the first prize at the Edinbugh Festival, the main prize. So this is why I am afraid to disappoint the audience with this other performance of ours, that I also like a lot, Opus No. 7, that we are bringing to Brighton and other cities. Maybe the audience have forgotten us already. I would like them to either watch this with the good memories of us or from scratch, but not like there's some bar that we must jump over and go higher. Well, we always do our best. Opus was [originally] done several years before A Midsummer Night's Dream, so it is somewhat harsher, somewhat simpler, but in some ways maybe more difficult. It was a different period of my work as I see it, an earlier period, one might say. But maybe the audience will not see this difference. Maybe it's just my personal perception.
What sort of music do you like to listen to when you're at a concert, when you're at a party and when you're relaxing at home?
At home I like to listen to Bach or Mozart, or jazz - Brubeck, Miles Davis, Fitzgerald, Armstrong, a kind of old classic jazz. I don't go to parties, and I rarely go to concerts, but when I do, I usually - for some reason - happen to see classical music concerts. I am not a specialist in concerts.
How useful are psychoactive drugs in the dismantling and reinterpreting of consensus reality?
I have never tried any, unfortunately. So, they are yet to come.
Can you tell us briefly of a favourite memory of working with your father?
I worked with him over one performance for a long time, and I had been tortured - not even by him, but rather by myself - for many months or even years. Then once, when I came home, he was not there. I used to work at home and in my model of the set there was a little note written on a tissue: "Dimka, it seems like there is something in this". The feeling of happiness from that moment I've remembered for life.
What projects are you working on and what's coming up later this year?
I am working on something by Alexander Ostrovsky, the 19th-century Russian playwright, trying to keep all his words but, at the same time, to do a performance of my own. I am doing it with my students. They are actors. We have a joint course for actors, set designers and directors, led by me and my friend Zhenya Kamenkovich. The result is scheduled for September, if it all goes as planned.
I simply don't eat anything without the sauce of comedy on it
Explore topics
Share this article