La Traviata, Royal Opera |

reviews, news & interviews
La Traviata, Royal Opera
La Traviata, Royal Opera
Opera lovers will not want to miss Damrau's authoritative, vocally triumphant Violetta
'You cannot understand all the love in this heart': Diana Damrau as Violetta
The German soprano Diana Damrau has had the role of Violetta Valéry in La Traviata in her sights for a very long time. As she has explained in interviews, seeing the Zeffirelli film of the opera, with Teresa Stratas in the title role, as a 12-year old was a decisive moment in making her want to become a singer. That was 30 years ago.
Now, as the pre-eminent high soprano in the world, she is performing the role in several leading opera houses. Last night she made her debut as Violetta at Covent Garden.
Damrau's musicality and security of vocal line are spellbinding. It is impossible to imagine the role being more cleanly, accurately or musically sung. Her sense of line and phrase are impeccable. The top E flat (her choice, the score gives no instruction) at the end of "Sempre libera" in Act One rang out strong and completely true. It didn't feel shrieky or dangerous, but rather what Damrau is there for. According to the people who know and care about these things (see video overleaf), that note sits comfortably in her vocal range, which can extend up to a fourth higher – to a G sharp.
What Hvorostovsky brings to the role is an air of coldness and detachment
Damrau also brought a consistent and clear definition to the character. The moments in Act Two and Three when she beseeches either the men around her, or God, to understand the wretchedness of her fate were made to count, and were extremely affecting. Her singing of "you cannot understand all the love in this heart" as Alfredo abandons her was particularly poignant.
The male protagonists were the Sardinian tenor Francesco Demuro as Alfredo and Dmitri Hvorostovsky (pictured below) as his father. Demuro has a pleasing tone, more lirico than truly spinto, and sings the role well rather than remarkably. Hvorostovsky received his first round of applause, rock-star style, for the mere fact of having walked onto the stage. His Act Two aria was delivered with beautiful full tone, his contrition in the final act seemed genuine, but overall what he brings to the role is an air of coldness and detachment. A defining moment came when Violetta asked him to accept him to accept her as a daughter and threw herself at him. He stood there implacably like a statue; she just fell away.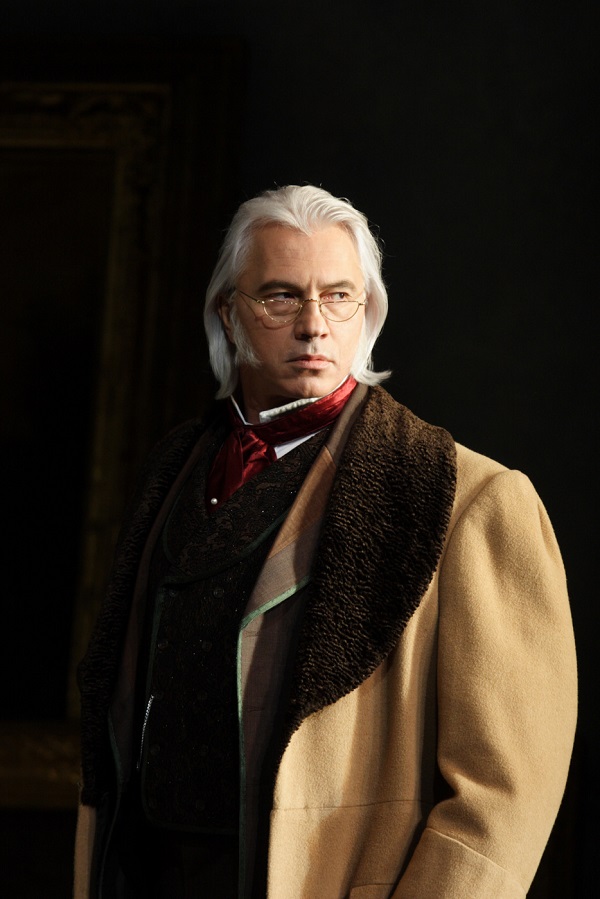 A voice in a minor part which stood out as strong, characterful and distinctive was that of another Russian, the Bolshoi-trained mezzo-soprano Nadezhda Karyazina. Jihoon Kim as Doctor Grenvil was another strong piece of casting.
The production, which was Richard Eyre's first venture into opera directing, with designs set in the historically correct period by Bob Crowley, is now 20 years old. It has developed its own performance history and frames of reference. It has been issued on DVD in two different versions. One element of continuity is the presence of Director of movement Jane Gibson, who has handled the gipsy/ matador episodes with finesse and understanding since 1994. The chorus and dancers made a superb contribution here. Although they had given some of the highlights of the evening, the whole ensemble didn't get the curtain-call they deserved.
Israeli conductor Dan Ettinger did not have a great first night. People recalled in the first interval the sparks which Solti had generated right from the start of the very first performance of the production, and by those standards, this one seemed very underpowered. Ettinger's real problems came later, however, in handling the many allargandos and morendos which bring numbers to a quiet close. His slowing-down of the pulse failed to communicate properly to either stage or pit, and several of those moments sounded very hesitant indeed, rather than fitting in as a natural part of Verdi's musical and dramatic language. Things are bound to get better during the run.
But this was Damrau's evening. Opera-lovers and devotees of fine singing will not want to miss her authoritative, vocally triumphant Violetta. She takes the role on more six evenings between now and early May, when another cast, led by the American soprano Ailyn Perez and Simon Keenlyside, will take over.
Richard Eyre's first venture into opera directing is now 20 years old. It has developed its own performance history and frames of reference
rating
Explore topics
Share this article