La Traviata, Royal Opera |

reviews, news & interviews
La Traviata, Royal Opera
La Traviata, Royal Opera
Latest revival of Richard Eyre's war horse is full of youthful energy and passion
Two exciting house debuts from Joyce El-Khoury (Violetta) and Sergey Romanovsky (Alfredo)
It takes some pretty special casting to spice up Richard Eyre's Royal Opera regular, currently returning for its 14th revival (with a 15th on the cards later this year). And that's exactly what was on the bill here, with house debuts from both Joyce El-Khoury's Violetta and Sergey Romanovsky's Alfredo. If the result was at times uneven, it also had an energy, an uncertainty, that gave it a freshness lacking in more polished revivals.
Lebanese-Canadian soprano Joyce El-Khoury arrived on the UK radar in 2012, singing Violetta for WNO, followed two years later by an outstanding Pauline in Donizetti's rarity Les Martyrs for Opera Rara. It's with international momentum building and a Glyndebourne debut scheduled for this summer that she arrives now at the Royal Opera.
El-Khoury's is a voice worth waiting forHere is an Act I Violetta who's every inch the mature, calculated seductress, who pauses to asks herself (quite reasonably) whether "…it would be a mistake" to fall in love, who displays herself as a naked ice-sculpture to a house full of guests. There's none of the impetuous youthfulness we felt with Gimadieva this time last year, but there is a sense of repressed power, a dignity, that's new. It's a gambit that only heightens the impact of Act III, where El-Khoury's self-dramatising heroine gives us a death scene of real desperation, a "Gran Dio!...morir si giovane" full of rage and pathos, using the full weight of her lyric soprano to thrust the dramatic horror of Verdi's ending in front of its musical beauty.
Vocally there's still an unfinished quality to El-Khoury's performance. Tone comes in and out of focus as this blowsy voice moves through the range, and it wasn't until "Dite alla giovine" that she felt fully warmed up. Luckily it's a sound worth waiting for, though I wonder how well it will suit the smaller space of Glyndebourne's theatre this summer.
But if El-Khoury (pictured above) was the big name going into this production, Sergey Romanovsky might just be the one to watch coming out of it. The young Russian tenor has a beautiful, baritonal colour to a voice that – though not huge – is all easy legatos and gloriously even tone. Add to that an unapologetic musicality, sensitive even in the heights of the brindisi, and you have something quite special. As yet there's still quite a lot of tension at the top of the voice, and a physical stiffness that makes, inadvertently, for a rather touching hero.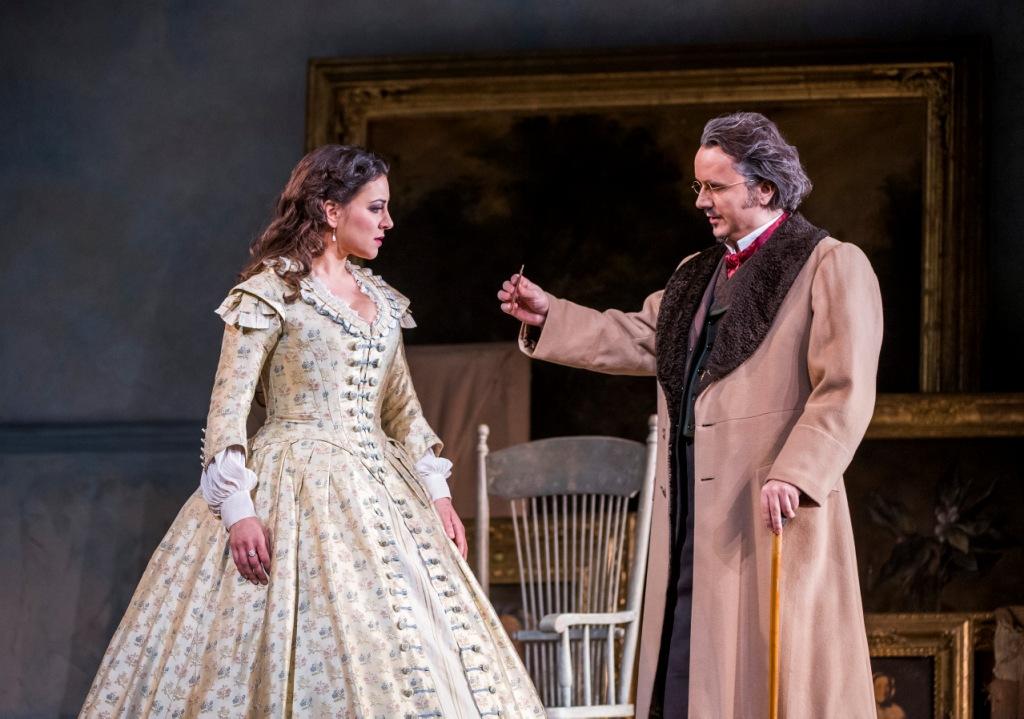 Artur Rucinski is a rather inscrutable Germont (pictured above, with El-Khoury), making up for his lack of dramatic arc in some wonderfully warm singing. There are fine supporting performances from David Shipley's Grenvil and Yuriy Yurchuk's Baron, and Jette Parker Young Artist Angela Simkin continues to impress as Flora.
Daniele Rustioni's swift tempi push the lovers cruelly through some of the Act I coloratura, and breeze through some tender moments, but generally work well for the ensemble scenes, giving this sedate production some much-needed pace. Bob Crowley's stylized 19th-century designs look handsome as ever, and revival director Andrew Sinclair draws out some lovely new dramatic detail. This is a revival worth revisiting – a youthful and genuinely passionate account of Verdi's classic score.
La Traviata is at the Royal Opera House until 1 February
The young Russian tenor is all easy legatos and gloriously even tone
rating
Explore topics
Share this article