Sunny Afternoon, Hampstead Theatre |

reviews, news & interviews
Sunny Afternoon, Hampstead Theatre
Sunny Afternoon, Hampstead Theatre
The Kinks' music is righteously revived, in something more than a jukebox musical
I'm not like everybody else: Dave Davies (George Maguire) leads the Sixties party
The Kinks' music deserves more than another jukebox musical. Joe Penhall has instead collaborated with Ray Davies on a show about the pain and compromise musicians go through to fill those jukeboxes. Most of The Kinks' biggest hits are here somewhere. But, in the Hampstead Theatre's first musical, they're used in a way reminiscent of the site of two previous Davies productions, Theatre Royal Stratford East.
The songs joyously reach out to the audience, even as they are shown to be rooted in a wider, difficult and daft world of class, family, professional struggle and private agony.
The basic set is a giant recording studio, its walls stuffed with speakers. We begin at a symbolic Sixties moment, as the nascent Kinks, The Ravens, back stockbroker Robert Wace's singing of plummy rock'n'roll at a society ball in 1963. Wace can't cut it, and, with the clang of "You Really Got Me"'s riotous riff, Ray's brother Dave (George Maguire) roars to the front, class insurrection incarnate.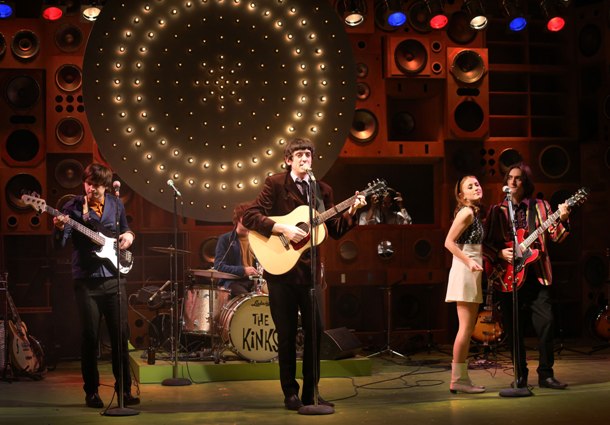 "Dead End Street", set in a cramped Davies family home bursting with glamorous sisters (they had six), makes the point even more forcefully, in a funny and angry production number like something from a bright Technicolor Sixties film musical, the sort of Cliff Richard vehicle the untameable Kinks were never asked to star in. Wace, Grenville Collins, Larry Page and Eddie Kassner, the four men about to take their cut as managers and publishers from a pie which will leave precious little for Ray and Dave, back away nervously as the family advance on them like Furies, spitting, "We are strictly second-class!"
Much of Sunny Afternoon's vigorous humour comes from Dave, Ray's younger and much wilder brother (George Maguire, pictured below, with Adam Sopp as drummer Mick Avory). When not sitting watchfully at Ray's side, he is swinging from a chandelier in a pink nightie, taking an axe to a hotel desk, or pulling pills from his borrowed knickers to share with a bevy of dolly birds. Maguire fully reincarnates Dave in his prime, a boy-man throwing himself headlong into life. John Dagleish's Ray is a gentler, more passive figure. "What kind of pop star are you?," he's asked, as he leaves Dave partying to return to his young wife Rasa (Lillie Flynn) and screaming baby. For the show's musical element, Dagleish's soft, sad and comedic style is sometimes underpowered. As the Ray who, as "You Really Got Me" seals his fate, desperately pleads, "I can't do this…I've changed my mind," he's much better.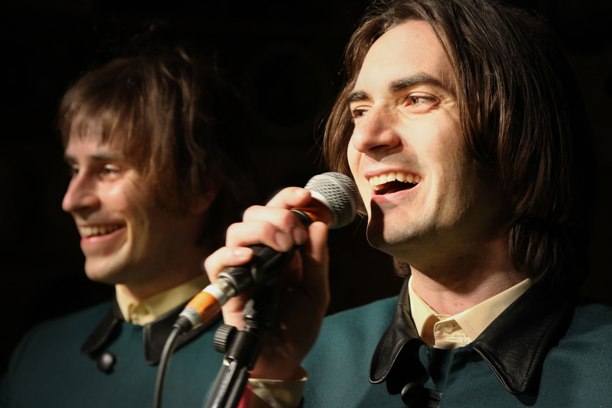 Davies's memories were heavily mined for Penhall's book, and his concern with "the ownership, and the court cases and the money" makes the second act a knotty, realistic vision of the pop business. But Edward Hall's direction rarely leaves it too long to send girls screaming and cavorting down the aisles as The Kinks unleash another heartbreaking, triumphant hit. "Waterloo Sunset" comes together like a dream in the studio, all four Kinks and Rasa rescuing themselves by recording it.
A mini-concert at Madison Square Garden built around "Lola" ends things on a high. But it's Sunny Afternoon's admission of the pop life's bruising, tender lows which makes it so true to Ray Davies's vision. In The Kinks' 50th Anniversary year, their spirit could hardly be better revived.
John Dagleish's Ray Davies is a gentler, more passive figure. 'What kind of pop star are you?' he's asked
rating
Explore topics
Share this article