Mood Music, Old Vic review - riveting critique of the music biz |

reviews, news & interviews
Mood Music, Old Vic review - riveting critique of the music biz
Mood Music, Old Vic review - riveting critique of the music biz
Joe 'Sunny Afternoon' Penhall's triumphant new play about the music industry really rocks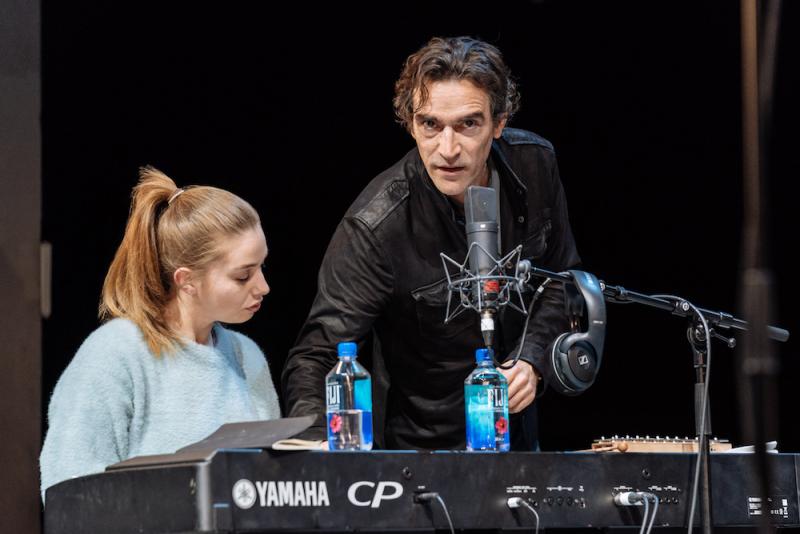 Sounds good: Seána Kerslake and Ben Chaplin in 'Mood Music'.
Playwright Joe Penhall and the music biz? Well, they have history. When he was writing the book for Sunny Afternoon, his 2014 hit musical about the Kinks, he had a few run-ins with Ray Davies, the band's lead singer.
A couple of years ago
The Stage
newspaper quoted Penhall as saying that his initial "bromance" with Davies had "rotted into a cancerous feud", and that the singer had wanted a writing credit for Penhall's work. The pair have since patched up their differences, but the emotional fuel of this conflict powers Penhall's latest play, whose production at the
Old Vic
gets a shot in the arm from its brilliant cast.
Mood Music is all about the music industry and the pains of creativity. It opens with two artists explaining themselves to their therapists: Cat, a young up-and-coming Irish singer-songwriter, talks to Vanessa, while Bernard, her middle-aged living-legend producer, talks to Ramsey. Although these meetings are happening in different places, both pairs are on stage at the same time and their dialogues overlap in one of the paciest and most thrilling opening scenes I've ever seen. Yes, it really is that good. Then, because this is a story about a dispute about the authorship of music, come the lawyers: Cat's Miles and Bernard's Seymour.
The emotional volume picks up right at the end
With rapid strokes and a marvellous economy, Penhall throws us right into the middle of this dispute. Cat claims that Bernard has failed to acknowledge her authorship of her song lyrics, and that he has changed her musical ideas to produce work which he then takes all the credit for. As flashbacks show some of their interactions, we can readily believe her. But then the sessions with their therapists show not only that both of them are damaged people – she vulnerable; he a monster of unfeeling egoism – but also that creative collaboration is a messy business. When several people create a song in a studio, who exactly contributed what?
On top of this Penhall lays down some additional tracks: history, the Blitz, the 1970s, parents, marriage, loneliness, anger and mental disorder. Then there's the story of Cat's American tour, in which she was once so catatonic that she had to be carried onto the plane that flew her between cities, a fact that Miles, her lawyer, wants to exploit. After all, she was half naked at the time. Oh come off it, argues Seymour, Bernard's lawyer, everyone gets stoned on tour – what's the big deal? Okay, then give her the songwriting credit she deserves and I'll drop the case of kidnap. The what? Like a coke-induced rant the story simply flies along, each exchange more inventive than the previous one.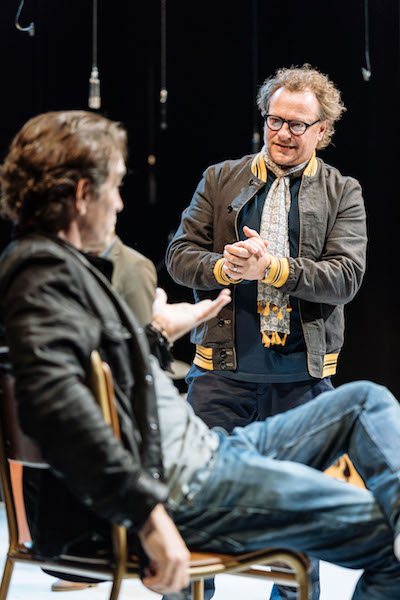 Penhall's first job was as a music journalist so this play is something of a homecoming (along the way he's also worked with Nick Cave and Massive Attack's Greg Pruess). The central conflict between authenticity and commerce, between art and business, between originality and selling out, is familiar, but here appears in a shiny new stage costume, with the glitter of smart lines and some good belly laughs: "The music industry isn't about healing heartbreak and vulnerability – it's about selling it"; "Music is medication"; "Girls are the new boys".
Completely in tune with contemporary preoccupations, Mood Music is sensitive to gender issues such as unequal pay and the concerns of the #MeToo phenomenon. Cat is characterised as a diva, a drama queen, a difficult woman – by herself, yet of course with an edge of hilarious irony. Likewise, Penhall creates Bernard's character in layer after layer of telling moments. When collaboration is first mentioned by his therapist, he looks blank. When questioned about his first wife, he replies, "How could I possibly know what my wife was feeling?" The bemusement is genuine.
Yes, Mood Music is a compelling play, that positively sings with great lines and throws Cat's raw idealism against Bernard's manipulative pragmatism. Although it is constantly inventive, it does run out of invention towards its end, and the inclusion of an irritating 20-minute interval in a two-hour play definitely results in a pressure drop. Likewise, shouldn't a story about music have a bit more, er, music in it? Although the dialogues are a bit circular, with the therapy a bit inconclusive, there is also a sense of repetition, as if the needle occasionally gets stuck in a groove. Still, the emotional volume picks up right at the end.
Top director Roger Michell orchestrates a pitch-perfect cast on Hildegarde Bechtler's bare set, with its guitars, keyboards, drum kit, chairs and its quiet cacophony of dangling mics. Ben Chaplin's charismatic Bernard is all charm and repressed feeling, which contrast beautifully with Seána Kerslake's more demonstrative, yet equally magnetic, stage presence. As the therapists and lawyers, Jemma Redgrave (Vanessa), Pip Carter (Ramsey) and Kurt Egyiawan (Miles) provide suitably restrained support for the clash of artistic titans, while Neil Stuke (a very hip Seymour) gets a few solo riffs (pictured above, with Chaplin). A powerful journey into the dark heart of music-making – and surely a candidate for best play of the year.
Powerful journey into the dark heart of music-making – and a candidate for best play of the year
rating
Share this article