10 Questions for Director Roger Michell |

reviews, news & interviews
10 Questions for Director Roger Michell
10 Questions for Director Roger Michell
Harley Granville Barker's 'Waste' still resonates, says the director reviving it at the National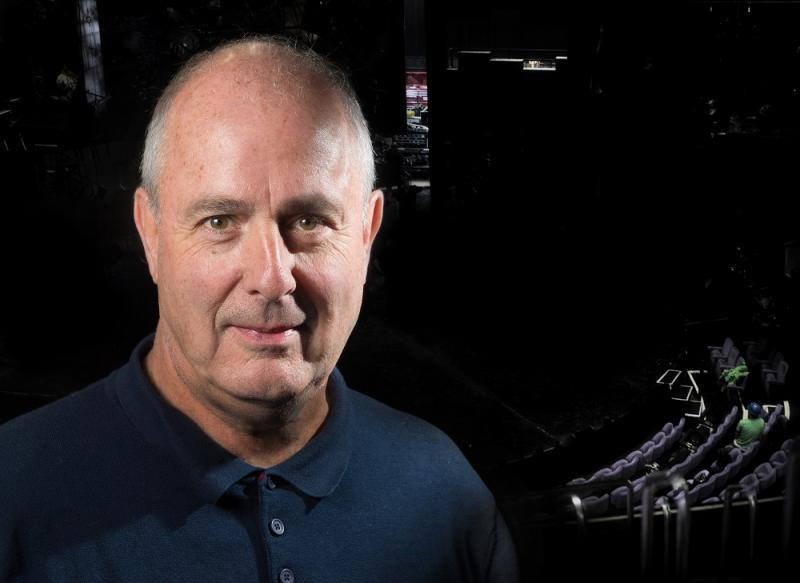 Roger Michell: 'I'd shamefully been ignorant of Harley Granville Barker, as are most who work in British theatre'
It's not easy to see the pattern in Roger Michell's career. More than most British directors, he has zigzagged between the stage and the screen. He was the one who first rehearsed such contemporary classics as Kevin Elyot's My Night with Reg and Joe Penhall's Blue/Orange towards their premieres, he has regularly staged the works of Pinter, and yet he is also the director of Notting Hill.
The most visible throughline has been his creative partnership with Hanif Kureishi, whose semi-autobiographical novel The Buddha of Suburbia he filmed as a lively television series in 1993. The relationship continued on the big screen with The Mother, Venus and Le Week-end (plus another promised, he says, in the next few years). His visits to the classical canon have been extremely rare, but Michell's Persuasion (1995) was the first and remains perhaps the best of the wave of Jane Austen adaptations which followed. His most recent television hit was The Lost Honour of Christopher Jefferies, which elicited a remarkable performance from Jason Watkins as a man wrongly accused of murder.
Michell's work in the theatre has mostly been alongside living writers. But for his return to the National Theatre, he has delved back into the past to revive Harley Granville Barker's Waste, written in 1906, revised in 1926 and not performed until 1937. A forensic examination of the inner workings of the political classes and a sexual scandal which threatens to engulf rising MP Henry Trebell, it could have been written last week. As Roger Michell explains to theartsdesk, it arose out of a previous encounter with the playwright as a stage character.
In 2012 you put Harley Granville Barker on the stage as a character in Richard Nelson's Farewell to the Theatre. Is there a sequential journey between that production and now putting on one of his plays? (Pictured below: Ben Chaplin as Granville Barker, with Tara Fitzgerald. Photograph by Stephen Cummiskey)

Yes there is. During the process of presenting that play I learnt properly for the first time about Harley Granville Barker myself. I'd shamefully been rather ignorant of Harley Granville Barker as are most people who work in British theatre today – although we really owe him our jobs. He effectively invented the role of the modern British director, along with Stanislavsky abroad. It was during rehearsals that we as a cast began to investigate his other writings, his prefaces, and also his plays. One of the plays that we read excerpts from and I read in its entirety was Waste. So when Rufus [Norris] asked what I wanted to do at the National Theatre in his first year, this was one of the plays I suggested. The National have done The Voysey Inheritance twice and The Madras House once and they've never done Waste. And of course Harley Granville Barker is inextricably linked with the origins of the National Theatre as well. He was one of the first people to suggest the benefits of a national theatre that was composed not of West End stars but of an ensemble of actors, a theatre that would be actively concerned with maintaining plays in the repertoire and operate a repertory system. I seem to remember that the NT used to have a quotation from him on its website years ago. And there used to be a bust in the foyer.
The play was first written in 1906 and revised in 1926. What happened to it in that 20-year gap?
When he applied for a licence to perform it in 1906 it was denied by the Lord Chamberlain. It was banned from performance ostensibly because of the subject matter of the abortion. But some people would argue that there were other plays that dealt with abortion that had been given a licence and it was somehow the political content of the play that was being buried or censored by the establishment. That may be going a little too far. But there is a sense that it was too close for comfort for the governing elite. Barker was very familiar with a lot of very senior politicians, including several prime ministers. And although it doesn't feel like there are any direct caricatures in the play, it does feel like he accurately depicted a tone or a modus operandi which is quite cynical. Certainly the play suggests that some abortions amongst the higher echelons of society did take place discreetly. That might have been grounds for the ban.
Have you set those two versions of the play side by side to see what was actually done in the revision?
I haven't only used the 1926 version. I've gone back and stolen what I think are really wonderful passages from the earlier version and I've made an interpolated version which we had to pass through the Harley Granville Barker estate. It's rather like a Folio and a Quarto of Shakespeare's plays. I felt it was my duty to try and show the play in its very best light and I don't think that is necessarily through entirely using the revised version of 1926. I don't think you'll see the joins.
Peter Hall revived Waste in the first year of Tony Blair's premiership, then Sam West put it on in the first year of Gordon Brown's. What is it about the play that can talk to an audience in 2015?
I think the questions the play raises are pretty much always going to be of fascination to people interested in politics. What the play seems to suggest is that if you're simply driven by ideology in politics you've not much chance of making the lives of others better. And in this case this young brilliant ideologue is relentlessly crushed by the realpolitik of machine politics. I don't think there are any bad people in the play, as in all great plays. I think there is an attempt to understand that the world works in a certain way and to really change the world you have to be alive to that. We asked Neil Kinnock to come in and talk to us about the play, and I asked Nick Clegg, who seemed to me to be particularly appropriate to the Trebell figure. Nick Clegg had been brought in to the cabinet of another party like Trebell, he came to the public eye through being ideologically bushy-tailed and indeed he was even interested in disestablishing the church as Trebell is charged with. And yet Nick Clegg was crushed by the realities of the political machine; he made a cynical calculation about tuition fees and it absolutely crushed him. He didn't reply to my advances. So Kinnock came in and was really smart and very surprising about the play. He was quite severe with the Trebell character. He thought the Trebell character was deeply self-indulgent. He said that in politics it's easy to know all the answers, it's easy to stand up and fight for great ideals without compromise. But you don't get anywhere. You don't actually change the world.
Who does that remind us of?
Well exactly. So it seems to me that the play is inadvertently backing itself into even more of a connection with the modern political world. We were preparing this throughout the whole Corbyn election. All those issues that have been raised by Corbyn are so alive in the play.
The centrepiece of the play devastatingly exposes the whirring cogs of the political machine. The great and the good - a cabal which includes Prime Minister in waiting Cyril Horsham, Catholic peer Lord Cantelupe and relentlessly ambitious Russell Blackborough - connive to rescue a career and a bill while more or less forgetting about an unfortunate victim. How do you approach it?
You approach it like you approach anything else. You dig in and find out what's happening and who's doing what to whom. It's a prairie where these wild animals are growling and putting at each other with exquisite grace. That's what's fun to unravel. When Blackborough starts to smell his own opportunities, and understands that by playing his cards in the right order he can end up leaving this room effectively as Chancellor of the Exchequer, it's thrilling to watch.
You talk of the prairie. Earlier in the play, when Trebell unwittingly embarks on his perilous course, he seduces Mrs O'Connell like a bird of prey.
He is described as a cat playing with a mouse. It's a scene of misunderstandings. He thinks that she's someone who has sex with lots of people. He hasn't had sex for a long time. She's available and she comes on to him and the misunderstanding is that she really thinks he's really in love with her. It's that age-old problem. I wouldn't apportion blame. Everyone else in the play treats her with contempt as a sexualised waif and he's no exception.
One area of the play that may be less familiar to us is the general contempt for the electorate. Blackborough says, "The public can't hold an idea in its head as long as my dogs can."
That is an important theme – what is the point of democracy and indeed what is democracy? – running through the play. The play was first written before women's suffrage. Blackborough says, "You shouldn't feed the masses with ideas. Look at the Russian revolution, look at the Chinese revolution, look at Poplar." He is talking about civil unrest on the shores of England. I imagine in 1926 the Russian Revolution must have felt like the French Revolution to Edmund Burke. Absolutely terrifying. And so Lady Julia proudly asserts, "I am absolutely not a democrat, I've never claimed to be." The idea that democracy is the only way of governance is a contemporary illusion.
Granville Barker (pictured) wrote wonderful stage directions. A character called Farrant, for example, is described as "a pleasant, very honest fellow, bred to big affairs, but with no other particular qualification for them". Which sounds like half of the Cabinet. In a scene between Trebell and Mrs O'Connell he writes, "To these pitiful, ridiculous, revelations what could he find to say! But his own dry – and really rather priggish - piece of pedantry having roused her to a very wholesome impatience, he comes, readily enough, to the bearing of common sense, and to that extent, of kindness." How do you engage with those stage directions?
I initially encourage the cast to engage with them very fulsomely. There are often great hints and clues in stage directions. But ultimately we have to do the play. Some of them are spiritual signposts and some of them are unperformable.
How does Waste connect with previous work of yours in the theatre?
It doesn't really connect at all. My whole life has really been doing new plays where possible with living writers. It's something of a luxury to jump into a ready-made Rolls Royce which has been tried and tested and done several hundred thousand miles. It's a vast, difficult, complicated play but one can really trust in its handiwork. It's so fresh and alive.
The Prime Minister always comes to see at least one play at the National as part of his cultural tour of duty. Gordon Brown went to see Ayub Khan Din's play Rafta Rafta...
I was there that night! By chance I was there with Hanif because we'd gone to see a member of the cast who was in The Buddha of Suburbia, Harish Patel. And we went backstage after to the bar to see Harish and Gordon Brown was there with his wife. And Harish very sweetly insisted on introducing us to Gordon Brown who shook us by the hand and because Hanif is half Pakistani he was congratulated on his performance in the play.
Would you be tickled if the Prime Minister came to see Waste?
I'd be delighted if he wanted to come and see Waste. I think if any of them at all came, if they were honest with themselves they would recognise part of their lives very clearly in the play. The smell of that room would be instantly recognisable to them. We've had it all week, haven't we? We have had this guy slavering at this Chinese premier, drinking beer with him and grinning like an idiot. It's a huge political calculation. Do I take the money or do I stand up for the rights of Chinese citizens and do I worry about Chinese workmanship in nuclear power stations? It's all about balancing your realpolitik.
The questions the play raises are always going to be of fascination to people interested in politics
Share this article