The Tempest Replica, Kidd Pivot, Birmingham Hippodrome |

reviews, news & interviews
The Tempest Replica, Kidd Pivot, Birmingham Hippodrome
The Tempest Replica, Kidd Pivot, Birmingham Hippodrome
Canadian contemporary dance company makes magic with Shakespeare's last play
Wearing Nancy Bryant's eerily effective white masks, the conspirators contemplate Prospero (Eric Beauchesne).
If, standing on a station platform, your arms want to make shapes in the air; if, walking home, you are mesmerised by the curved toes of your shoes against the pavement; if, in the kitchen, a stray salad leaf on the floor transforms before your eyes into a tiny green lizard, head up, questioning – then (if you are over the age of 10 and reasonably level-headed) you have probably consumed some mind-altering substance.
In my case, last Saturday night, it was (honest, m'lud!) nothing more dangerous than a cocktail of contemporary dance + Shakespeare, served up cool and cloudy by Canadian choreographer Crystal Pite and her company Kidd Pivot at Birmingham's Hippodrome as part of the International Dance Festival. Fresh from a successful run at Sadler's Wells, which earlier this year added Pite to its elite band of Associate Artists, The Tempest Replica was perhaps one of the less obviously intoxicating substances on offer in Birmingham on Saturday night, but those who ventured in were rewarded with a surprising - and hangover-free - delight.
Pite and her team of sound, light, costume and set designers have the sure touch of magic-makers, and in Eric Beauchesne a Prospero with stage rippling magnetism. The first few seconds introduce the essence of the fabulous, seductive, unexpected storytelling to come: Beauchesne, intently folding and inspecting paper boats, calls brusquely "Ariel!" and, on the appearance of the half-sullen sprite, played by intense, angular Sandra Marín Garcia, hands her a boat. The fluidity of a wave ripples down her arm to set the vessel rocking, but when Beauchesne commands "shipwreck!" it is not her hand that crushes the paper – after a pregnant pause, she stuffs it violently into her mouth.
This is theatrical gold, and for the next thirty minutes it doesn't let up. The story of The Tempest is told through a combination of dance, mime, and video, in which every character except Prospero is wrapped entirely in white. Wearing faceted masks of an ingeniously human-yet-alien shape,(pictured right and top) they resemble plaster-of-Paris mannequins brought to life and Pite has given them a movement language that builds on this half-strange, half-familiar quality: sometimes swift like animals, sometimes stiff like robots, sometimes mannered and artificial, sometimes impusively naturalistic, they are always something more and something less than human. A playful wit bubbles in clever touches, like the very visible string that pulls a model island back across the stage it has just traversed or the manic ninety-second jive with disco ball lighting into which Miranda and Ferdinand break once they are married.
Whistling through the story, we get to the end and then – the replica of the title – start over again, with the same dancers now unmasked, and all too human. The sense of bubbling magic is replaced by something grittier and more violent, but though the dancing is often superb – the duet between Beauchesne and Garcia (pictured below left) is a wonder, a flowing synthesis of contact improv, martial arts and classical dance – the story drags. Every character has a long solo, and the touches of wit and sparkle that made the first half fly by are largely absent.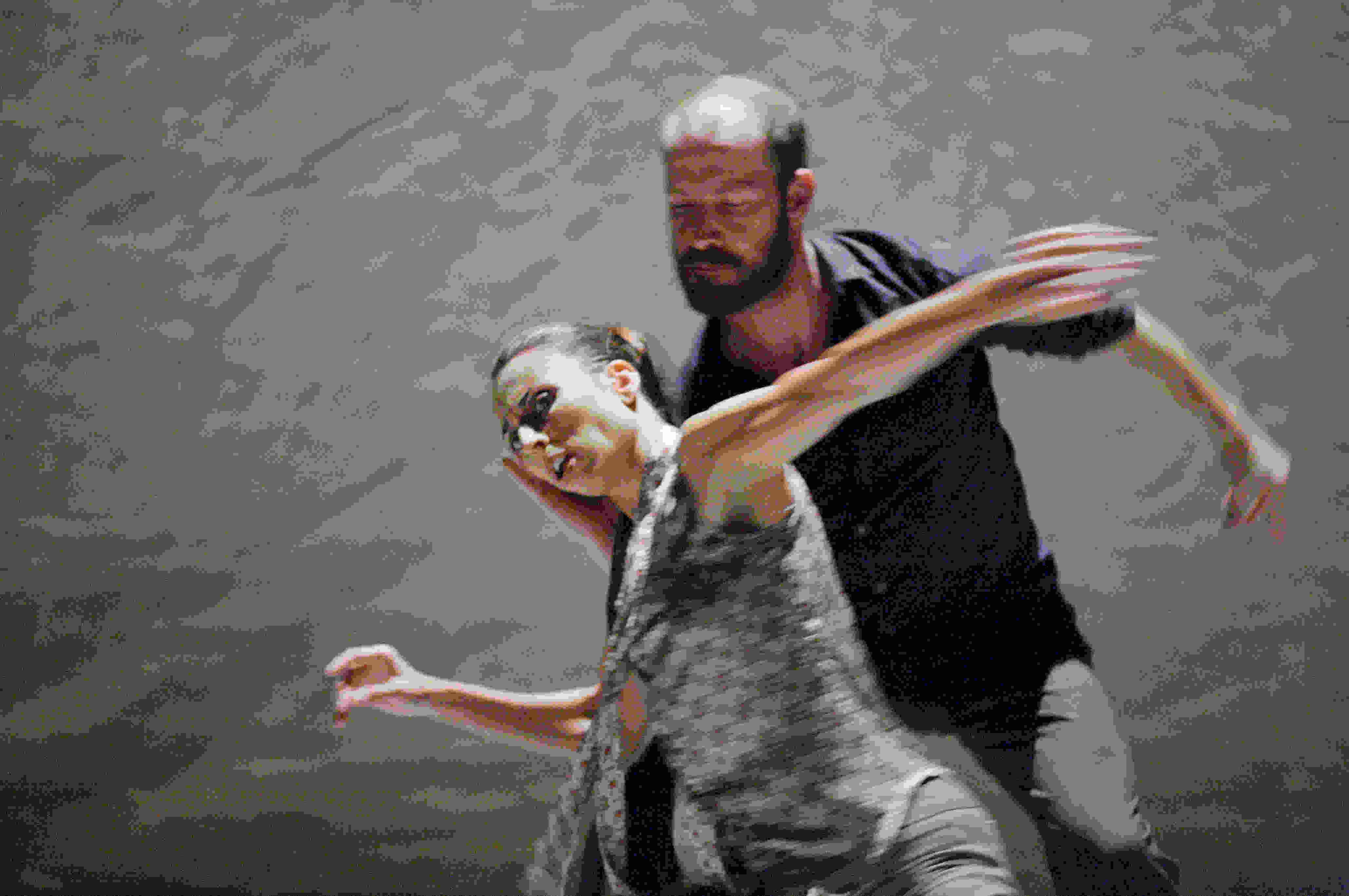 The very fact that it was less enjoyable to watch in some ways proves the point of the second section: we may be more attracted by fantastical, blank-faced fables than by complex stories involving real people, but that's all the more reason to force ourselves to confront the latter. Still, the point could have been made at slightly less length: 40-odd minutes feels like a long time for the near-musicless telling of a story we already know in outline.
The extra length keeps The Tempest Replica from being a 60-minute, 60-carat diamond, but Crystal Pite and Kidd Pivot's wonderful dancers and production team still have a genuine jewel on their hands.
Pite and her team have the sure touch of magic-makers
rating
Share this article