Reissue CDs Weekly: Josef K |

reviews, news & interviews
Reissue CDs Weekly: Josef K
Reissue CDs Weekly: Josef K
A reminder that Edinburgh's idiosyncratic post-punk band were amongst the period's best
Josef K take it easy: main man Paul Haig second from left, guitarist Malcolm Ross left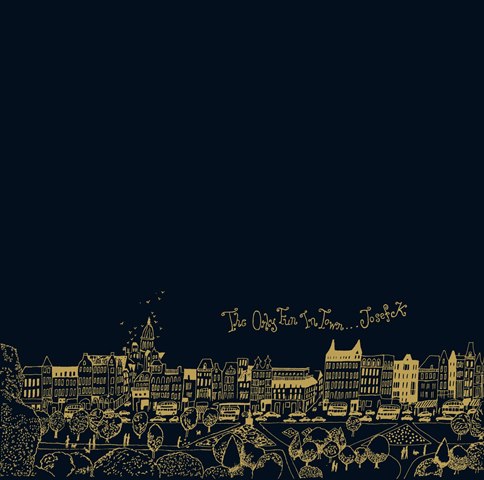 Josef K: The Only Fun in Town
Josef K seem like one that got away. Their fellow Postcard Records' bands Aztec Camera and Orange Juice had high-profile afterlives with, respectively, the careers of their songwriters and front men Roddy Frame and Edwin Collins. After his band split, Josef K's Paul Haig went on to have a string of fantastic, accessible releases – including collaborations with New Order – but none clicked with the mainstream. His old outfit's legacy is though heard less directly through Franz Ferdinand, whose agitated forward-thrust derives directly from Josek K. It's also doubtful The Wedding Present would have had a sonic template without Josef K.
They were a hip, influential band and when active between 1979 and 1981 released one album, The Only Fun in Town. It was issued by Postcard in June 1981 after Josef K had already shelved the Sorry for Laughing album in 1980 (officially issued for the first time on vinyl only in 2012). This reissue of The Only Fun in Town adds the whole of Sorry for Laughing as a bonus – its CD debut.
The booklet with this smart double-foldout digipack does not include any liner notes which is a pity. There are, confusingly, images of the sleeves of two of their three non-Postcard singles which are not included on the CD. There is also a vinyl edition which has the band's sole Peel session and cuts from singles as bonuses (the 12 Sorry for Laughing tracks are not included on this version).
Guitarist Malcolm Ross was unique: he united a funk style with a high life energy From Edinburgh and with roots in a band called TV Art, Josef K's first single came immediately after the name change on Absolute, a label run by Orange Juice's Steven Daly. What was soon dubbed The Sound of Young Scotland by Postcard was already taking shape.
For Josef K, their's was also the sound of New York and The Velvet Underground. Haig's vocals echo Lou Reed's deadpan drawl. Songs like "It's Kinda Funny" could have been included on the either the first or third Velvet's albums. The sonic terrorism of White Light/White Heat was sidestepped by Josef K in the studio, although they played the album's "Sister Ray" live. Their approach was unique as guitarist Malcolm Ross, later in both Orange Juice and Aztec Camera, adopted a distinctive scrubbed-fretboard funk style which he united with a West African high life energy. No one else sounded like Josef K.
The Only Fun in Town, recorded in Brussels in April 1981, still sounds fresh due to the quality and immediacy of the songs. Most were written by Haig alone, but a few were co-penned with Ross. The rhythms are choppy, the guitars jagged and the production intentionally ragged with Haig's voice submerged, but "Crazy to Exist" and "Heart of Song" are kinetic pop nuggets with a nagging catchiness. The latter could be a David Byrne composition. "It's Kinda Funny" is a yearning classic in whatever form it was recorded (it was also a single). Despite the restrained delivery, "The Angle" could be reconfigured as a modern corporate indie anthem. Josef K were not shy of making grand melodic statements.
'The Only Fun in Town' is such a benchmark that little can match it Nonetheless, the band did not want to make them that directly. The Sorry for Laughing album, recorded in Edinburgh in November 1980, was put into cold storage as the band felt it was too polished and did not represent what they were about. Some of the songs – "Crazy to Exist" and "Sorry for Laughing" – were re-recorded but others like "Heads Watch" and "Terry's Show Lies "never resurfaced. Sorry for Laughing is, indeed, more clean sounding than The Only Fun in Town. The difference between the two albums is not just in the production. The earlier one is less impactful, less wired and less assured. The playing is more deliberate. Of the two versions of "Sorry for Laughing", the spikier take from The Only Fun in Town wins out.
Of course, if Sorry for Laughing had become the only Josef K album, it still would have sounded just great. It's more that The Only Fun in Town is such a benchmark little can match it. Josef K may have been neglected in favour of post-punk bands whose voices ring louder through time, but the reissue of the inspired and idiosyncratic The Only Fun in Town is a reminder that this vital and influential band was amongst the period's best.
Overleaf: watch Josef K perform the single verison of "Sorry for Laughing"
Watch Josef K perform the single verison of "Sorry for Laughing"