Some Like It Hot |

reviews, news & interviews
Some Like It Hot
Some Like It Hot
Billy Wilder's peerless, deliriously funny sex-comedy is back on the big screen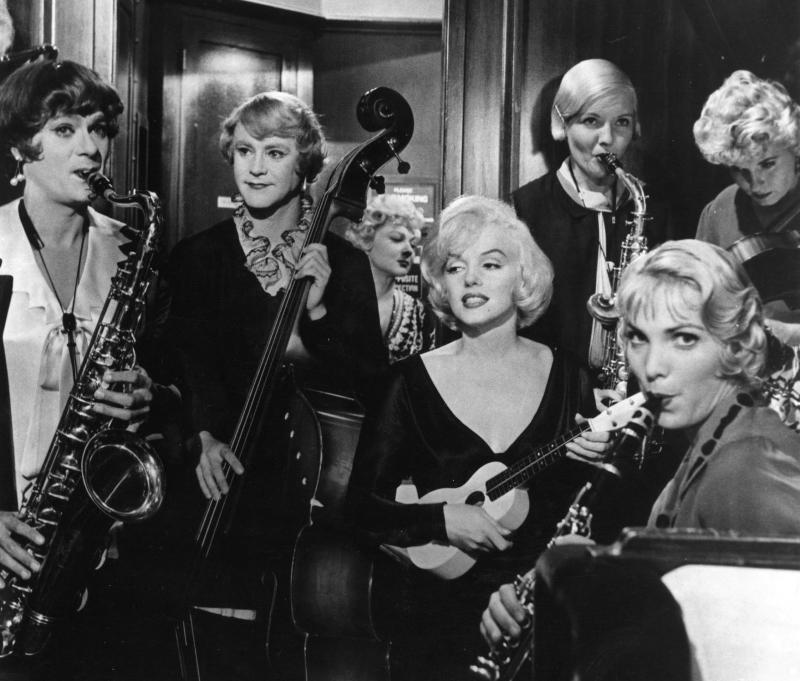 Tony Curtis on sax and Jack Lemmon on bass supporting Marilyn Monroe in the not quite all-girl band
In what is undoubtedly one of the earlier recorded examples of the single entendre, the original ad campaign for Some Like It Hot yelled "Marilyn Monroe and her Bosom Companions".
Well, the posters may not have minced words, but there's more than a little mincing on screen as
Tony Curtis
and
Jack Lemmon
escape the mob and the St Valentine's Day massacre and go on the lam by joining a band. An all-girl band. Sweet Sue and Her Society Syncopaters, to be precise, who are to be holed up beneath the sheltering palms of a millionaire-strewn Florida hotel. That's a whole lot better than being held up and wiped out by gangster Spats Columbo. It means compromising their manhood but they're real guys so what could possibly go wrong?
Everything. Which is where the comedy comes in, but just describing Some Like It Hot as a comedy is like saying that the Sistine Chapel has nice interior decorating. For once, the trailer didn't exaggerate. "The best picture this year will also be the funniest. There's one thing sure, boy never met girl like THIS before. You've never laughed more about sex, or a picture about it."
That wins no prizes for grammar but the argument would convince any jury before or since. Wilder and his co-writer IAL Diamond took one third of a heavy-handed German comedy Fanfaren das Liebe and completely rewrote it into a movie masterpiece. Later efforts like Tootsie, Priscilla, Queen of the Desert or To Wong Foo, Thanks for Everything, Julie Newmar, each foolishly upheld as the sine qua non of comic sexual politics, don't even begin to rival the wit or wonder of this 1959 classic.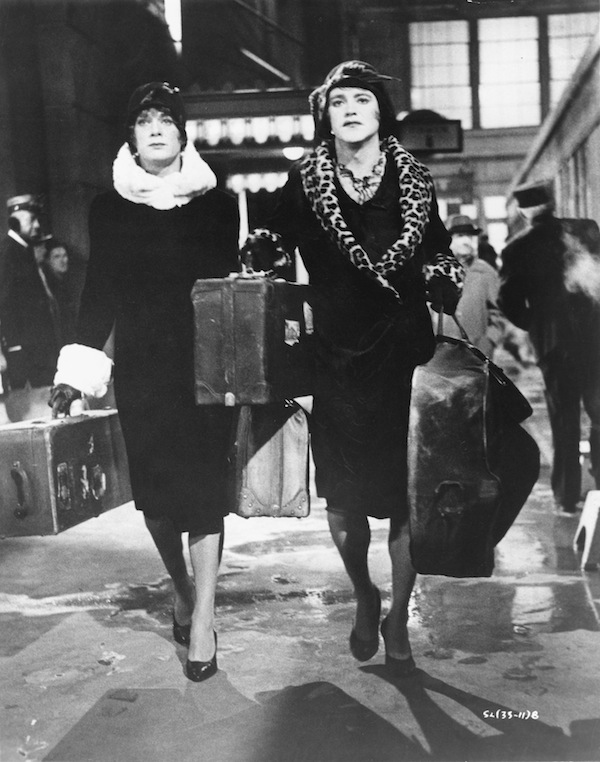 The original reviews were lukewarm. Even its British release prompted sniffy summaries like, "No comedy dependent on men impersonating women can make friends and influence laughter for very long, certainly not for two hours," but that's the Daily Mail for you. Check out the box office though. Monroe and Curtis were both paid $250,000 up front but had separate points deals: she got 10 per cent and he got 5.5 per cent of the gross after it broke even. The film went into profit after a week and a half and made him a millionaire.
It's a measure of Wilder's audacity that after the set-up the gangster plot is jettisoned – for over an hour – in favour of lust, love and laughs. The shock return of Spats Columbo reminds you you're watching a chase movie. Peter Weir pulled off the same trick 26 years later in Witness where Harrison Ford and Lukas Haas' engagement with Kelly McGillis and Amish country is so complete that you forget they ran there in fear of their lives.
It's no coincidence that both films share a life-and-death frame. Some Like It Hot is a thorough-going sex farce and for farce to work the stakes have to stay very high. Locating the story in the black-and-white, roaring Twenties Prohibition-era helps and as dramatic threats go, imminent death is fine way of focussing the minds of feckless musicians Joe and Gerry (Curtis and Lemmon) who have been careering between women and song.
Unlike most drag films, Wilder dismisses the mechanics of transformation and instead cuts hilariously straight to their re-emergence in Orry-Kelly's Oscar-winning outfits walking – well, Lemmon staggers – up the platform to the train trying to overcome the unaccustomed confinements of feminine costume (pictured above). "How do they walk in these things?" puzzles matronly Lemmon's Daphne. "How do they keep their balance?" "It must be the way their weight is distributed," hisses Curtis whose effortless shift into Josephine has him clutching a white fur collar that accentuates his rosebud mouth and slender cheekbones beneath a fetching cloche hat.
The pair of them had spent three days with a German drag artist who tried to teach the finer points of impersonation, like the swing-out-hips walk with the legs crossing in front of each other. He/she threw in the towel when faced with Lemmon who couldn't follow instruction. Or wouldn't. He clearly saw endless comic mileage in playing visual absurdity off against truthful characterisation.
The station scene (below) also signals the arrival of Monroe as voluptuous, breathlessly innocent Sugar Kane. Her every curve is accentuated by fringes of black feathers and the soundtrack's wah-wah muted trumpet. Lemmon and Curtis are awestruck and not just by her high-heeled walk – "Like jello on springs" – which is literally underlined by twin bursts of steam, a gag dreamed up by Monroe herself. "It's a whole different sex!" exclaims Lemmon, to which Curtis revealingly retorts, "What are you afraid of?"
Good question. These men are terrified that drag shenanigans will unman them. No matter how much they yearn – "Boy, would I like to borrow a cup of that Sugar!" yelps Lemmon – the script is awash with phallic fooling from the suggestion that they could have "alterations" to join the girl band, to Curtis' yacht-bound impotence gags, via the suggestive salami at Daphne's impromptu and increasingly out-of-hand, upper-berth party aboard the train.
They have every reason to be afraid. Nothing is what it seems. The film opens in a hearse bound for Mozzarella's Funeral Parlour. (You can tell the quality of a script by its names.) But the hearse is full of hoods and the ensuing police chase reveals that the coffin is full of hooch. Everyone trades in subterfuge. Later, Curtis adds layer up on layer as he sweet-talks Sugar by passing himself off as a millionaire playboy (pictured above) with an accent borrowed from Cary Grant, who was himself his own greatest invention.
By the end, living as women changes them forever. Drag turns out to be a revelation, and not just for the audience. Skirt-chasing Osgood gets fresh with Daphne within seconds. "I got pinched in the elevator!" cries outraged Lemmon.
"Well, now you know how the other half lives," retorts Curtis who gets away with his own high-toned impersonation because his predatory masculinity is never in doubt. He'd built a career on being handsome by swashbuckling about the place in tights or, at worst, very tight trousers. By contrast, the then lower-profile Lemmon goes skittish, almost maternal, while flirting and fooling with everybody in sight. And, not for the first time, acting reveals truth.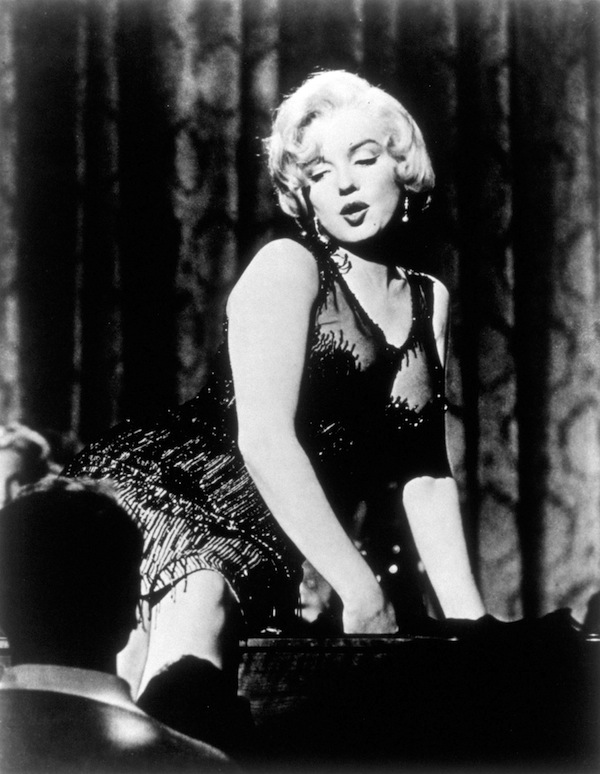 The soundtrack is peppered with Sugar's song, "Running wild, lost control/ Running wild, mighty bold/ Feeling gay, reckless too..." which sums up Lemmon's position. It may be the repressive Fifties but he winds up engaged... to another man. In the most hysterical, in every sense, scene of the picture Curtis is poleaxed by the news. "Why would a guy marry a guy?" "Security!" slings back Lemmon brandishing a pair of maracas that Wilder put into the scene because he knew he needed them to punctuate the gags and give space for laughs. Curtis changes tack: "There are laws, conventions: it's just not done!" but Lemmon and the audience are lost.
Curtis, meanwhile, finally sheds his lizard-like lothario ways and discovers a conscience. Instead of abandoning Monroe, he watches her suffuse the song "I'm Thru With Love" (left) with disappointment. Curtis risks everything and kisses her on stage, knowing it will explain his bad behaviour but will probably lose him her love. Wilder's work often wilts beneath charges of cynicism and misogyny but that scene aches with true compassion. Bizarrely enough, for all the glorious, perfectly orchestrated frantic antics, especially in the outrageous conclusion, it's the combination of acute characterisation and such surprising compassion that carries this dazzling film aloft into the hall of fame.
Overleaf: watch the trailer for Some Like It Hot
Describing Some Like It Hot as a comedy is like saying that the Sistine Chapel has nice interior decorating
rating
Share this article