My Week With Marilyn |

reviews, news & interviews
My Week With Marilyn
My Week With Marilyn
Slim, prim but well-acted tale of the legendary star's misadventure in England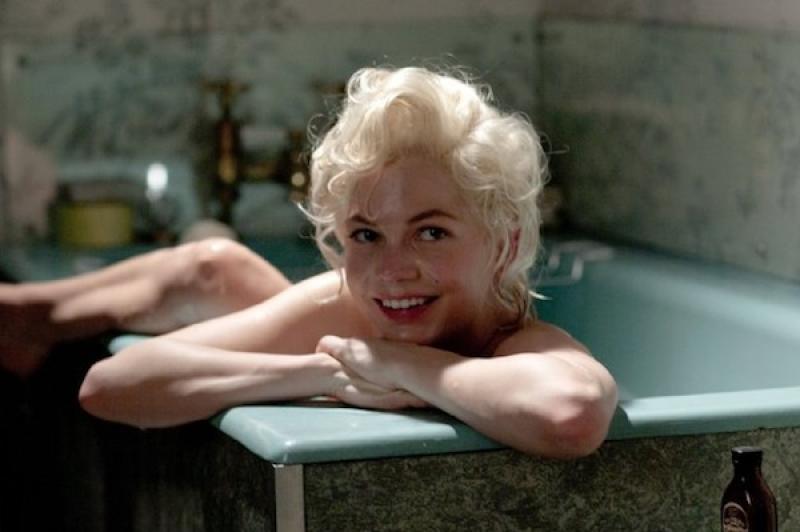 Meet the misfit: Michelle Williams as you know who in 'My Week With Marilyn'
My Week With Marilyn depicts the supposedly sweet dalliance between Marilyn Monroe – an actress in over her head played by an actress, Michelle Williams, reaching her peak – and eager-beaver gofer Colin Clark (Eddie Redmayne) during the fraught Pinewood production of Laurence Olivier's The Prince and the Showgirl in 1956.
The liaison, romantic on the boy's part, needy on the star's, was such a pivotal episode in the life of television arts film-maker Clark (son of Sir Kenneth, brother of Tory MP Alan) that he wrote two memoirs about it, the sources of Simon Curtis's likeable but slender and oddly prim period drama.
The fraughtness stems from Monroe's crippling lack of confidence and blatant disregard for discipline. When she shows up on the set, if she shows up at all, she either doesn't know her lines or is so blocked she can't say them, which renders Olivier (Kenneth Branagh) apoplectic. In that it shows Monroe overcoming her demons with the help of a friend to turn in one of those bizarrely arresting performances (as if she were acting in an empty aquarium), the film is vaguely reminiscent of The King's Speech. Because the tender relationship between Monroe and Colin isn't conflicted, however, it doesn't begin to muster the strength of that between Bertie and Lionel, forged over many months, trials and kingly rejections of the commoner. The battle in My Week With Marilyn is between Monroe (the Method-trained commoner) and Olivier (the king of actors), which unfortunately forces Colin, the nominal protagonist, to the side of the action.
The romance – which coyly leaves one asking, "Did they or didn't they?" – feels a little like a sidebar. Separated for a week from her husband, the dramatist Arthur Miller (Dougray Scott), who admits to Olivier that he can't write around his agitated wife, Monroe takes up with Colin because she needs a non-authoritarian male around. "There's always a man," someone ruefully warns him. The shame is that, to follow an illusion, Colin throws over the very real and available wardrobe assistant (Emma Watson, pictured above with Redmayne, compellingly angry here) who has fallen for him.
One doubts that many 23-year-old swains, however gallant, could have resisted Monroe's incandescent allure in the mid-Fifties, not that it translates to sex in any shape or form in this telling. Instead, with Olivier powerless to do anything about it, Colin and Monroe set off in a studio car to go cavorting at Eton - where he was educated and where a current crop of scholars can't believe their eyes - strolling in the countryside and skinny-dipping. It's at this juncture that Colin experiences an erection... but no cigar. "Be careful not to get in too deep, son," cautions Monroe's minder (the estimably phlegmatic Philip Jackson). At another point on this jaunt, Monroe performs "Marilyn" for a group of servants. Free to act without a bully standing over her, she is wholly natural.
Curtis and screenwriter Adrian Hodges wryly contrast English and American showbiz manners. The English fare best. The soul of tolerance, Dame Sybil Thorndike (Judi Dench) gracefully covers up Monroe's mishaps and encourages her. Hovering around the set, Vivien Leigh (Julia Ormond) is serene and generous once she realises that Olivier, her husband, is never going to succeed in seducing Marilyn; he doesn't actually try, so that's Leigh's neurosis speaking. Perhaps a little falsely, the pompous Olivier (who spouts Shakespeare to ease his frustration) is allowed to save face.
It's relishable, of course, to watch Branagh (pictured left) play the Great Man with whom he was often compared in the mid-Eighties; his performance is ham cut to a thin slice, expertly judged. The Americans are less charitably portrayed. Miller is more self-absorbed than his wife, Monroe's acting coach Paula Strasberg (Zoë Wanamaker) is sycophantic, and the star's business partner, the photographer Milton Greene (Dominic Cooper), Colin's opponent in the story, is self-seeking and malicious. Arthur P Jacobs (Toby Jones), Monroe's press agent, sums up his values when he describes his vulnerable client as "the most famous piece of ass in the world".
The main reason to see My Week With Marilyn is Williams, one of America's finest actresses. More important than impersonation is her skill in capturing freshly the star's unsteady flow of emotions and attitudes – languor, vitality, misery, joy, seductiveness, guilelessness, warmth, unreachability, pathos, manipulativeness; it's been said that Monroe could be spiteful, but the movie doesn't go there.
Although it wraps up its little affair with a bow, Colin clearly got lost with his temporary love. Probably no one knew where he or she was with the real Monroe at any given moment in time. Williams suggests she didn't know where she was with herself either.
EDDIE REDMAYNE'S FINEST MOMENTS
Birdsong. TV solves the problems of Sebastian Faulks's novel where movies and theatre failed
Fantastic Beasts and Where to Find Them. JK Rowling casts a new spell starring Redmayne as a wand-wielding zookeeper

My Week With Marilyn. Slim, prim but well-acted tale of the legendary star's misadventure in England

Perspectives: War Art with Eddie Redmayne. Oscar-winning actor proves that he did learn something as a Cambridge art history student

Red. Alfred Molina skilfully embodies 20th-century art giant Mark Rothko. Redmayne assists

Richard II. Redmayne plays the tormented king in Michael Grandage's swift, fluid farewell to the Donmar

The Danish Girl. Beautiful but sanitised adaptation of a heartbreaking story

The Theory of Everything. Redmayne's Oscar-winning turn as Stephen Hawking, the scientist struck down with motor neurone disease
PLUS ONE TURKEY
The Pillars of the Earth. Ken Follett's Middle Ages: English history shot in Hungary and funded by Americans