The Lion, St James Theatre Studio |

reviews, news & interviews
The Lion, St James Theatre Studio
The Lion, St James Theatre Studio
Benjamin Scheuer's stirring solo show has both heart and heft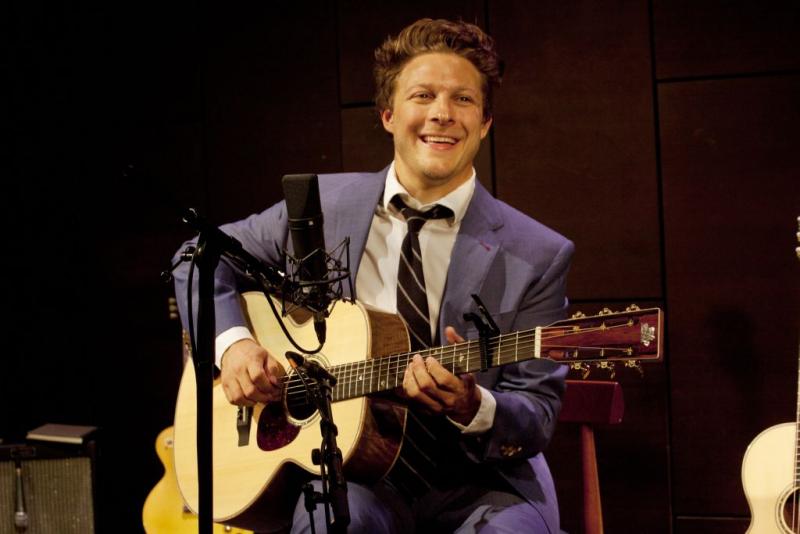 A life in song: Benjamin Scheuer goes it alone, with his guitar
This has been a busy season for Off Broadway musicals crossing the pond to London, from Dessa Rose and Dogfight to Forbidden Broadway and See Rock City. But for simplicity of approach coupled with swiftness of emotional attack, Benjamin Scheuer's solo musical The Lion stands apart.
That's not just because the Anglo-American Scheuer, 32, possesses an apparent sweetness that makes his sungthrough embrace of anger, rage, and grief - all in the service, it should be added, of forgiveness and acceptance - that much more surprising.
More to the point is that the 70-minute trajectory telling of the lone performer's return from the medical and emotional abyss forsakes self-pity to reach out to audiences who may not have experienced Scheuer's specific setbacks. You would have to be scarily insensitive not to respond to the hard-won path to self-knowledge where this piece locates its power for keeps.
First seen earlier this summer at the Manhattan Theatre Club, where it received raves, The Lion is made to travel since all it requires are its creator-performer in fully engaged mode and the six guitars - acoustic mostly but one that is also electric - studded around the stage. (Gone for the intimacy of the St James studio is Neil Patel's New York set.) Out comes Scheuer at the start to tell us of the toy banjo his father gave this oldest of three sons when young Ben was ten, and one's first impression is of an essentially gentle sung narrative suggestive of, say, Arlo Guthrie - if, that is, Guthrie ever wore the sort of suit that at first glimpse sets Scheuer sartorially apart. Scheuer later will shed his jacket, loosen his suspenders, and roll up his sleeves by way of hinting visually at the emerging self - the person beneath his self-described "armour" of apparel - that is the show's defining topic.
Alas, that same father who is described passing on a love of music to his keenly attentive boy is also revealed to be a depressive subject to sudden bursts of anger and whose death when Scheuer is barely in his teens leaves in its wake the complicated emotional bequest to which The Lion represents one sort of response. (Scheuer père is also revealed to have disapproved of therapy, in which case a double thanks for the purgative process allowed by art.) What ensues, without giving too much away, is a gathering familial estrangement that leaves Scheuer's younger brothers and his English-born mum in the UK - cue various "math/maths" jokes - and Scheuer back in Manhattan sharing his life with a freckley girl called Julia whom he meets on a train. And who herself adds to Scheuer's sense of solitude once she heads off to lands unknown and into the bed of another woman.
The narrative coup de foudre arrives in the form of a medical diagnosis about which it's perhaps best not to say too much, beyond pointing out that "OxyContin / forgotten" makes for one of the more unusual rhymes I have come across in a while. (Scheuer's illness is separately chronicled in an elegant book, co-authored with Riya Lerner, on sale at the theatre bar.) Through it all, this Sweet Baby Ben - the fleeting Julia's professed love for James Taylor would seem to be no accident - moves about the stage from one guitar to the next, his folk-rock balladeering embracing where necessary the rawness and ravages that you might feel, too, if you were thinking back on having your bones biopsied. Throughout it all, Sean Daniels's unerring direction keeps potential narcissism at bay, insisting instead on the shared discovery of what Walt Whitman in a different context referred to as "sing(ing) myself" - a tuneful picaresque that in The Lion hurts when it needs to but also overflows with heart.
One's first impression is of an essentially gentle sung narrative suggestive of, say, a suited Arlo Guthrie
rating
Share this article