Bavouzet, LPO, Jurowski, Royal Festival Hall |

reviews, news & interviews
Bavouzet, LPO, Jurowski, Royal Festival Hall
Bavouzet, LPO, Jurowski, Royal Festival Hall
Shostakovich's greatest war requiem, a modern masterwork and scintillating Prokofiev
Thursday, 25 September 2014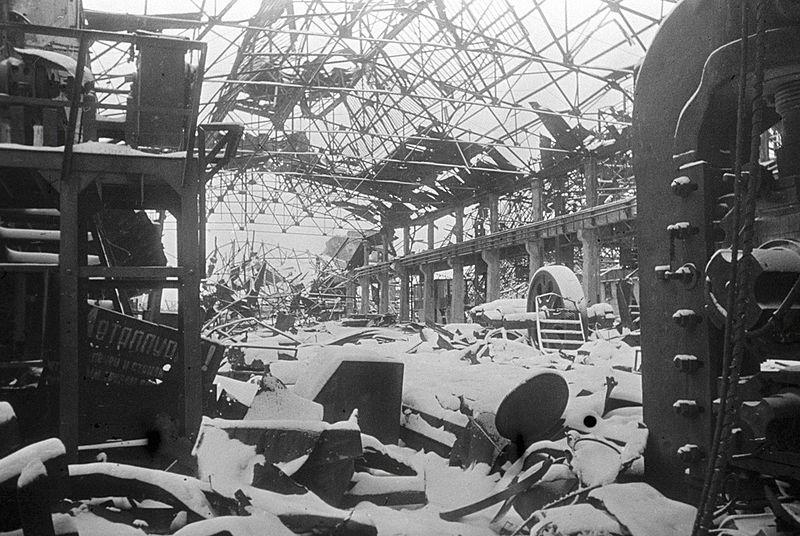 A bombed Stalingrad warehouse in 1943, the year in which Shostakovich composed his Eighth Symphony
Comparisons, even on paper, between two season openers from London orchestras could hardly have been more instructive.
I didn't attend Valery Gergiev's London Symphony Orchestra concert last week, for reasons several times outlined on
theartsdesk.
But quite apart from the fact that Gergiev and his court pianist Denis Matsuev are active supporters of Putin's "Might is Right" campaign in the Ukraine – a situation which tens of thousands of Muscovites are beginning to challenge – Matsuev is also the worst of barnstormers. Last night, on the other hand, we had mercurial pianist Jean-Efflam Bavouzet in the same concerto, Prokofiev's Third, and a stunning opener by the London Philharmonic's latest Composer in Residence, the great Magnus Lindberg, rather than Gergiev's choice of a turgid Soviet symphony by Boris Tischchenko.
As for the Shostakovich symphony in each concert, I don't doubt that Gergiev still has the mastery he always showed in the colossal Tenth (though he encourages a lamentable comparison between his own relationship with a totalitarian regime and Shostakovich's, which was not always recklessly heroic but in which the composer, in even harder circumstances, nearly always stayed silent if he couldn't make a stand). Jurowski, who made an impressive speech before a Moscow performance of Britten's War Requiem earlier this year including clear statements about the composer's good-as-marriage with Peter Pears and Wilfred Owen's homosexuality, was right in his dignified spoken introduction to draw comparisons between that towering work of genius and another in the symphonic sphere, Shostakovich's Eighth of 1943.
The held chord at the end was as spellbinding as I've ever heard it
This was a whiplash interpretation, swift to scorch and devastatingly focused to move inexorably towards the shattering centre of the vast opening Adagio and then on via goosestepping parody to Shostakovich's greatest chain of three interlocked movements: the relentless toccata, which can be frightening at a dogged pace but was simply terrifying taken as fast as violas and brass could play it, the slowly revolving numbness of destruction's aftermath in the Passacaglia and the speeded-up cycle of reconstruction, renewed violence and tentative hope in the finale. Jurowski's speech emphasized its explosion as the most awful of the big three in the symphony, connecting it to the fact that "the smell of gunpowder is in the air again", not least close to home. He also pointed out that he thought this was not a "war symphony" as such but a saga about "human beings who suffer from war", an "outspoken pacifist manifesto" which, like Owen's poetry and Britten's masterpiece, can only warn.
It may have been that urgent human focus, consciously shaped and nuanced in every phrase, that led Jurowski to eschew the deep, unrelentingly gloomy atmosphere usually suggesting infinite space around the first movement's slow laments (though it also has to be said that the usually excellent Sue Böhling's cor anglais plaint after the holocaust was not as recitative-like, as vocal, as it can be). Even the Passacaglia began, for my taste, just a bit too animated, no image of drifting, mutant life over a scarred landscape. But once we came to the wounded-bird entry of guest principal flautist Juliette Bausor, the only player in this music I've heard make a real phrase while flutter-tonguing, the incredible nuancing of James Burke's searing clarinet and David Pyatt's mournful floating of a crucial horn line, the tears began to flow at the pity of it all. And the held chord at the end – after the nightmare, the hope – was as spellbinding as I've ever heard it.
It connected, too, back to the two stupendously well-placed major triads in Lindberg's Chorale (composer pictured), a masterly meditation on the hymn tune which appears at the end of a Bach cantata and to bring grace to the suffering of Berg's Violin Concerto (I kick myself for not having found out about the pre-concert performance in which Lindberg conducted the LPO's young Foyle Future Firsts). The scoring is dense, but Jurowski kept it firm of purpose, with some strikingly well-projected pizzicato: these, it seemed, formed the "sea-bed" Lindberg writes about, outlined beneath the "rise and fall of the tide", and not the chorale melody itself. Pyatt's high horn line here was peerless, and Burke launched the lighter but still wistful entertainment of the evening, Prokofiev's Third Piano Concerto, with ideal flexibility.
That was a keynote of Bavouzet's hell-for-leather interpretation, faster, I fancy, than on his award-winning recording: not every note perfectly in place, but nor is it in Prokofiev the pianist's own recorded interpretation. It was to that and the playing of the legendary William Kapell that Bavouzet's dry, clear touch came closest, which means it's surely what Prokofiev wanted. This was one of those rare partnerships where co-ordination between piano and orchestra was seamless, Bavouzet seeming to conduct the orchestra when his hands were free every inch as stylishly as Jurowski.
He conducted himself, too, in the well-deserved encores (the audience went wild even at the end of the first movement, and why not?) Debussy's "La fille aux cheveux de lin" was the right moment of repose, a diatonic haven of the kind Prokofiev, too, could produce but did not in his concerto-showpiece, and Massenet's Toccata, a Bavouzet favourite, scintillated, but always with poised musicianship rather than callow virtuoso flash. Quite an evening, in short, and we can be sure that when Jurowski launches the Rachmaninov series he spoke about so fascinatingly to theartsdesk, there'll be no lazy corners, no slush.
This was a whiplash interpretation, swift to scorch and devastatingly focused
rating
Explore topics
Share this article