Next Fall, Southwark Playhouse |

reviews, news & interviews
Next Fall, Southwark Playhouse
Next Fall, Southwark Playhouse
American play exploring religion and homosexuality needs a bolder angle
Wednesday, 01 October 2014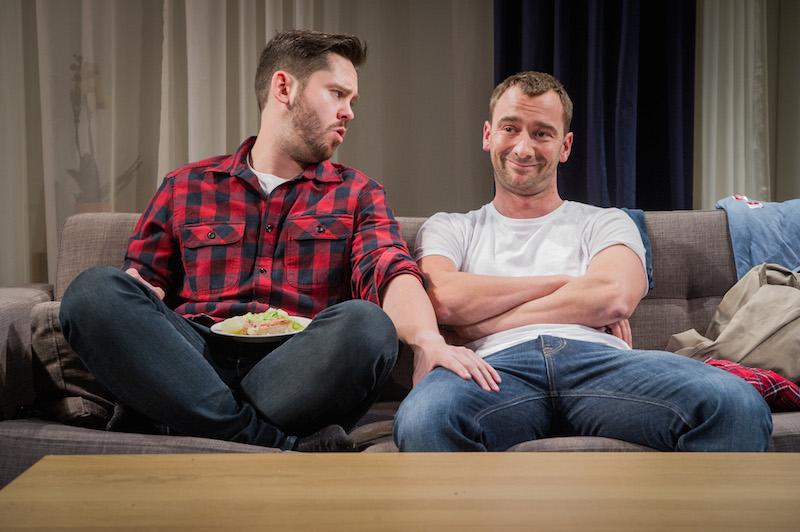 Just the two of us: Luke (Martin Delaney) and Adam (Charlie Condou) struggle to maintain their complex relationship
Britain has entered a "post-Christian" era, declared former Archbishop of Canterbury Rowan Williams earlier this year: we acknowledge its cultural presence, but Christianity is no longer an habitual practice for the majority of the population.
If that's accurate, viewers of the 2009 American work
Next Fall
will most likely sympathise with Charlie Condou's sceptic Adam, who simply cannot comprehend his partner Luke's (Martin Delaney) certain belief in Heaven, Hell and an inevitable Rapture, nor how such convictions are reconcilable with their life as a committed homosexual couple.
This ideological clash is heightened by an unnecessarily melodramatic medical emergency, which brings Adam to the waiting room of a New York Jewish hospital and into contact with Luke's domineering, born-again evangelical father (Mitchell Mullen, pictured below with Nancy Crane and Sirine Saba), who refuses to acknowledge his son's sexual orientation; Southern-fried, loosely Christian mother (Crane); estranged friend Brandon (Ben Cura), suffering a crisis of faith; and lapsed Catholic-turned-New Age disciple Holly (Saba). To say Geoffrey Nauffts' play is schematic would be an understatement of epic proportions.
Yet although Nauffts takes great pains to put all the pieces in place for passionate conflict, Next Fall never quite reaches the level of ferocity that would lift its discourse from academic to rallying cry. Nor does the gravity of the situation truly register – and a mawkish reference to Our Town's "life is precious" sentiment undercuts it still further. Luke Sheppard's pleasant but slightly subdued production reflects that lack of urgency.
Where the play succeeds is in its acidic gallows humour – reminiscent of fellow American import The Lyons – and wry consideration of the absurdities of faith, whether the idea that even a regularly repeated sin can be forgiven or the disquieting notion of post-coital prayer. Nauffts also astutely examines the self-defining nature of relationships: has neurotic, fatalistic Adam deliberately chosen a partner whose beliefs likely spell impending doom? Or are the compromises made by the lovers (pictured below) indicative of growth, as, together, they take a romantic leap of faith?
In a well-measured performance, Condou maintains that ambivalence, illustrating both Adam's destructive tendencies and the way his protective abrasiveness subtly recedes when he's in the presence of Delaney's serenely optimistic, puppyish Luke. Forced debates aside, theirs is a sweetly believable, interestingly fraught union, although neither the relationship nor the play as a whole ever attains the visceral power of the far more effective My Night with Reg.
Crane scene-steals deliciously as the blithe, semi-reformed pill-popper who can't resist making thinly veiled jibes about Luke's stepmother, even as she recognises her own parental failings, while Mullen brings real gravitas to a potential caricature – named, with stunning directness, "Butch". Saba's delivery is hampered by her struggles with the accent, but she's an appealing presence, and Cura offers a solid reading of a character left fatally underdeveloped. Next Fall will satisfy those in search of well-played, predictable weepy drama with the odd barbed gag, but it's not the place to come for true enlightenment.
'Next Fall' never quite reaches the level of ferocity that would lift its discourse from academic to rallying cry
rating
Share this article