LFF 2014: Phoenix |

reviews, news & interviews
LFF 2014: Phoenix
LFF 2014: Phoenix
The follow-up to Barbara explores post-war Berlin's emotional ruins with quiet power
Thursday, 16 October 2014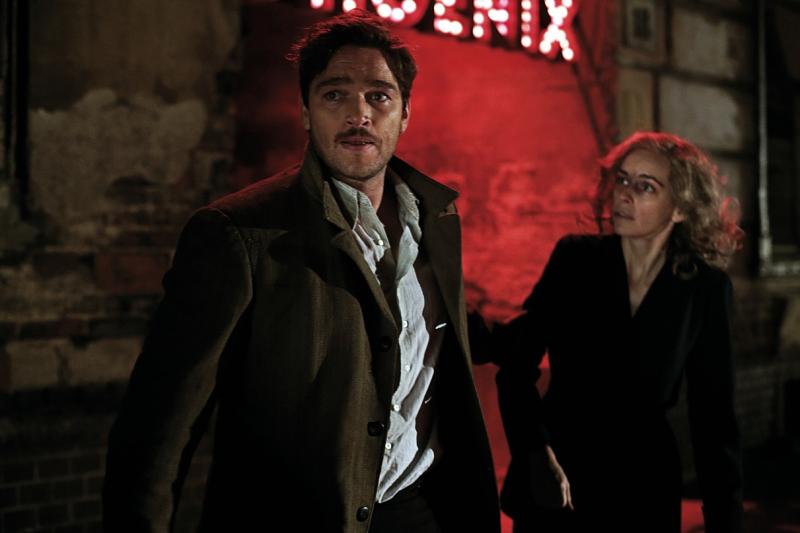 Nelly (Nina Hoss) and husband Johnny (Ronald Zehrfeld) leave Berlin's Phoenix club
Director Christian Petzold avoided Germany's grim version of heritage cinema – the war, the Wall – until last year's Cold War hit Barbara.
His
fascination with his country's present suppressions
, though, helps him peel away its past's familiar veneer.
Phoenix
uses a melodramatic
film noir
plot – Hitchcock's
Vertigo
, mostly – to make a stylistically and emotionally spare masterpiece about how it felt to still be alive in Germany just after the war.
Cabaret singer Nelly (Nina Hoss) returns to Berlin with a bandaged face battered in a concentration camp. Plastic surgery almost restores her old face, but the husband who may have betrayed her to the Nazis doesn't recognise her, devastatingly. Eventually realising she looks similar to the Nelly he once loved, he enlists her in a scheme to assume her own identity, so he can gain her money.
Whether in the brutal capitalist interzones of Yella's modern Germany, caged by the Stasi in Barbara's East Germany, or in her broken, shamed country here, Hoss's watchful quiet, sometimes quivering with what she's keeping in, has made her Petzold's perfect actor. Startlingly buoyant in person at Phoenix's first LFF screening, she explained late Forties Germany as a period of denial from a people "in shock", with her character returning from the camps "like a newborn...dehumanised". In this Berlin, people can't bear to really look at each other, bandaged or not. Petzold films ruined homes chalked with old owners' names without comment. Pre-war photos Nelly leafs through, of her glamorous idol Hedy Lamarr, and friends now marked in pen as Nazis or murdered by them, reveal a different wreckage. Petzold turns the film noir heat down to a simmer, letting decadent cabaret turns for GIs and Kurt Weill songs add flavour. He stays understated even as masks shatter and feelings surface, and Hoss's Nelly devastates.
In this Berlin, people can't bear to really look at each other, bandaged or not
rating
Explore topics
Share this article