Beatson, Scottish Ensemble, Queen's Hall, Edinburgh |

reviews, news & interviews
Beatson, Scottish Ensemble, Queen's Hall, Edinburgh
Beatson, Scottish Ensemble, Queen's Hall, Edinburgh
String orchestra pushes boundaries with homage to Mozart and Haydn
Wednesday, 29 October 2014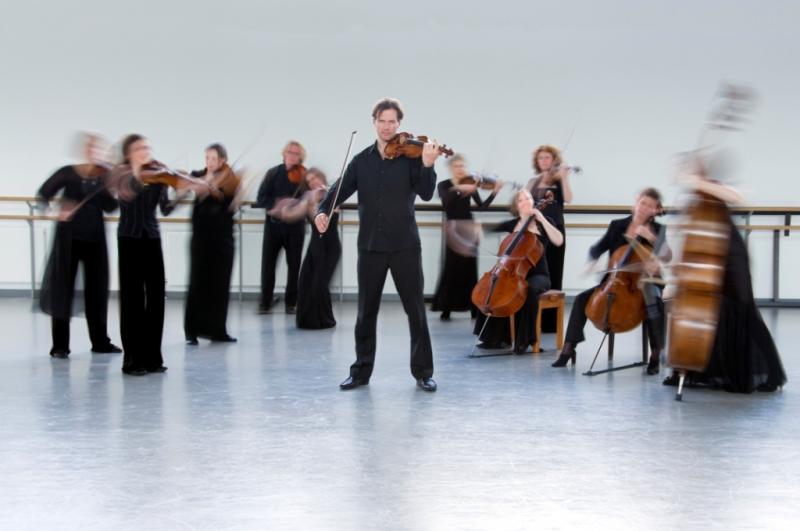 Redefining the string orchestra: Scottish Ensemble
I declare an interest. In the last 10 years or so the Scottish Ensemble has twice, at my invitation, visited the Borders village where I live, about 30 miles south of Edinburgh. On both occasions the ensemble performed a rich and challenging programme in front of a rural audience awestruck that such uncompromisingly competent music-making could descend on a village hall more accustomed to flower shows and badminton tournaments.
As a promoter, I was amazed that the ensemble's answer to my invitation was, without equivocation, "yes". When the day came, a dozen players turned up, and with scarcely a murmur about the humidity created by 100 overheated sheep farmers, they just got on with it and played. Brilliantly.
As gamekeeper turned poacher, are the experiences of a concert promoter relevant to a critic attending a concert in Edinburgh – a performance which was preceded two days earlier by a live broadcast on BBC Radio 3 and is due this week at the Wigmore Hall? The answer is another "yes", because there is something about the musical, visual, and emotional coherence of this band that makes it equally at home both in our village halls and our capital cities. It helps that it is a small and recognisable band of players and that in recent history the upper strings have always stood to play.
The soloists tease at the material, never resolving except into silence
It also helps that in the last 10 years the ensemble has been led from the violin by Jonathan Morton, during which time its repertoire has subtly expanded so that its claim to be "redefining the string orchestra" is amply justified. Take tonight's programme: music by Pärt, Schnittke, and concertos by Haydn and Mozart – you would have to know your repertoire to realise that this is not music written for a full orchestra. You might have to shut your eyes, too, since the breadth of colour and tone that these dozen players achieve is remarkable.
They opened with a spirited account of Mozart's lovely Divertimento in D, K136. This was fast, but not manic. The late Sir Charles Mackerras talked of the dangers of playing Mozart so fast that the notes blur and the sense of pace is lost. Here, Morton, swooping and swooning somewhat theatrically, held the speed at just that point where every note is defined. The first movement was sumptuous, bass and cellos sounding gorgeous, but the Presto last movement was subtly different, the bowing slightly more astringent, the tone playful and feisty.
For Pärt's Mozart-Adagio, solo violin and cello were joined by the pianist Alasdair Beatson (pictured below by Giorgia Bertazzi). Based on the Sonata K280, this could be described as a cubist homage, or possibly what Mozart might sound like if you were asleep in the bath after an excess of chianti. Fragments of true Mozartian melody or harmony loom out of a mist of infinitely gentle discords. The soloists tease at the material, pulling and pushing but never resolving except into silence.
One can imagine Papa Haydn dismissing that sort of thing as arrant nonsense. Witness the next piece, an early double concerto for violin and piano in which Beatson was again the soloist with Morton as his interlocutor. This is a piece that instantly demonstrates Haydn's formidable technique and craftsmanship. There is scarcely a note out of place, and yet all the persuasiveness of this very persuasive orchestra could not make this concerto sing with the grace and wit of the younger Mozart.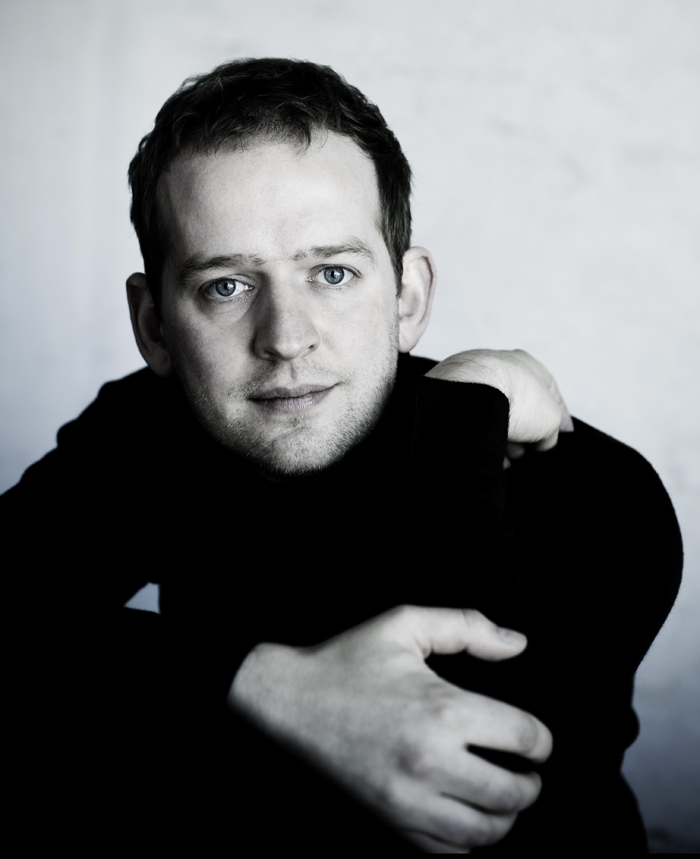 After the interval all the lights went out. It turned out not be an early manifestation of the blackouts we have been promised this winter but a theatrical touch to spice up Alfred Schnittke's Moz-Art à la Haydn, not that this absurd, funny, and extravagant collage of the two senior composers really needs any extra drama. In the darkness, the music started – an unusual sensation in a concert hall – as an ethereal muttering, squeaking and grinding that only coalesced into a semblance of music as the lights went up. If the Pärt had a reverential tone, Schnittke, as you might expect, was a glorious send-up. At the end the players left one by one, leaving the three lower strings grumbling at the back of the stage, once again in darkness.
Alasdair Beatson returned to the stage for the reassuringly straightforward piano concerto no12 in A, K414 by Mozart. Beatson is a consummate ensemble musician, undemonstrative, gentle, and mercifully free of the histrionics that infect many solo pianists. With subtle use of the soft pedal to achieve a lovely covered sound from the Queen's Hall Steinway, this was a performance to relish for its grace and musicianship.
At Wigmore Hall, Thursday 30 October
The breadth of colour and tone that these dozen players achieve is remarkable
rating
Explore topics
Share this article