We Made It: Modelmaker Robbie Edwards |

reviews, news & interviews
We Made It: Modelmaker Robbie Edwards
We Made It: Modelmaker Robbie Edwards
The grit behind the magic of some of blockbuster movies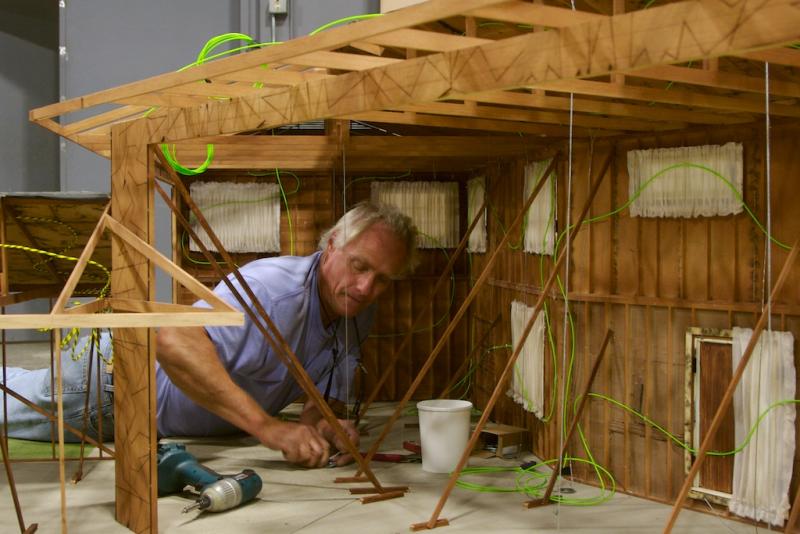 Robbie at work on 'Pirates of the Caribbean'
Sawdust in your hair, paint on your face and fingers that look like they've never seen a tap: such is life as a model-maker for movie special effects. Work is grubby and relentless until the shots are done and everything looks "real" – and none is more precise and demanding than Industrial Light and Magic (ILM). It's hard work but this is the crucible for the visual magic of films like Star Wars, Pirates of the Caribbean and Men in Black.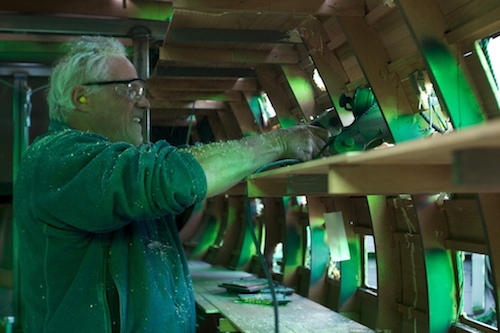 Even in the era of CGI, physical special effects are vital. And in this environment of graft and creativity, a very special camaraderie develops. Here is a special group of people, and when one of theirs is knocked down they all pool in to help. Robbie Edwards – originally born in Wales, long since in California – is one of that group.
Robbie has worked on 30 movies over 20 years: sculpting, carving, welding, chiseling, painting intricately, making the miniature to look life-size. Take for example the tunnel that Will Smith drives through looking to blow up aliens in Men in Black: it was created a fraction of the size, with a huge gap on the top where the camera could slide up and down to capture the scene and get a real life view. If you look very carefully at the cars in the scene, you will see the number plates might just have a few model makers names on them.
Or look at Men In Black's scene following the alien Edgar Bug's flying saucer crash. For this Robbie was required to lurk in a dumpster filled with cockroaches, with Oscar and Bafta award-winning model-maker Lorne Peterson batting them off him with a brush attached to a long stick, as he made sure they spilled out correctly. Robbie also helped create the hull explosion on a ship of Pirates of the Caribbean by getting down into the water on the set, cutting the holes in the bow to place the mini-canons in just the right place for the models in front of the green screen, where computer graphics fill in the rest.
On September 30 2013, Robbie suffered a debilitating stroke, causing paralysis and loss of some sensation on the left side of his body, as well as temporal lobe damage; it is unlikely that he will be able to work with his hands any time soon. Intensive therapy has given him some mobility, and he has never lost his smile, warmth or sense of humour. But like so many in the creative industries Robbie wasn't covered by any health care plan, so his resulting medical bills have become astronomical.
His model-maker clan were horrified at this news. Immediately, the creative men and women from the model shops old and new decided to focus their skills and creativity on creating an auction of memorabilia from Star Wars and other blockbusters to raise money so that Robbie can be rid of this enormous debt, get on with recovery and hopefully have some peace in his life.
From Lorne Peterson's C3PO head carved from a single block of wood, to original Raiders of the Lost Ark concept drawings, this was a film fanatic's dream. This upwelling of goodwill raised over $58,000, and Robbie was able to be present at the auction launch, surrounded by all the original model-maker clan at the studios where ILM once stood; aside from the good cause and camaraderie, Robbie's illness created a unique viewing window into Hollywood history. Craft and hard work has created a legacy that lives on well beyond the cinema screen.
Robbie was required to lurk in a dumpster filled with cockroaches, with an Oscar and Bafta award-winning model-maker batting them off him with a long stick
Explore topics
Share this article