10 Questions for Musician Michael League |

reviews, news & interviews
10 Questions for Musician Michael League
10 Questions for Musician Michael League
Snarky Puppy's bassist and bandleader on composing for a collective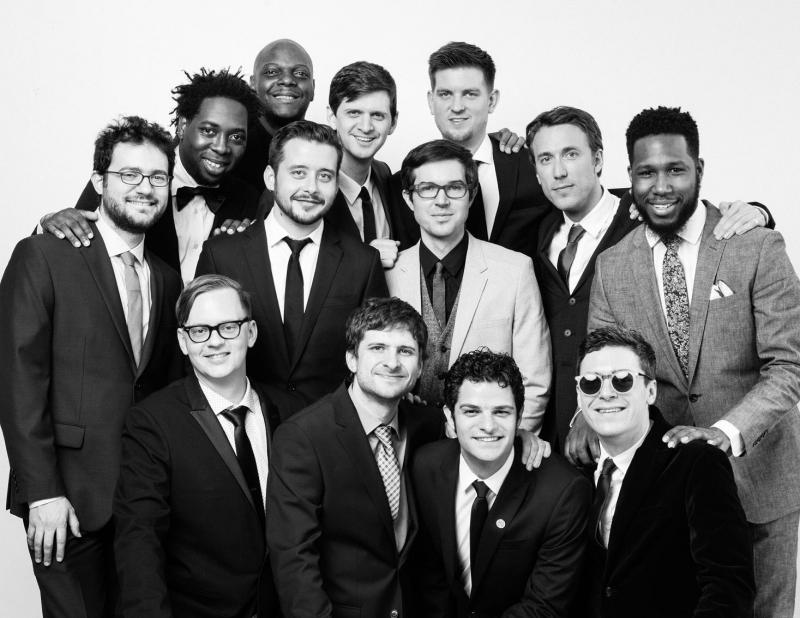 Snarky Puppy: the freedom to express
Michael League is the Grammy Award-winning bassist, composer, producer and bandleader with NYC-based jazz-funk-fusion band Snarky Puppy. Formed in Denton, Texas, in 2004, Snarky Puppy is comprised of a collective of over 30 musicians. In addition to touring and recording, the band is committed to music education, holding over 100 clinics, workshops, and masterclasses in the US, Canada, the UK, France, the Netherlands, Germany and Belgium.
Snarky Puppy released their debut album, The Only Constant, in 2006. Following the band's fifth album, Tell Your Friends (2010), League launched his own imprint, GroundUP Music, under Ropeadope Records. Released earlier this year, their latest album We Like It Here was recorded and filmed live over four nights in Utrecht, debuting at #1 on the iTunes Jazz Charts. Music, as League explains to theartsdesk, is all about communication.
PETER QUINN: In January this year the band won a Grammy Award for a beautiful take on the Brenda Russell song "Something", featuring the great Lalah Hathaway. Has the phone been noticeably busier since then? What's changed?
MICHAEL LEAGUE: Well, thankfully, I surrendered my phone-answering duties to music programmer and broadcaster Mike Chadwick of Manchester, UK. He started managing the band mid-year 2013 and my life has been incomparably better since. But, yes, of course the award has changed quite a bit for us. It didn't exactly propel us into stardom or fortune, but it has led to improvements in almost every element of our touring lives. For example, I'm currently in Seoul, where in two hours we'll be making our Korean debut to over 1,000 people. I'm not so sure that would be happening without the Grammy. But more than anything else, it's made life more comfortable for us on the road. Ticket sales are higher, hotels and vehicles are nicer, and as sad as it sounds, people treat you differently when you have an award like that. You have their respect before you play, which was rarely the case for us over the last decade. It's a nice pay-off for the guys after years of grinding it out and sleeping on floors.
Snarky Puppy featuring Lalah Hathaway perform "Something"
On your latest release We Like It Here the band seems to be stretching out even more. How do you think the overall band sound has evolved over the past 10 years?
We've grown together from playing over a thousand shows and sharing so many musical and personal experiences
I think it's been a very natural sort of evolution. We started as young college kids playing a much more acoustic blend of jazz and world music, and then after three years we found ourselves in the middle of the gospel/R&B scene in Dallas. I think that was the big turning point. I met Bernard Wright (Miles Davis, Marcus Miller, Chaka Khan), who became a mentor to me and a huge influence on the other guys in the band. He opened up the door to meeting and playing with guys like Shaun Martin, Robert "Sput" Searight, Bobby Sparks, and the rest of the Dallas crew, who were sidemen with Erykah Badu, Kirk Franklin, Roy Hargrove's RH Factor, and Marcus Miller. A lot of these guys found out about my band and asked if they could play with us sometime, which was like a joke to me – your heroes asking to play in your band for free! But they did, and I said yes, and that really changed the course of the music. After that, I think we've just grown together from playing over a thousand shows and sharing so many musical and personal experiences. You can hear that in the music.
That pre-Snarky period immersing yourself in Dallas's gospel and R&B scene must have been incredibly formative?
It changed everything for me (Michael League pictured left). I learned more in those three years of gigs and conversations than I learned anywhere else over the course of my entire life. I played almost every night, and went to see music after my gigs at least five days per week. I was playing probably half of my gigs at Black churches, which are really where the roots of all the funk, blues, soul, jazz, R&B, and hip-hop music we hear today lie. I was totally immersed, as were the rest of the guys in the band.
I have to shout a big thank you out to all of those guys on the Dallas scene
We became confident about our own individual sense of groove, phrasing, and communication by standing on stage with some of the best in the world, who also happen to be some of the kindest and humblest musicians I've met. I have to shout a big thank you out to all of those guys on the Dallas scene. They took us in as their own and treated us as equals, despite the fact that they grew up with the Hawkins Family and we grew up with Nirvana.
Can you describe how recording an album with the audience in the room, which you've done for the past five albums, changes the way the band plays?
I think musicians have the tendency to get inside of our own heads when we're recording in a studio. Was that perfect enough? Is my tone okay? Did I lock in with the drummer? Things like that. But when you're playing in front of an audience, things become simpler. Is the crowd understanding what we're trying to say? Are they having fun? Am I having fun? These are much simpler questions with the big picture in the forefront. Music is about communication. So I think we communicate better. We emote more. And we're more spontaneous. I find that recording our albums in front of an audience brings out the best in the group's chemistry.
Snarky Puppy perform "Lingus" from We Like It Here
How big a transformation is there from when you first present the band with a tune, and them actually playing it live?
Sometimes it's dramatic, sometimes it's subtle. But either way, it happens very quickly. In one rehearsal, actually. Over the course of that rehearsal, we may find that all the individual parts in the demo fit just right together and nothing else is needed. Or we may change a lot. But as each player really understands the composition, it creates the freedom to express themselves within it. And that's the moment when it starts to sound like Snarky Puppy. Then we play it live as soon as possible, and it starts a completely different growth process of being played night after night on the road.
The band's profile has increased incrementally via word of mouth, social media, and intense gigging. Do you think this is the future for non-mainstream bands?
If you can see a band naked like that and still love them, you're a fan for a long time
Of course, more and more these days. The industry was in denial for a while about the new age of music consumption, then tried to catch up, and is now taking the "if you can't beat 'em, join 'em" approach of using indy tactics to sell records on a large scale. Social networks, street teams, personal artist-to-fan communication, pay-what-you-want album deals, etc. But, really, the bottom line is that live gigs do something that no amount of time on the internet can do. They give people the opportunity to stand in the same room as the band and see them in their most natural environment, stripped of all the air-brushing and auto-tuning and slick production. If you can see a band naked like that and still love them, you're a fan for a long time. And chances are, you'll want to share what you felt with others.
While Snarky's sound references a number of different genres, improv is absolutely central to its aesthetic. Do you feel like you're part of the jazz tradition?
In that sense, absolutely. We're constantly improvising, both individually and as a band. We never play a song the same way twice, and we're always seeking different routes to the landmarks in each piece. I think that's in line with the jazz tradition, although I think there are a lot of things we do that aren't.
Pat Metheny has praised the band for writing great, memorable melodies. Coming from one of the finest melodists in jazz, that must seem like quite a compliment?
When the people at JazzFM in Toronto played me that sound bite, I thought I was part of some terrible practical joke
When the people at JazzFM in Toronto played me that sound bite, I thought I was part of some terrible practical joke. So of course I was flattered when I realised it came from him. He's one of the most melodic musicians in the instrumental music world. And although I try very hard to write genuine, honest melodies at every moment of a piece, I feel like there are only a handful (at most) that I've really done right. Maybe those were the only ones he heard!
Knowing your love of texture, it must have been a thrill to work with The Metropole Orchestra on your forthcoming album?
You can't imagine what that felt like. It was one of the most inspiring experiences of my life, and possibly the happiest I've ever felt in a single moment. And to have a customisable orchestra at my disposal! I replaced oboes, bassoons, and other mid-high range instruments with more low brass, more strings, and bass/contrabass clarinets for a grittier sound. I've never been given that level of trust or responsibility before. In fact, the managers of the Metropole were pretty crazy for allowing me to do what I did. It could have been absolutely terrible. I'd never written for an orchestra before. And I did the majority of it on tour in the two months leading up to the recording. Not a good combination for an investment! But they trusted me, and I'm so grateful for it.
What other music is stoking your creative juices at the moment?
I've been revisiting a lot of stuff from my youth with fresh ears. Crosby, Stills, Nash and Young's Déjá Vu is the newest old favourite. I listen to Stravinsky's Firebird Suite and Shostakovich's 5th almost daily just because I hear hundreds of new things in them every time I hear them. Susana Baca's Eco de Sombras and Salif Keita's Folon are on constant repeat for me and have been for years, as is Concha Buika's La Noche Más Larga. I listen to the new Beck album Morning Phase and Sea Change at night to slow my head down after shows. My sister-in-law's parents gave me an incredibly beautiful album that somehow slipped by me from Vinicius De Moraes, Toquinho, and Maria Creuza called O Grande Encontro. And I just packed my suitcase to Chaka Khan's What 'Cha Gonna Do For Me. That should give you a very jumbled picture of the music in my brain right now.
We Like It Here is out now

Snarky Puppy play an exclusive Late Late Show Special at Ronnie Scott's on Monday 17 November ahead of their sold-out EFG London Jazz Festival concert at Camden's Roundhouse
Overleaf: Snarky Puppy on YouTube
Recording our albums in front of an audience brings out the best in the group's chemistry
Explore topics
Share this article