We Made It: Beardyman's Beardytron_5000mkIV |

reviews, news & interviews
We Made It: Beardyman's Beardytron_5000mkIV
We Made It: Beardyman's Beardytron_5000mkIV
Ground-breaking improviser on the live composing kit he's had built from scratch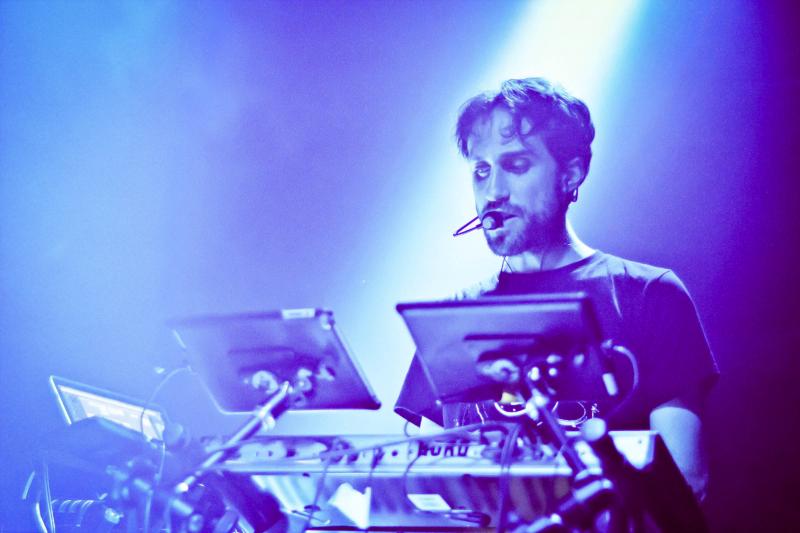 Beardyman and the Beardytron_5000mkIV – 'more parameters to control than a space shuttle control room'
Beardyman, aka Darren Foreman, began his musical career as a beatboxer, becoming in 2006 and 2007 the first performer to win two UK beatboxing championships in a row. He's always been interested in the use of technology to create original sounds, and has been using looping systems to sample his own vocals for many years.
To give himself more control, he developed the original Beardytron, his own bespoke system enabling him to create sophisticated live improvised music, with a complex keyboard and huge range of looping options.
Keen to go far beyond the limits of existing technology, he commissioned some of the greatest developers in music software to create the BEARDYTRON_5000mkII, then the world's most advanced live music production system that allows him to improvise cutting edge studio quality music in real time. Beardyman doesn't use any pre-recorded samples and generates everything 100% live and almost all from his voice and synths. He can also record a sound with his voice and assign it via midi to the keyboard so he can play his voice sample back via the keyboard.
He has now just completed the Beardytron_5000mkIV which sees all of his bespoke designs come together, with the introduction of a next level drum sequencer that again all comes from his vocals and a synth engine that has, it's said, more parameters to control than a space shuttle control room. Beardytron_5000mkII was unveiled at the big global TED conference last year to a standing ovation. It was also coded by some of the greatest developers in music software for him. Herbie Hancock, who was present at the launch, was so impressed they've ended up starting to work on an album together.
His new album, Distractions, was released earlier this week. He has been touring his "One Album per Hour" project, in which he creates an album's worth of tracks live on the Beardytron, using song titles suggested by the audience, at festivals across UK and US. He has also run a series of One Album per Hour in partnership with YouTube as a weekly global stream, beaming in a special guest (which has included Jack Black, Peter Serafinowicz and Tim Minchin) from LA to London each time.
MATTHEW WRIGHT: How do you describe the Beardytron?
BEARDYMAN: It's a live music composing and production workstation enabling me to improvise complex and mastered electronic music. There's a huge interconnected network of programmes written from the ground up. Everything is optimised and configured to enable me to improvise fully produced music. This is the first time that's been possible, and it's never been attempted on such a broad scale before.
How and why did you design and create the Beardytron?
I wanted to make music in real time, but I had to have something designed. It's like one of the lunatic contraptions or automated big bands in a fairground. It's a one-man-band and a bonkers, everything-under-one-hood Swiss Army tool. To turn on a dime and go with any idea, you have to work solo. In bands, you always get battles of egos, money to divide up, creative disputes. I'd have to use incredible musicians who wouldn't want to work with a despotic dictator. It's a different journey to do it yourself. With the Beardytron, there's less need to work with another musician. I can do what a drummer would do myself.
When we started creating the Beardytron, we started with a five-hour lecture that was definitely only for techies. There was a systems designer, a project manager, a coder and software tester. Over the course of the project six people worked on it.
How does it work?
It has pedals, buttons, a keyboard. It can become anything. It's massive fun. All of the controls can activate the looper – the world's most advanced looper. It can record and play back through many different instruments. It was so much work to get it ready. It's like a stunt aircraft – it still needs a pilot.
How did Herbie Hancock get involved with the Beardytron?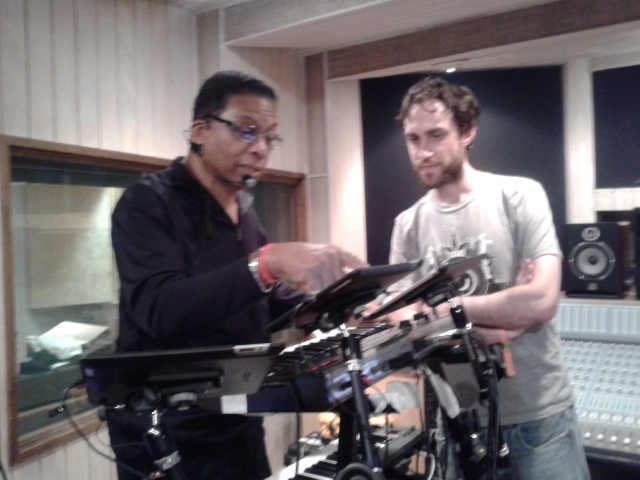 I met Herbie Hancock (pictured left) at the TED launch, and we clicked over our musical geekery. I spent four hours jamming with him. He was doing some really cool things – he'd say, "I'm going to do some dissonance now, and you're going to like it!" He's a musical genius. I felt so inferior. Herbie kept taking it out there, but I'm just groove, loop, song. The Beardytron is designed for dance music and songs. When Herbie jams, there are no limits. It was an amazing musical education. He built up pieces from a riff, then changed the chords, and explained how he'd done it.
I played him Aphex Twin. Watching him listen to stuff was amazing. He'd piss himself laughing at a chord change. He's so talented and accomplished. He's very measured and focused when playing. Music tickles his brain. It's like when a film surprises you with a plot twist.
Herbie used a head mic like Justin Bieber, and I was trying to figure out how to show him all the features. He completely got it, but he's not a beatboxer, so working with his voice was harder. He's determined to figure it out.
What's your relationship with the jazz tradition?
I wish I had the time and inclination to have proper jazz piano lessons. Classical is based on a standard chord tradition, and playing modes is very different. I don't understand it well enough. I need to know how modes and scales work to be really prodigious. I respect jazz technique a lot. I'm of a jazz ethic to some degree because of my improv, but it's more structured than jazz.
Are there any commercial applications of the Beardytron?
I've thought of selling a version of the Beardytron commercially, but it would need to be redesigned. Not even Herbie Hancock can use it at the moment. I can get very lost in musical geekery. When I've made something cool I ask myself if I really need it. But I want it!
What are the musical advantages of the Beardytron?
The Album in an Hour songs I improvise one by one, with no planning. If someone gives me a title like "suppurating pus-filled skank-wart" I'd use stoner metal or grimecore, a monster voice, and a fast beat. By recycling small sections of the track indiscriminately I can give a magical feeling. I can play with tropes. I like people to think, What the fuck is it? Every genre has foibles that I can embrace.
Metal crowds throw bottles of their own piss at you if you suck
At my gigs, someone can shout out a song title, and I can improvise the lyrics and song content with the Beardytron. Anyone can do that in theory, but there was a technological gap to close to make that happen in reality.
I want to create house and drum and bass together, but the rhythms are different. So now I can take a snip of the final output of drum and bass, and change the rhythm so they fit together. I can do transitions between genres like no one else. It's like a musical Escher drawing of impossible shapes.
Music is a huge set of tools, canvasses, points. There are so many mindsets, and I can playfully piss about with the whole scene, which people give thin lines to. Choosing pieces is like a Mandelbrot Set. It's like having a baby, you don't know how things will combine. I'm like God! It's like the Big Bang! I create ten universes per hour!
What is your experience of working with live audiences for One Album per Hour?
Whether the audience is sitting or standing matters much more than the time of day, when asking for song recommendations. In Scotland people do drink more heavily – the late Edinburgh fringe audience is completely scatalogical. On Sundays before dinner I get nothing from the crowd. Metal crowds throw bottles of their own piss at you if you suck, if you're not completely focussed. The metal world has very specific musical lines. It's fascinating, the way genres work within genres, there are more sub-genres than any other kind of music, but each one is prescriptive and closed. If you merge genres, you have to fight influences.
How do you create your own music on the Beardytron?
When I'm creating an album, every track starts from pure exploration and discovery. They're grown organically. After two hours of jamming, I play with different sections, and improvise. Then it's like a jigsaw puzzle. I can start ideas on the Beardytron. On a guitar, you jam an arrangement. With Ableton, you have to stop everything else. The Beardytron doesn't stifle creativity in that way. I can keep ideas going and experiment continually.
OVERLEAF: Watch Beardyman's One Album per Hour featuring Jack Black

I'm like God! It's like the Big Bang! I create ten universes per hour!
Explore topics
Share this article