Sci-Fi Week: 2001: A Space Odyssey |

reviews, news & interviews
Sci-Fi Week: 2001: A Space Odyssey
Sci-Fi Week: 2001: A Space Odyssey
The unassailable mother ship of science fiction movies is a sacred cow
Thursday, 27 November 2014
The big wheel: 2001's rotating Space Station V
No Gravity or Interstellar has challenged the might and influence of 2001: A Space Odyssey: its re-release this week is one of the movie events of the year.
Those who haven't previously seen it – but who take CGI for granted – should be prepared to be awestruck, if not necessarily moved, by the classical music-enhanced images of planets, spacecraft, and astronauts created with animation, matting, models, back projection, and Douglas Trumbull's special photographic effects. If that sounds prosaic, it's because Stanley Kubrick's film is more about surface than substance.
Culturally as well as cinematically, of course, it remains the dominant icon of Final Frontiersmanship. Its opening in May 1968 (April in the US) pre-empted Neil Armstrong and Buzz Aldrin's moonwalks by nearly 16 months – an unparalleled act of scene-stealing. Kubrick's use of the thunderous fanfare in Richard Strauss's Also Sprach Zarathustra - which suggested that extending Manifest Destiny to space recast the American "rugged individualist" as a Nietzschean Übermensch - was triumphalist. Yet the malfunctioning of the talking computer HAL carried a warning against Promethean overreaching similar to that in Mary Shelley's Frankenstein.
Seeded by the 1948 Arthur C. Clarke story "The Sentinel", 2001 was developed by Kubrick and Clarke into an enigmatic four-part "experience" short on exposition and dialogue. In "The Dawn of Man", a tribe of Pliocene-era ape-men is dislodged from a waterhole by a rival clan. When one of them (Daniel Richter, pictured above in costume) receives rudimentary imagination and the will to violence from the transmissions of a mysterious black monolith, he bludgeons an enemy to death and his tribe retakes the waterhole. Ergo, all humans have the capacity for inflicting injury.
The untitled second chapter (or second part of the first) unfolds in space in 2001. During a stopover on a station orbiting Earth, the American scientist Dr Floyd (William Sylvester) conceals from Soviet scientists (Margaret Tyzack, Leonard Rossiter) why he's flying to the moon base Clavius. On arrival, Floyd explains to its top brass that a monolith has been discovered there. It emits a piercing signal when his team approaches it at the dig where it was unearthed.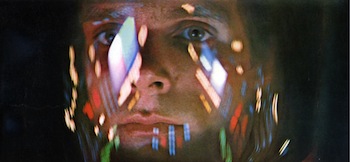 In "Jupiter Mission: Eighteen Months Later", Discovery One astronauts David Bowman (Keir Dullea, pictured left) and Frank Poole (Gary Lockwood), who are travelling to that planet with three cryogenically frozen colleagues in hibernation, realise that HAL, which controls their ship's systems, has become error-prone and paranoid. After it attacks the crew, Bowman – left alone to pilot the ship – learns they'd been tasked with investigating the meaning of the lunar monolith's signal.
In "Jupiter and Beyond the Infinite", his extra-vehicular pod is sucked into a coruscating psychedelic corridor – the "Star Gate" sequence – and plunges through space for what could be aeons. His destination is apparently a state of inner consciousness designed as a Louis XV hotel suite where he can observe his own ageing prior to a climactic encounter with another monolith.
All this amounts to a thin narrative and a movie as cryptic as Alain Resnais's Last Year at Marienbad (1961). Revelatory though Kubrick's quasi-art-house sci-fi epic seemed, not all its elements were original. The celebrated match cut – a bone used as a tool and weapon by Richter's hominid morphs into a 21st-century satellite when he jubilantly throws it in the air – was copied from Michael Powell and Emeric Pressburger's A Canterbury Tale (1944), in which a medieval falcon turns into a swooping Spitfire. Kubrick's rotating space station and weightless space men were anticipated by those in Pavel Klushantsev's Soviet documentary The Road to the Stars (1958).
Nonetheless, the synthesis and the glory were all Kubrick's, and so 2001 single-handedly opened the door to the space operas made by George Lucas, Steven Spielberg, Ridley Scott, and more playfully by John Carpenter. Most of these filmmakers – as well as Martin Scorsese and Michael Mann – revere Kubrick, though he clearly influenced them more as a supreme technocrat than as a film poet.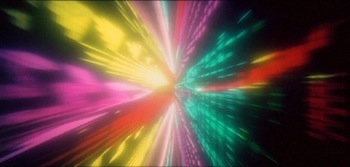 It's significant that, as an American based in Britain, Kubrick appealed more to Hollywood's "movie brat" generation – Scott and Christopher Nolan aside – than to such English or Anglo-Celtic cine-alchemists as Powell, John Boorman, Ken Russell, Nicolas Roeg, and Derek Jarman. Kubrick did strive for alchemy in Star Gate's trippy abstraction (pictured above) – astral traveller Bowman (his name suggesting the 2001 fan behind "Space Oddity" and "Starman") being posthumously reincarnated as a presumably immortal cosmic foetus (pictured below), an embryonic E.T. no less. The wide-angle bedroom scenes were a misstep, however, as was the use of Johan Strauss II's The Blue Danube – Kubrick indulging his taste for the baroque while eschewing narrative coherence.
Like all of Kubrick's films from Dr. Strangelove (1963) onwards, The Shining excepted (1980), the unassailable mothership of science fiction movies is something of a sacred cow. It is often described as transcendent, but what does it transcend? Are the alien-planted monoliths supposed to represent science's obviation of God, or a secular reconsideration of God's identity? What does Dr Floyd's announcement about the discovery of the four-million-year-old monolith portend, apart from more portentousness? Movies that ask more questions than they answer can be exhilarating, but in blinding us with pseudo-science 2001 disdains meaningful debate. There is more Carl Sagan than sagacity in Kubrick and Clarke's speculations.
If that is not enough, 2001 is humourless and so glacially paced as to be ponderous. It fetishises spacecraft but is uninterested in human behavior and feelings. The performances are stiff, the characters almost as inanimate as HAL. That was surely intentional – a gesture toward a future in which homo sapiens and machine life will fulfil their cyborg destiny (as more radically visualised, for example, in 1989's Tetsuo: The Iron Man). The problem is it looks like bad acting.
The spectacle of pristine spacecraft gliding through or spinning in the galaxy is impressive and 2001 does improve on repeated viewings. But it has a grubbier analogue that makes an infinitely deeper metaphysical probe into the moral and psychological consequences of space exploration: Solaris (1972) was directed by the Soviet master Andrei Tarkovsky, whose comments on Kubrick's artifice are worth reading.
It is often described as transcendent, but what does it transcend?
rating
Explore topics
Share this article