Tristan und Isolde, Royal Opera |

reviews, news & interviews
Tristan und Isolde, Royal Opera
Tristan und Isolde, Royal Opera
Antonio Pappano and Nina Stemme spellbind again in Christof Loy's rigorous Wagner
Tuesday, 09 December 2014
Tense meeting for Nina Stemme's Isolde and Stephen Gould's Tristan
Eternal love is in the air, not seasonal fluff, at the Royal Opera this December. Later in the month Verdi's most ecstatic duet, in Un ballo in maschera, will find his Riccardo and Amelia briefly playing Tristan and Isolde, very much in the shadow of not so much the greatest as the strangest love story ever told.
Director Christof Loy underlines that strangeness and Wagner's open questions at every point, never more heart-flippingly than when a big, middle-aged man lies full out on the floor singing "Let Tristan die" and his lover, on her knees behind him, leans over and declares tenderly but insistently that it's not all about him – this is Tristan
and
Isolde. Surely the implications of that
and
have never been more clearly examined.
The lovers are together then, but they spend the outer acts mostly apart, in their own personal hells. It's vital that the soprano and tenor are equally matched, but given the insane vocal demands, they rarely are both musically and dramatically, and that's unfortunately, if not fatally, the case here: while Stephen Gould barely scratches the surface of Tristan's existential angst in the longest of all operatic monologues, Nina Stemme earlier runs the gamut from blind fury to nostalgic tenderness with astonishing commitment and intelligence. Her top is flawlessly full and luminous; Gould's isn't, not now at any rate, and he doesn't really act with the voice, but he makes a fine impression in mid-range and at mezzo-forte or softer, and ultimately he can sing Tristan, which is more than has been said for many who've tried.
This is Stemme's year, maybe not from her perspective where it may well be superhuman business as usual, but certainly from mine, since I didn't catch Loy's production back in 2009 and only saw the first half of the Proms Ring in which, by the end of Götterdämmerung, Stemme had made history. She made it again with the concert Salome this August, and now she sets her seal on being the most secure and dramatically imaginative Isolde of our time. Loy's ploy, on an open space devoid of everything but first one, then two chairs and a table, is to make his lovers deeply human. Maybe Wagner's aren't, and perhaps we don't want to see preparations for a kitchen supper while transcendental questions are being debated, but from the start, when we see Stemme's Isolde trying to contain her agony and hurt alone on the bare stage, we believe.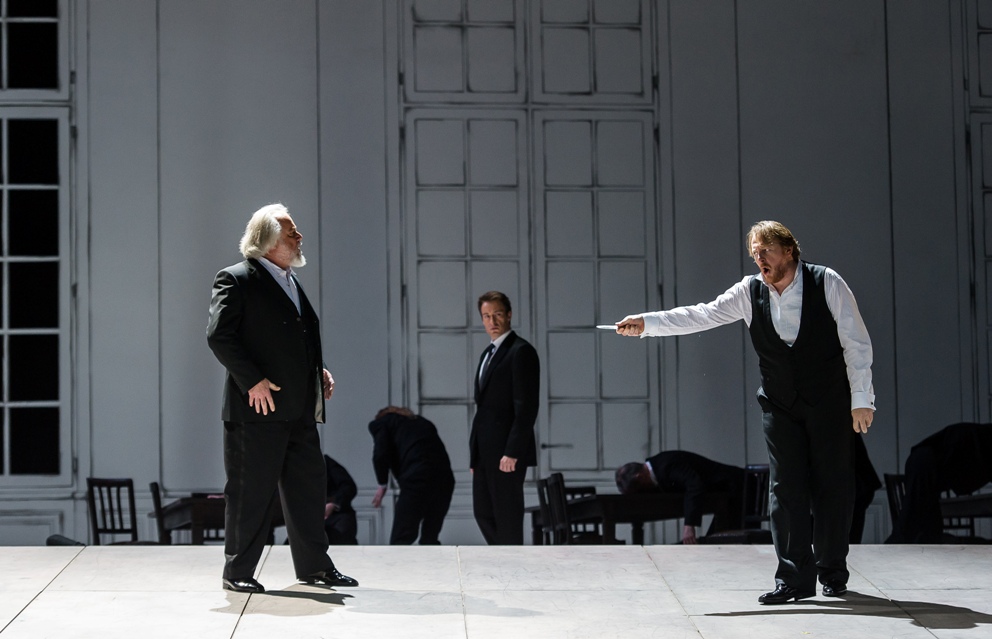 As with the acting Sellars gets from his singers in The Gospel According to the Other Mary, Stemme realizes Loy's vision to the extent that the slightest angle of the body tells us everything we need to know. There's an extraordinary scene in Act Two when, having raised the curtain on King Marke's frigid dining-room space at the back, an exclusively male world, to shed light for Tristan and presumably to get him to tell the truth to the man he forced her to marry, she's set up the chairs for a debate between the betrayed and betrayer, then goes and sits right at the back of the dining-room. We know from the tilt of her head how she expects Tristan to speak and how frustrated she is when he stays silent. All this was absolutely clear from the back of the balcony.
Even the haters of this production, and they seem to be legion, couldn't fault what Loy finds between the polarities of night and day so central to the opera, and the way his protagonists hover between the two. I'd argue that Johannes Leicker's spare designs and Olaf Winter's often spectral lighting are perfect to underline the contrasts, too. I gather that the wall stage right has been adjusted so more in the audience can see it (there were empty seats on the left of the auditorium which had apparently been withheld from sale). They must, because every one of the characters stands revealed against it at one time or another. That this is a true ensemble is underlined when John Tomlinson's now gruffly sung but verbally and physically perfect Marke (pictured above with Iain Paterson's Kurwenal) arraigns the other five principals.
Surely the opera has never had a better pair of servants. Sarah Connolly's Brangäne (pictured left), rather fetching in a bob-cut orange wig and uncharacteristically subservient in demeanour though not of voice, has an even more lustrous middle range than Stemme, and inflects the text just as well; Iain Paterson as Kurwenal, her lover in the amazing night watch sequence, clearly has the stamina, physical poise and vocal focus for the role of Hans Sachs, which he'll be singing at English National Opera next year.
The greatest beauty of all comes, as it must, from Antonio Pappano's Royal Opera Orchestra. Pappano's reading of the score is now honed to the most exquisite soft playing in the time-suspended second act – strings barely murmuring, horns in supernatural hallowing – and the drive behind the initial thrill of the lovers' meeting is beautifully balanced both within the orchestra and for the singers, Stemme's ecstatic cries, top Cs and all, burning through the textures. No Tristan can ever be quite perfect in this world, and you just have to accept here that the hero's agonies in Act Three aren't going to work quite like the rest of the opera, but for those moments of bliss, this is rare perfection.
From the start, when we see Stemme's Isolde trying to contain her agony and hurt alone on the bare stage, we believe
rating
Share this article