theartsdesk in Aalborg: Northern Winter Beat 2015
theartsdesk in Aalborg: Northern Winter Beat 2015
Peter Hook, Efterklang's new band and the music of agitated hamsters in north Denmark
Iceage's Elias Rønnenfelt on stage at Aalborg's Nordea Bank for Northern Winter Beat 2015
It's the kind of care-worn venue that's obviously seen some history. The walls are plastered with handbills for uncompromising bands like Billy Childish's The Headcoats and America's God Bullies. Some nosing reveals that it opened in 1983 and Green Day played here in 1993 while paving the way to conquering the world. 1000FRYD – "tusanfrid" if you're Danish – is low-ceilinged, narrow, tiny and has a stage which would struggle to hold a band with more than five members.
In Britain, 1000FRYD would be considered a "toilet venue" with all the downsides that brings but here in Denmark, despite the scuzzy ambiance, this bunker-like setting is accommodating, clean and efficiently run. As one of the venues used by Northern Winter Beat over the three days of the festival, it's hosting a DJ set by Peter Hook (pictured below right, photo © Niels Fabaek). The former Joy Division and New Order bassist and latter-day author is a proper musical icon but has no problem with such a seemingly modest venue since those attracted are committed to the music. As he runs through garage, house, punk and some Manchester classics, it underlines that the festival is about the music and how the city of Aalborg accommodates it.
Now in its third year, the Northern Winter Beat festival takes place in north Denmark's congenial fourth-largest city Aalborg. Close to the tip of the Jutland peninsula, the city is bounded to its north by the Limfjord, the body of water slicing through the whole of Denmark. Across the fjord from Aalborg is Nørresunby – the two relate like Newcastle and Gateshead, or Minneapolis and St. Paul. While Nørresunby is the gateway to Vendsyssel-Thy, the northern island of the peninsula, Aalborg is tied to mainland Denmark – or as mainland as multi-island Denmark gets. Aalborg is and was strategically located. Accessible by water, it is the door to the country as a whole.
Fittingly, Northern Winter Beat cosily mixes the local and international. The festival's inclusive booking policy has not only brought Peter Hook from the UK to its snow-flecked streets but also Wrangler, featuring ex-Cabaret Voltaire mainstay Stephen Mallinder, Gazelle Twin's electronica and the ear-meltingly heavy God Damn. The Burning Hell are here from Canada, as are Dope Body from the US.
The local big deals are Liima (pictured left, photo © Mathies Brinkmann Jespersen), the new band from Efterklang, and the feral Iceage (pictured at top). Hey Elbow are in from Sweden. Iceland's Mugison is also playing. This enviable line up would enhance any city – including those with higher international profiles than Aalborg. Northern Winter Beat aims high.
1000FRYD isn't the only rough-and-ready venue. A former branch of the Nordea Bank has a stage in its main hall on which Iceage – apt, as it's close to freezing inside while they play – are demonstrating why they have made international waves. Although rooted in punk, they sound like no one else. Built around their recent To the Comrades album, their set incorporates the hardcore muscle of Black Flag and the angularity of Gang of Four, coming over like the elongated yelp of a startled dog. Their delivery method is unique: songs start and stop. No lead in. No outros. As if a button had been pushed. Detached while the stage is silent, singer Elias Rønnenfelt lurches like a marionette with asymmetric strings once the noise kicks off.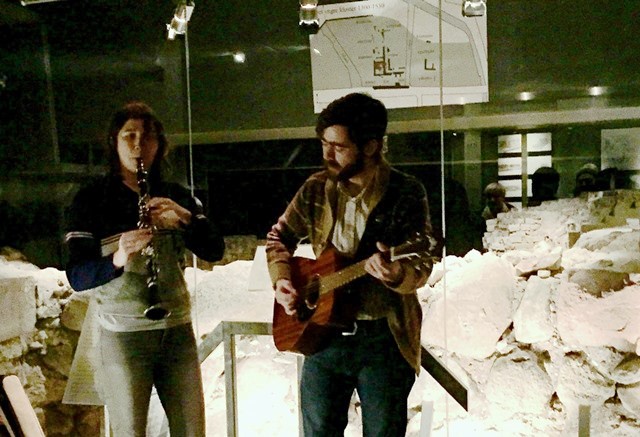 Less confrontational, but playing just as memorable a venue are Canada's The Burning Hell (pictured right) who are performing at the city's 14th-cenutry Franciscan friary. A glass lift along a shopping street descends to the below-ground remains which provide the backdrop for a set from the acoustic guitar and clarinet duo taking in charmingly barbed tales of cows that interrupt and the perils of trying to be a rapper.
A medieval friary and an abandoned bank are unusual and the festival continues to stand apart elsewhere as many of its other venues are in equally unforgettable settings. Huset is within what was Aalborg's former poorhouse, built in 1911, while Skråen is in the bowels of the massive and disused Nordkraft powerplant. At Huset, the highlight is the fantastic Russian-born, Berlin-dwelling Mary Ocher, with her compellingly wonky cabaret take on the terrain between John Cale and Catherine Ribeiro.
The Utzon Center (pictured left from the Limfjord, photo © Jens Morten) is also notable and punctures the Limfjord frontage like the architectural equivalent of an origami bird. Jørn Utzon was the Danish architect responsible for the Sydney Opera House. He was born in Aalborg in 1918 and the Utzon Center, designed with his son Kim, was his last work and opened in May 2008. He died in November that year. On its first floor is the Obel Auditorium (named after Aalborg's tobacco company) which has widescreen views of the fjord courtesy of floor-to-ceiling windows in the north wall. It is against this backdrop that Liima take the floor for Northern Winter Beat.
Liima are all of Efterklang – Mads Brauer, Casper Clausen and Rasmus Stolberg – and Finnish percussionist Tatu Rönkkö (he had played with them live after the release of their last album, Piramida). Efterklang have not ceased to exist and it seems eccentric choosing a new name to work with a musician who has already played with the band, but Liima are distinguished as all their songs are new. This was their fifth live show. Efterklang fans will recognise their sound, which – despite Rönkkö's presence – is less percussive than Piramida. This feels like a rewind to the intimacy of 2007's Parades rather than the more expansive and straightforward songs which followed on 2010's Magic Chairs. The concert had its tentative moments, but nonetheless exuded the devotional quality which defines Efterklang at their best.
Like Liima, Gooms (pictured left, photo © Niels Fabaek) – playing 1000FRYD – include members of other well-known Danish bands: Figurines and the defunct Oh No Ono. Gooms are curious. Their music is akin to a compressed math rock makeover of prog mixed with disco and Frank Zappa. Songs start with circular guitar figures, dart off momentarily to what might be a stripped-down take on Weather Report before settling with a burst of Buzzcocks-style punk-pop. Overall, the effect is akin the musical union of a pair of agitated hamsters.
Handily, Wrangler are easier to assimilate. Despite most of the music – except some percussion – being generated by luggage-space-saving laptops, they evoked the point just before Cabaret Voltaire embraced dance music: Micro-Phonies with a dash of Red Mecca. Great, but the uncertainties brought by less reliance on programming would make it edgier.
Aalborg itself though does not knock the visitor off balance. It has the beauty of the seaboard merchant cities Amsterdam and Gothenburg, but in bite-size chunks. In the centre, narrow medieval streets lead to squares lined with galleried, half-timber buildings, all overlooked by the white tower of the city's cathedral, Budolfi Kirke.
Towards the fjord, things become grander – evidence for Aalborg's prosperous past as a trading centre – with large 17th- and 18th-century gabled buildings which look as though they would also be at home lining the canals of the Netherlands – except that they are even larger. Prime amongst these is the five-storey, sculpture-studded Jens Bang's House (pictured centre, above left), built in 1624 for the merchant of the same name.
The atmospheric and historic buildings and streets of Aalborg are not the only distractions from the music. A 15-minute bus ride north across the Limfjord through Nørresunby arrives at Lindholm Høje (pictured right), one of Denmark's largest and best-surviving Iron Age and Viking-era burial sites. Between AD 400 and AD 1000 at least 700 cremations and 41 interments were made on this wind-swept hill adjacent to the village at its foot.
Strategically located to overlook the fjord, Lindholm Høje is now an eerie place blanketed with the groups of stones surrounding each cremation. Although there would originally have been more graves – stones were crushed for road surfacing in the 19th century – what survives is remarkable. Amongst the excavated finds were Arabic coins. International connections were not restricted to modern times.
Consciously or not, Northern Winter Beat follows a tradition which has defined Aalborg for centuries. It brings the world to the city and, in turn, shows it off. And courtesy of this fine festival, the fascinating Aalborg also marks itself on the map as one of Europe's essential stop-offs for anyone seeking a top-drawer musical diversion.
Northern Winter Beat brings the world to Aalborg and, in turn, shows the city off
Share this article