How To Hold Your Breath, Royal Court Theatre |

reviews, news & interviews
How To Hold Your Breath, Royal Court Theatre
How To Hold Your Breath, Royal Court Theatre
National treasure Maxine Peake stars in a terrifically satirical nightmare fantasy
Wednesday, 11 February 2015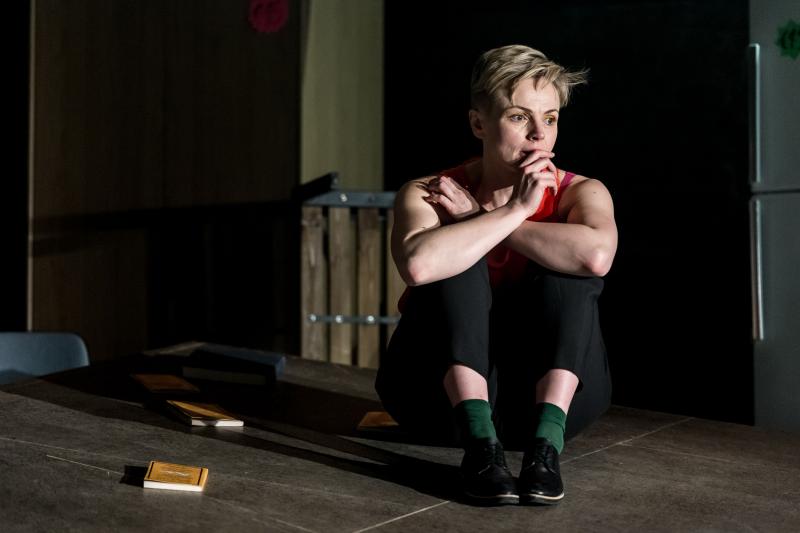 Nightmare journey: Maxine Peake in 'How To Hold Your Breath'
Is there such a thing as New Writing Pure? By this I mean plays that not only have a really contemporary sense of character, plot and dialogue, but are also written in a distinctly individual language whose texture is singular and personal. Call it fine writing, call it literary, it doesn't matter. The point is that this kind of theatre is about plays that are not only beautiful to look at, but beautiful to hear as well.
After all, words are an essential part of the overall theatre experience.
Ever since her early plays, such as By Many Wounds (1999) and Further Than the Furthest Thing (2000), playwright Zinnie Harris has paid as much attention to the language of her work as to its characters and storytelling. She's the kind of writer whose work gets shortlisted for the Susan Smith Blackburn Award, so her latest, her first Royal Court visit since Nightingale and Chase which was there in the studio in 2001, has been eagerly awaited by people like me who love to read plays as well as watching them. Oh, I almost forgot – it also stars national treasure Maxine Peake.
By flipping the North-South divide on its head, Harris confronts us with uncomfortable questions
The play begins with casual sex. Twentysomething Dana picks up a man in a bar and takes him back to her place. So far, so fine. Then the nightmare starts. They have a disagreement and the man claims to be a demon. A devil. He wants to make a payment to her, but she refuses. He leaves. But she can't shake him off. He haunts her. She can't get him out of her mind.
Dana is so upset that, the next day, she almost misses a presentation about "the customer experience" that she has to do for work. The nightmare deepens. Dana's sister, Jasmine, tries to help. But she has her own intimate concerns. The pair eventually set off on a journey across Europe. The names Berlin, Budapest and the Adriatic drift through this symbolic itinerary. The nightmare deepens. More and more. Yet just as the devil persecutes them, so they acquire a guardian angel in the shape of an ever-helpful Librarian. Always on hand to offer a parody of self-help books, he has suggestions for every occasion.
Then suddenly Europe is plunged into a massive financial crisis. The banks fail; credit cards and debit cards are useless. People lose everything; they begin to migrate south. At this point the nightmare gets even more nightmarish. By flipping the North-South divide on its head, Harris confronts us with uncomfortable questions: what if Germany became like Greece? What if we all depended on aid from Africa? What if everyone wanted to migrate south? What if? Could we survive the perilous boat journey across the Mediterranean?
The nightmare deepens. More and more. Harris's writing is not only wonderfully imaginative, but also beautifully light. Yet strong at the same time. Her dialogues are finely crafted, seemingly cut out of granite, hard yet reflecting. The speed of the storytelling has an impressively nimble quality, jumping from chat to dream, and from the quotidian to the metaphoric. This nightmare abounds in powerful symbols: black semen, blood in a pot, twisted eroticism.
If the play is almost unbearable in its nightmarish emotions – mad lust, degrading sex, paralysing loss – it is also enlivened by its offbeat humour. Director Vicky Featherstone's fleet-footed and confident production, on Chloe Lamford's junkshop set, brings out the dream elements of the text and gives space for Peake to present her character. Her Dana starts off light and cheeky, then grows into a compelling portrait of stoicism in adversity. She can be both gut-wrenching and verbally quick-witted (like Hamlet in fact, the role she recently played at the Royal Exchange in Manchester).
As this dizzy satire of contemporary consumer capitalism expands, with its strong impressions of sibling rivalry, maternal longing and crazy fantasy, Peake gets great support from Christine Bottomley as Jasmine (pictured, above, with Peake), Peter Forbes (Librarian) and Michael Shaeffer (Demon). If the final denunciation of naivety is keen-edged, the evening finishes with a soothing quality of mercy that is the show's typically generous gift to us. This is a really fine new play – breathtaking!
Harris's writing is not only wonderfully imaginative, but also beautifully nimble
rating
Explore topics
Share this article