Reissue CDs Weekly: Simple Minds |

reviews, news & interviews
Reissue CDs Weekly: Simple Minds
Reissue CDs Weekly: Simple Minds
Fantastic bombast and the shadow of U2 on the stadia-embracing 'Sparkle in the Rain'
Simple Minds in 1984: en route to somewhere
Simple Minds: Sparkle in the Rain
Playing increasingly larger venues throughout 1983 had changed Simple Minds. "In places like that, 50,000 people, there's just no room for subtlety, and there's no need for it and there's no want for it." The quote from frontman Jim Kerr is telling.
When Sparkle in the Rain was released in 1984, it made good on the promise of "Waterfront", the single which trailed it. This was a new, heftier Simple Minds: a band retooled for stadia. "Someone recently described the record as 'art school rock with fantastic bombast'," says Kerr elsewhere in the book which comes with this reissue. "I like that."
It's fitting then that this belated Super Deluxe Edition Box Set 30th-anniversary edition – described as such in the book, despite being issued 31 years after the album – of Sparkle in the Rain takes the disc count to a hefty five. Disc One is a remastered version of the album; Disc Two collects remixes, single-only tracks and 12-inch versions; Discs Three and Four include a BBC session from September 1983 and a robust, toppy sounding February 1984 live concert. The final disc is a DVD with a new surround-sound mix, promo videos and TV appearances. Album demos mentioned in the liner notes are not included.
Considering its price of £47, that the album was included in a cheapo five-disc box in 2012 and that original pressings sell for as little as 20p (plus postage and packing), this is a fans-only set. Despite the superfluity, this is a fine-looking package with a good book which tells the story with admirable clarity, depth and frankness.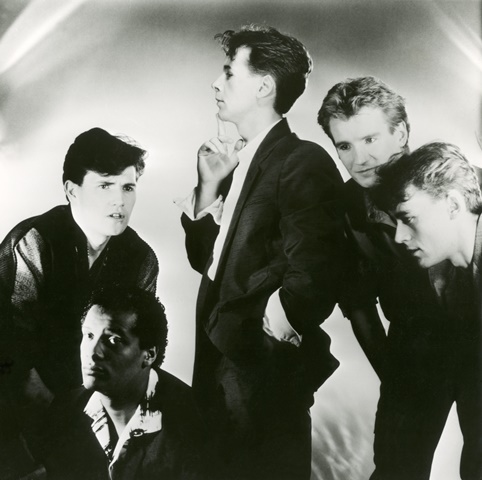 Reappraising Sparkle in the Rain does little to alter perceptions that the album didn't hold together. Where "Waterfront" worked by marrying hints of Pink Floyd's "One of These Days" to the band's new-found propensity for bombast and their original art-rock leanings, other tracks play with the formula less successfully. The thin "White Hot Day" is a series of crescendos in search of a song. "'C' Moon Cry Like a Baby" is aimless. The version of Lou Reed's "Street Hassle" adds nothing to the original in attempting to turn it into a sing-along but, with its keyboard pulse, does hark back to the band's own "Seeing Out the Angel" from 1981's Sons and Fascination.
The liner notes say "Jim felt the quality and quantity of the songwriting could've been better." Kerr himself notes "there's so many things that I like about it [the album] but I think it is a snapshot…not a landmark. I tend to like the records that arrive fully fledged more than the ones that were en-route to somewhere, and I think Sparkle in the Rain was en-route to somewhere."
One place Simple Minds had visited early in the journey en-route to that somewhere was U2-land. Playing their "New Year's Day" – a hit in January 1983 – before Sparkle in the Rain's "Speed Your Love to me" more-than demonstrates the debt. The piano and guitar are uncannily U2-like. U2's producer Steve Lillywhite was secured for Sparkle in the Rain and – along with the spirit of his other clients – enveloped proceedings in a characteristically huge Eighties sound. The album was about sonic architecture rather than song.
The BBC session version of "Waterfront" offers a neat before and after comparison. Lacking the grandeur of its Lillywhite-produced counterpart, it could not have been the hit it became. It needed the pumping up. Once imbued with "fantastic bombast" and filchings from U2, the world's stadia were there for the taking. There was no room for subtlety.