Ravilious, Dulwich Picture Gallery |

reviews, news & interviews
Ravilious, Dulwich Picture Gallery
Ravilious, Dulwich Picture Gallery
The ravishing and gently surreal works of one of Britain's greatest watercolourists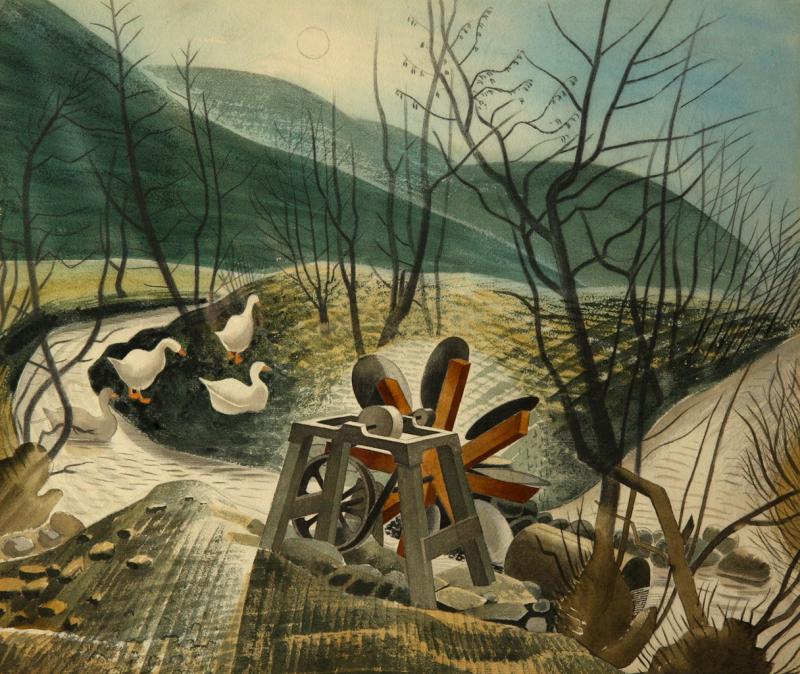 The familiar made slightly strange: The Waterwheel, 1938
Look at me, and think of England. This marvellous array of quirky, idiosyncratic watercolours by Eric Ravilious (1903-1942) from the 1930s until his premature death during wartime when his plane, on an air sea rescue mission for which he had volunteered, crashed in Iceland. It is full of memorable and haunting pictures.
Drawing on a profound understanding of the history of the English watercolour and its concentration both on domesticity and majesty, Ravilious utilised the conventional response – in part the English distrust of grandeur and ambition – to produce a subtle assault on such sensibilities. He disarms us by accessibility and then surprises us.
The images – the ancient White Horse carved on a hill; tea in the corner of an unpretentious walled garden; the view from a train window; a farmhouse bedroom; a winding country road – are almost absurdly familiar. The Thirties, after all, was the time of urban attachment to the countryside, with railways advertising away days, London underground posters improbably telling you of bucolic delights, and the innovations of the Shell county guides employing the finest of artists and photographers.
But his weaving of tiny patches of colour, hatching and drawing, outlining and filling in, provides a luminous, gently effervescent and quietly passionate series of depictions of ancient landscape, often unpeopled but marked by traces of habitation – fences, roads, machinery. The combination of the wild and the familiar is well shown in Train Landscape, 1940 (pictured below; Aberdeen Art Gallery & Museums), the comfortingly cosy compartment disturbed by the extraordinary apparition of the huge chalk horse on the ancient hill, just glimpsed as the train journeys on. The sense of almost titillating unease is subliminally exacerbated by the fact that the scene is not quite straight, the ceiling of the carriage slightly tip-tilted.
Ravilious is hardly unknown. His Coronation Mug and designs for china are ubiquitous in the nation's visual memory, and there was an outstanding retrospective at the Imperial War Museum in 2003, the museum's centenary year. That show included his prolific designs for everything from ceramics to glass, wood engravings, drawings and illustrated publications. There is naturally a little overlap between that show and this, including designs and prints segregated in vitrines from the wall-hanging watercolours, but the current intelligent and imaginative selection allows us to be totally absorbed up close by his almost magical way with watercolour and graphite.
The sharpened focus means a more profound understanding beyond the period details of his designs. Moreover his sense of structure means his paintings reproduce well, but the extraordinary spectrum of colours and variation of touch with which they are applied mean that the chance to see Ravilious in reality really should not be missed.
The compilation is a ravishing exhibition of imagery which first describes English landscape and interiors, and then scenes of wartime preparation at home, straightforward and stalwart, and often improvised. The strange cold iciness, too, of the northern seas, especially Norway, caught when on duty as an official war artist, is captivating, and allows Ravilious his special combination of both disarming us and surprising us. He is always both poised and slightly astonished.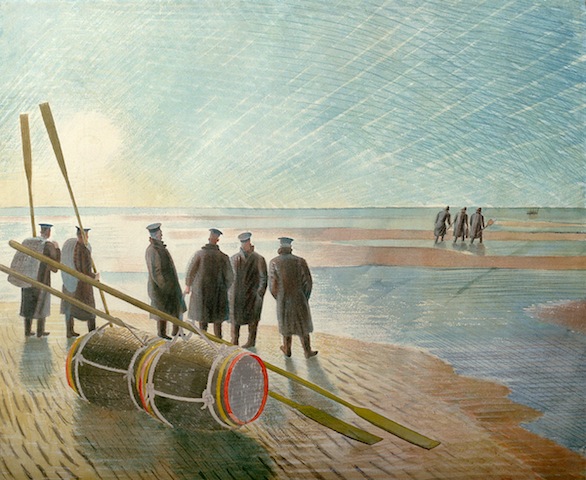 His highly skilled painting is simultaneously tough and resonant, edgy yet approachable, and continually, in terms of colour and touch, always offering something of the unexpected. Perhaps because of the medium as well as the subject matter, a Ravilious does not bludgeon, but rather it insinuates, often with sly humour. Here is No 29 Bus, 1934, its double decker hollowed out, becalmed in an Essex field, the body poised not on wheels but on barrels, the sky that odd paleness so typical of our weather. Six years later, in his capacity as a war artist, there is a beautiful, quietly dramatic scene on the Kent coast, Dangerous Work at Low Tide, 1940 (pictured above right; © Ministry of Defence, Crown Copyright 2015). Nine sailors work on defusing a German mine: six watching at the shore – just one facing us – as three walk towards the obstacle. The sky is shot through with shafts of angled light, diagonally echoing the beach and tidal pools.
There are three characteristics of Ravilious's art which, combined, make him so distinctive. The compositions are strongly structured with contrasting diagonals and slightly creative perspectives – a highly individual geometry. The earthbound, the grassy meadows, distant fields, farmland and beach, are shadowed, contrasted brilliantly, overarched with the sky's luminosity, a sense of cloudy atmosphere and diffuse light bathing all in a kind of ethereal glow. This combination of a subtle radiance with sharply defined features, whether they be window frames, abandoned farm machinery, airplanes or domestic furniture, is conveyed with a multitude of tiny dabs of colour. These colour touches may be vibrant or subdued – the range when we look closely is very wide – but all is subservient to making a scene that is convincing, even though we are aware of odd perspectives and a very eccentric sense of scale.
A characteristic Ravilious is inescapably distinctive, and, in its very English fashion, gently surreal. Thus, in The Waterwheel,1938 (main picture), the geese in the background are incongruously large in contrast to the piece of machinery closest to us. But it doesn't matter in the least; it just reminds us how art so often lies to tell the truth.
Since its refurbishment by Rick Mather in 2000, Dulwich has honed a well deserved reputation for exhibitions focusing on somewhat disregarded artists, or unusual points of view and different foci on the work of well known ones, for example, Hockney's prints, or a succinct and sharp look at Paul Nash, or the Canadian landscape artist Emily Carr, the latter hardly known at all here. It means that beyond the glories of the permanent collection of Old Masters, the gallery, out of the way as it is in terms of ease of transport, is continually refreshed and always worth a visit, in this case for an unmissable exhibition of one of Britain's finest painters.
A luminous, gently effervescent and quietly passionate series of depictions of ancient landscape
Share this article